On a hunt to find out about my ancestors, I had found more than I expected. The hunt has been very interesting, with all the makings of a Hollywood film, surrounded by history, mystery, rumors, and action-adventure. It starts with a little known marker in the Rocky Springs churchyard, Franklin County Pennsylvania.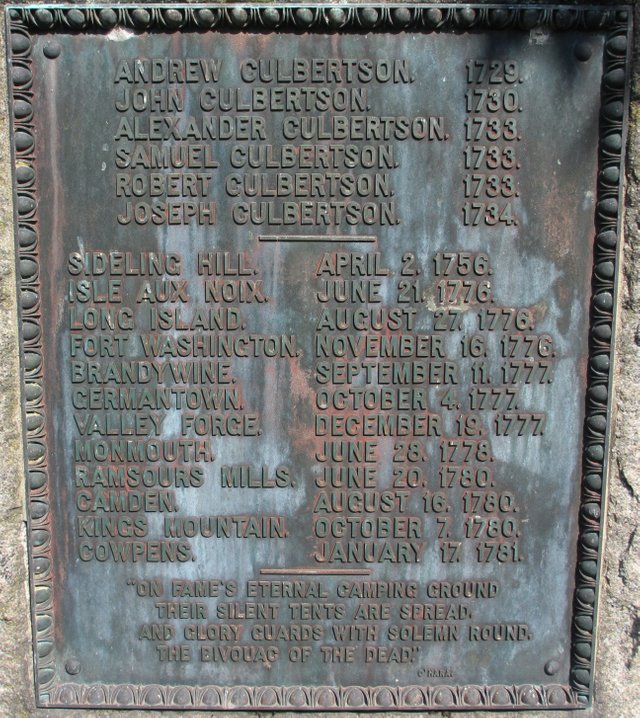 The names you see on this plaque that is imbedded in granite, meant to immortalize, are my ancestors. Accompanying their names are a list of Revolutionary War battles that they had fought in and it appears that they had a hand in almost every one of the battles of the Revolutionary war with England. I was shocked to find this, I had already known their names from Ancestory.com, but what I did not know was the story behind the names. My journey began May of 2019 and it spans across the history pages of three countries fighting the same enemy, England, but to keep it short we will start in America.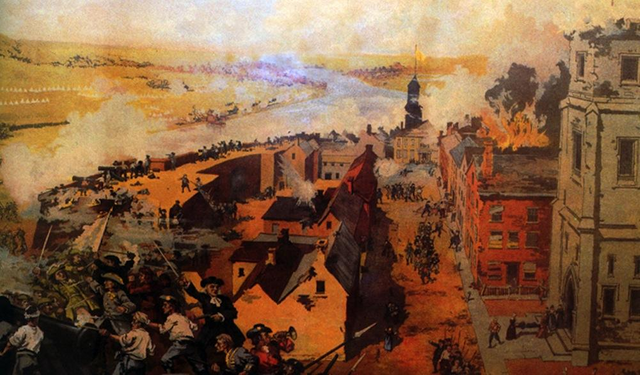 William Culbertson was a defender of Londonderry, one of the greatest sieges in the history of Ireland.7000 men were besieged inside the walls of Londonderry, the numbers were reduced to 3000 by the time it was over, stories tell of eating horse and dog meat to survive and disease was rampant. He was born in Scottland and was known as a Coventeer. Driven from Scottland during the reign of King James II, William migrated to Londonderry Ireland with his wife. In 1712 he emigrated to America with his young sons Robert, John, and Alexander. William bought land in the Cumberland valley where he raised his sons, this area was known as "Culbertson's Row" Pennsylvania. In 1730 Williams's older sons Andrew, Samuel, along with Williams, nephew Oliver came to America and settled alongside the family in the "Row." William died a short time after arriving in America. (1723?)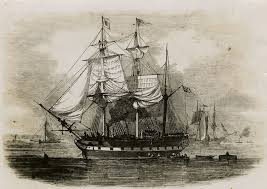 John, Williams son, was also known as Lt.John Culbertson who fought in the French and Indian wars. Lt. John Culbertson was appointed Lieutenant in the Provincial Malitia of Chester County, in Col. Moors battalion. In 1748 he fought with Capt. John McCalls 1st Batallion. Lt. John was married to Elizabeth Rodgers in Philadelphia at the First Presbyterian church. They had 5 sons Andrew, Samuel, James, Major John II, and Lt. Benjamin Culbertson, he died the 22 June 1757-67, but according to family records, he was killed during the battle of Mc Dowell's mill by Indians November 1, 1756, but Johns's sons would play a part in the formation of an independent America, some with their lives.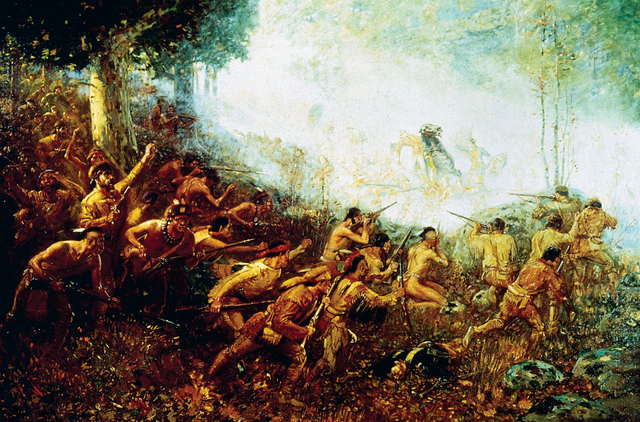 Capt. Alexander Culbertson's brother of William was commissioned in Col. Burds Regiment of the Provincial Providence Troops in the French And Indian Wars. Capt Alexander was married to Margret Duncan and had 3 sons Col. Samuel, Col.Robert, and Capt Alexander II. Capt Alexander Sr. led a party of militia and colonists in an attempt to rescue friends and neighbors who were captured at McCord's Fort April 1, 1756, and was killed by Indians.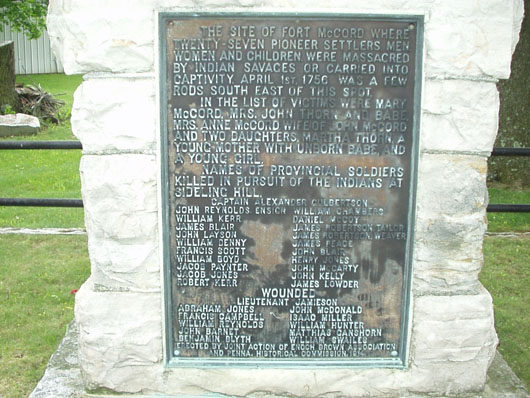 Lt. John's son, Major John Culbertson Was Born in 1737. He was commissioned Major in Gen Mercer's Battalion on July 1, 1776. On July 4th, 1776 he was a delegate of the associated Batallion Convention in Lancaster Penn. along with his brother Pvt. Andrew Culbertson, on Aug 14th he was stationed at Perth Amboy with Gen Mercer, on Aug. 20th he was at Ft. Lee. He was commissioned Major in Col. William Gibbons Batallion May 17, 1777. In 1779 He was Major in John Gardners Batallion, he was commissioned Lt. Col. May 10, 1780. He died on September 11, 1794.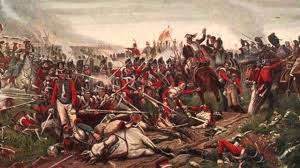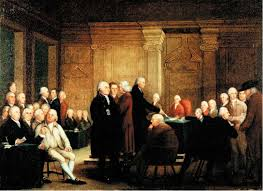 Lt. Benjamin Culbertson was born in 1751, On July 1, 1776, he was appointed Lieutenant of Col. Montgomery's Batallion "Flying Camp," On December 25th, 1776 at the famed crossing of the Delaware river Lt. Benjamin drowned and his body was never recovered from the icy river. He was never married or had children.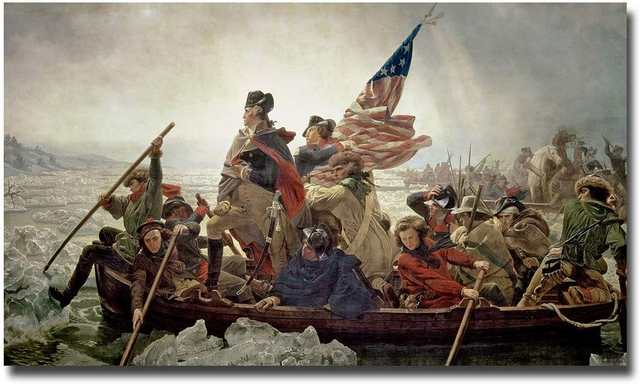 Pvt. Samuel Culbertson went on to become Capt. Samuel Culbertson, appointed on July 1st, 1776 to William Montgomery's "Flying Camp" Battalion. Capt. Samuel was captured by the British, November 16th, 1776 at Ft. Washington and held on a prison ship and then to the city prison in Long Island, he was released August 16, 1779.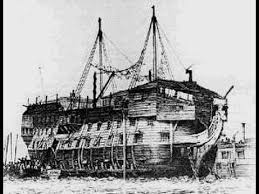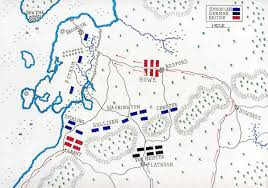 James Culbertson became an Ensign for Gen. Mercers Battalion, May 1st, 1758 he was in the French and Indian Wars as well as the Revolutionary war. while on furlough while eating dinner at home with his son, they were murdered by Indians on September 11, 1777.
This was just a small part of the Culbertson family who fought and died in the Revolutionary War. The people mentioned were my 6th and 7th grandfathers and uncles. When I found out about the story behind the names, it read like a movie in my mind, reading the history, and maybe someday it will. I leave you with the opposite side of the Culbertson memorial in Rocky Springs Pennsylvania.