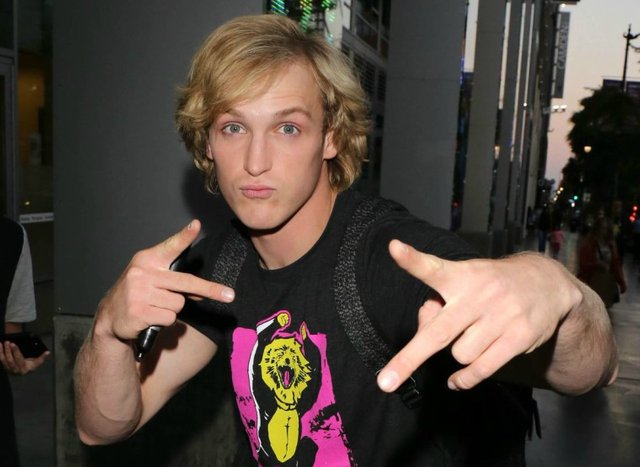 Picture source
Name:- Logan Alexander Paul,
Born :- April 1, 1995,
Work:- American actor and YouTuber,
Logan Paul is a well-known Youtuber who received ten million subscribers in the shortest time on his channel on youtube.
He has almost six million dollar net worth,
His twitter handle has 4.79 million subscribers,
His Logan Paul Vlogs channel on youtube has 18,504,859 subscribers,
Even Wikipedia has a biography portal for him,
Many blogs of him received more than 20 million views,
At an early age, Due to his talent, he made millions of people his fans, This is a American actor, YouTuber, screenwriter, rap song singer, white collar amateur boxer, Logan Alexander Paul.
Logan grew up in Ohio with his younger brother, Jack Paul,
He studied at Westlake High School, When he was in 7th grade, at 10 years old he started making videos for a youtube channel named Zoosh, in the beginning, he was making videos for his classmate's entertainments only, he was becoming famous for doing stunts, pranks, and jokes in his videos, Gradually, when he started to become famous, his interest in the channel also increased.
In high school, he participated in sports also with his brother jack, he gave more attention to wrestling and football, for this reason, he reached to state-level games. Then after he starts to upload his videos on vine app. on this app he got more attention at the beginning. his younger brother Jack also started uploading videos on a vine, at one time both brothers were competing each other on a vine, he got 2.7 million followers on a vine in just 7 months. he is still the most successful Viner. before this app got closed he had 9 million followers already, later with the help of this fan following he made a good grip on other social media platform too, Once again he made his own big fan following. now after his success, advertising media got attention about him and started contacting him, and he started earning by endorsing the product online in his videos, he earned enough money before college, he was studying in Ohio University in industrial engineering but he left his study in between for carrier and became a full-time entertainer and move to Los Angeles. In Los Angeles, he was living with other vine bloggers (Viner). Logan did not want to be limited to just videos but wanted to do something big, therefore after leaving college, he started taking acting classes for the entertainment industry. Due to his popularity, he started to get small roles on TV shows, he told in his television interview that he wants to become a household name and wants to be a worlds biggest entertainer, soon he starts his vlog channel on youtube and started uploading a video every day, gradually subscriber increased, For the next whole year, Logan made a video every day for his vlog and upload on youtube, Because of this, he gets tremendous popularity, In this one year, he worked hard and struggled, He started his own company Maverick, In a short time, Logan Paul's channel became the world's biggest youtube channel. Everything went well for Logan Paul, but suddenly something happened that he had not imagined, he got trapped in controversy for uploading a video of suicide by hanging which was shoot in Aokigahara at the base of Mount Fuji in Japan.
For "success need dedication" which Logan Paul shows us.
"In order to succeed, your desire for success should be greater than your fear of failure" - Bill Cosby
I wish for you all get success on steemit.
Happy steeming,
Thanks and Regards