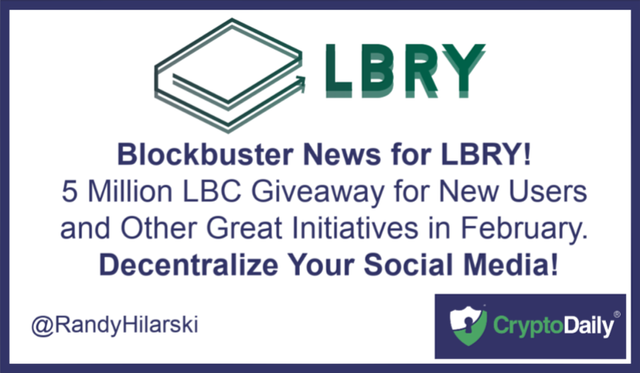 5 Million LBC Giveaway in February for new users and follows.
It is time we decentralized our social media. If the community can reach the goals below the team will be rewarding the community with 5 Million LBC. After the "Christmas Youtube Apocalypse", I was nervous about the future of Youtube and Crypto content so I have dived headfirst into LBRY.
The LBRY Team Wants To See The Below Goals Happen In February.
50,000 New Users
500,000 New Followers (Users Following Creators)
We have already achieved 20,000 new users and over 200,000 new followers. We need to sprint to the finish line!
Join Me Now On LBRY And Receive 20 LBC And If We Hit The Goals You Will Receive More!
Watch the Video Below to Learn All About the February LBRY Initiative.
2nd Initiative In February On LBRY. Be A Curator.
Create a collection of curated content by reposting the best stuff you find or have to a channel. Apply the tag downtofollow or downtorepost to your channel and top channels can earn 50,000 LBC!
See the Original Article on Cryptodaily, "Blockbuster News For LBRY!
".