Hello readers hope you are doing good. I am here with a new amazing blog to introduce an amazing project to you. The project is Kyrrex. But before going ahead the most important thing to keep in mind is that you are always advised to do proper research before investing anywhere or consult with your financial advisor.
So, viewers Let's have a brief introduction of the project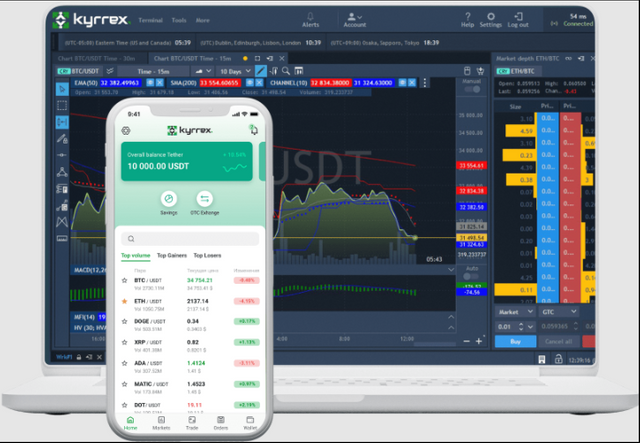 The KRRX token - is the Kyrrex ecosystem's own utility token, which implies different conditions for interacting with services and functions within this ecosystem. Also, the token provides exclusive benefits for all KRRX holders. As a global investing, payment, and financial ecosystem, Kyrrex bridges the gap between banking and crypto through the provision of a comprehensive set of products and services, aimed at everyone, everywhere. It builds state-of-the-art solutions that cover all banking, trading, and financial products in one place, making them suitable for both retail and corporate clients. With its fiat-to-crypto and crypto-to-fiat services and support of over 177 currencies, everyone can easily exchange, trade, or make payments to third parties and businesses.
Kyrrex has following products in its portfolio:
Exchange
OTC
Liquidity Hub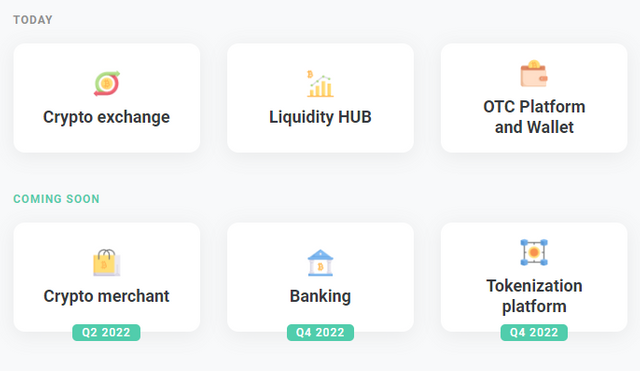 So next we have the token distribution plan of the company:
Total supply of token is 500 million. Round 1 was private sale round stared on 25th September 2021 and 50 million tokens issued. On 25th oct 2021 50 million tokens issued at the rate of $0.70 in presale round. In public sale 150 million tokens will be issued at the price of $ 1.00.
The collected funds will be used according to the following percentages:
45% funds will be allocated for development of the ecosystem product. 10% of the total pool is kept reserved to bear the cost of uncertain events. 35% is for marketing purpose and remaining 10% will be used for the legal support to get license in different regions.
Here we have the road map of the project:
The project is on its early stage. In the third quarter of the current year KRRX coin smart contract created and tested on the Torn network and initial KRRX sale private round completed. In the last quarter of the year following things completed and some are in pipeline like Token integration into KRRX exchange, Presale round on the Kyrrex platform and crowdsale on two external exchanges.
Company is looking forward for adding KRRX coin staking to the referral program in the 1st quarter of the coming year. Along with this company will launch the Kyrrex listing platform and access to KRRX holders. Provision of trade ideas and multi-account management access to the KRRX holder is also expected in the coming year. In the coming years surely, the project will reach on its desired stage.
Team
The project will go much further in future because the team working in, it is very strong and capable. The following team members are playing crucial role in achieving the required level of performance:
Mr. Viktor Kochetov CEO and founder of the project
Mr. Mykhail Romanenko is the co-founder having 7 years financial markets experience
Dr. Adriano Cefai is Head of Legal department
Ms. Viktoria Shipka Held the role of Director of Finance and Operations with Société Générale (Equipment Leasing Ukraine) for more than 10 years. She was also the CFO at SEB Life (Insurance Ukraine) and a tax consultant at Deloitte (Kiev).
Mr. Admiral William A. Owens, James A. Ray, Jack H Shi and Mr. Steven W. Sansom are the members of board.
Get your unique access to the unbounded Kyrrex Ecosystem by purchasing KRRX token and take full Ecosystem advantage.
Viewers you can visit their social media accounts and visit their website for further details.
Thanks for reading this blog if you have any query please comment in the comment section. If you like the blog follow me further blogs and updates.
Kyrrex Social media and website links are below
Website : https://kyrrex.com/
Twitter : https://twitter.com/Kyrrexcom
Facebook : https://www.facebook.com/kyrrexcom/
Reddit : https://www.reddit.com/r/kyrrex/
Linkedin : https://www.linkedin.com/company/kyrrex/
Instagram : https://www.instagram.com/kyrrexexchange/
Telegram : https://t.me/kyrrex_official_en
---
Article writer contact detail is below for video campaign:
Telegram : https://t.me/jaysomi61
Proof of authentication : https://bitcointalk.org/index.php?topic=5371160.msg58560156#msg58560156