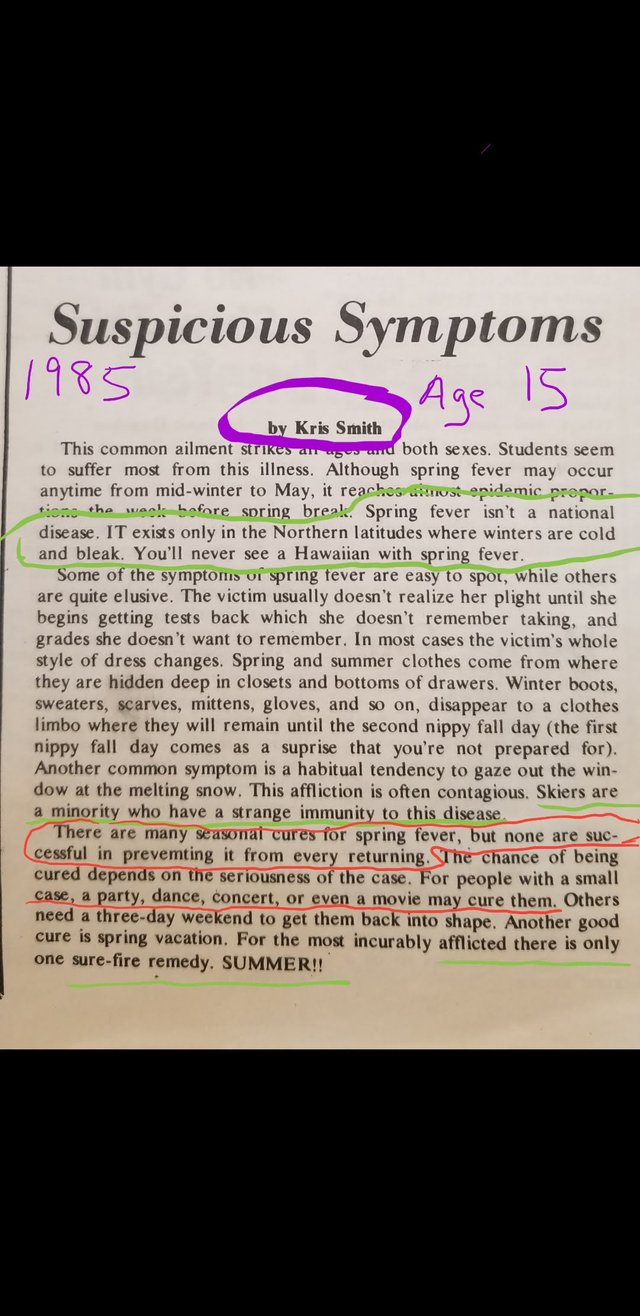 Suspicious Symptoms - by Kris Smith Age 15
This common ailment strikes all ages both sexes. Students seem to suffer more from this illness. Although SPRING FEVER can occur anytime from mid-winter to May, it reaches epidemic proportions the week before SPRING BREAK. SPRING FEVER isn't a national disease, it exists only in the Northern Latitudes where winters are cold and bleak. You'll never meet a Hawaiian with Spring Fever .
Some of the symptoms of SPRING FEVER are easy to spot, while others are quite elusive. The victim usually realize her plight until she begins to get tests back she doesn't remember taking, and grades she doesn't want to remember. In most cases the victims whole style of dress changes . Spring and summer clothes come from where they are hidden deep in closets and bottoms of drawers. Winter boots, sweaters, scarves, mittens, gloves and so on disappear to a clothes limbo where they will remain until the 2nd nippy fall day (the first nippy fall day comes as a surprise that you're not prepared for). Another common symptom is a habitual tendency to gaze out the window at the melting snow.
This affliction is often contagious. Skiers are a minority immune to this disease.
There are many seasonal cures for SPRING FEVER, but none are sucessful in preventing it from ever returning. The chance of being cured depends on the seriousness of the case. For people with a small case , a party , a dance or a concert may cure them. Others need a three day weekend to get back into shape. Another good cure is SPRING VACATION. For the most incurably afflicted, there is only one sure-fire remedy. SUMMER!!