https://www.youtube.com/playlist?list=PLgQOAFLgopJ6JZSDHgvc9_ZLAda08mifa
Foreword – Krissy Smith's Book
By Walter White
1988 was the year Krissy and I both enrolled into a small, private Liberal Arts University in Central Pennsylvania. We both lived in the same Freshman Residence Hall and while we did not initially become fast-friends, we shared similar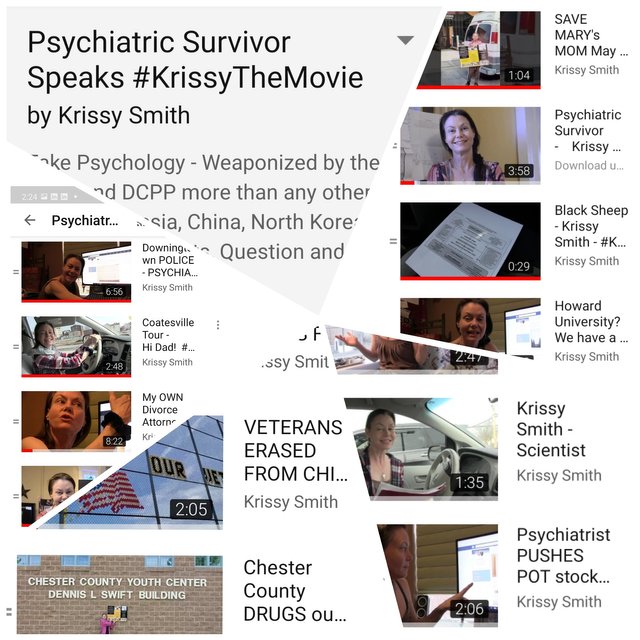 acquaintances and by and large participated in the same social scene. What struck me at first about Krissy, was her independent spirit and fearless attitude on campus. She was free to speak her mind and conduct herself on her terms, not necessarily what would "work" on a small, private school campus.
2 symbols of Krissy's independent essence at school were her red scooter and her high school team jacket. The scooter was an instant hit, as Freshmen were not allowed to own/park automobiles on school property. The jacket, was not. The jacket is an important point because of the clique mentality and "coolness" factor that undergraduate females were expected to absorb. Krissy did not – and continued to wear her jacket as if nothing was out of place.
Being considered "in place" was never Krissy's motive or within her DNA. The scooter represented her solution to a transportation problem; the jacket represented her independence. Over the course of our education, I became to know Krissy as a person – friendly, fiercely loyal and true to her nature. While Krissy never exhibited any sort of dangerous or threatening behavior at school, she was not a wallflower. Those who know her best should be aware that convention and outdated expectations are not in Krissy's repertoire.
As we both have grown and made bigger and more adult decisions in our lives, we have remained on good terms – not best friends, but we've both shared similar experiences. Mental health and a person's overall well-being should not be dictated by a prescription pad or an outsider's quick evaluation of one's behavior and thought processes. Possessing an intelligent and energetic personality should never be confused with mania or illness – as these are the character traits that most of society values. The issue is when an individual's thought process and wants/needs in life are challenged by a conventional set of double-standards against women.
I'm sure Krissy will elaborate further in her story and I'm anxious for her friends and family to try to remember not only the "good times" but Krissy's overall abilities and character traits that have led to her place in life now. There are certainly other viewpoints that may not have been able to be expressed on Krissy's behalf until now.
In kindness,
W. W.