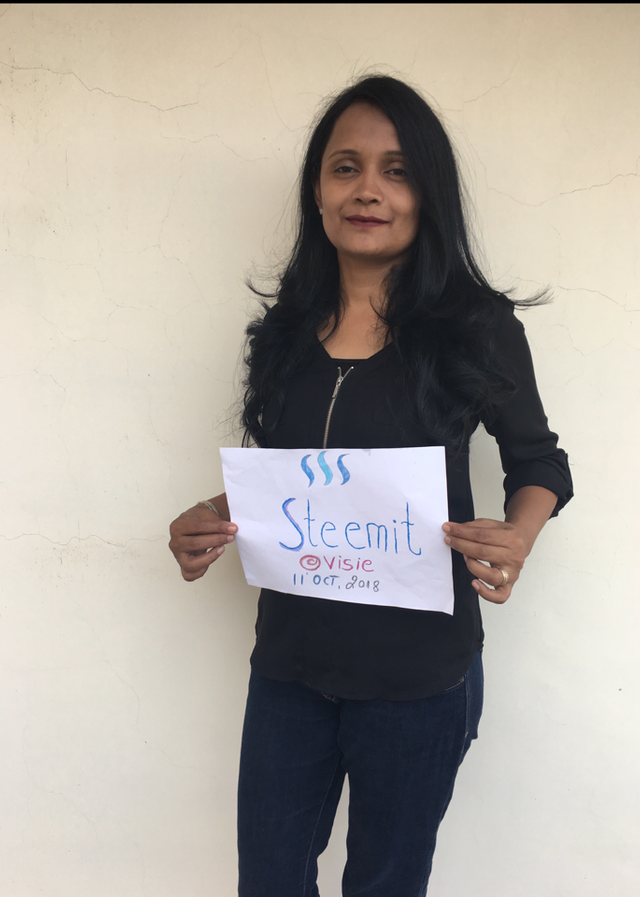 Banner made by my little princess, my daughter YANVI
Hello Steemit Peoples...,
I wanted to introduce myself while ago but was not getting how to do, so I passed few days here and then found one post regarding How to Do Your Steemit Introduction Post - Best Results Written by @vaansteam and by following this post I am here to introduce myself. Still confusion about introduceyourself and introducemyself. The first problem I got to upload a photo, All the picture was taken with iPhone but the problem I faced is uploaded picture becoming horizontal in display finally I manage and here it goes, if anyone have a suggestion regarding picture upload then plz share it in comment.
My name is vaishu, As I am a women I do believe in women empowerment, I can say we are Indo-American because my more than half of the family resides in the USA, I am a little bit worried about picture sharing here, is it safe to upload here?, but will see, basically I had a sub-broker firm of Indian stock exchange, but right now I have full responsibility of my daughters, so busy in future building of my daughters.
Every one say me a social geek, I accept that I am addict of social sites like Facebook, Instagram, whatsup and few more, so my family friend @jigsindian suggest me to use this platform as for fun and gain, but right now my interest is fun, don't know I will gain here or not. the second interest is music, When there is something missing in my cooked food, then understand that I have not heard music while cooking, Travel is my passion.
After spending a few days on steemit, I felt that this platform giving an opportunity to the people that they can show their skills and creativity, I met a few people here, who are really trying to strengthen this platform like @jayboi, @xemurai, @steemjet who are helping newcomers like me, My faith in this site has increased due to such people on this platform.
I can't say that I am very creative so I won't write much here, but, like all the women in the world, I like to have a picture too, so I will try to give good shots with good quotes of my own, so my content of posting will be pictures, quotes, travel guide I guess, and cooking while music.
I believe in family and togetherness, so as I got support here, I will too support the others.
"If you want to fast, go alone. If you want to go far, go together"- African proverbs
"Togetherness teaches us what is love, Loneliness teaches us what is life"- unknown
Wait for the time,
wait for my post,
will try to contribute,
need suggestion and support from the experienced steemit users,
with regards,
@visie