Michael Heath is a friend and Christian brother who USED TO BE the head of Maine's most important Christian organization--The Christian Civic League of Maine. That is until it was undermined by sodomite sympathizers within the churches in Maine who forced his removal about 10 year ago now. Since then, Maine, like the rest of the nation, has been on a downward spiral of continued coddling of evil, and the results of that are everywhere, from the push to normalize pedophilia, bestiality, polygamous marriages, etc., to other backpedaling betrayals of Christian principles in matters of the family, the protection of innocent life, mandatory vaccination, etc.
Mike and his wife Paulie remain avid and active Christian Warriors, and their ministry "Helping Hands" deserves the support of all people who care about life, family, and social issues. Here is an example of Mike's good work, and how the state's second largest newspaper, The Bolshevik Dorogoy Novosti--sometimes known by it's English equivalent "The Bangor Daily News" and the Southern Poverty Law Center described him recently:
https://bangordailynews.com/2017/02/17/news/state/anti-lgbt-group-led-by-michael-heath-added-to-maine-hate-group-map/
Mike has asked me to re-post articles from his blog here on Steemit.com, and I told him I would be glad to do so, as they are witty, well-written, and most importantly poignantly charged with Christian principles and issues surrounding the need for the return of the militant church.
========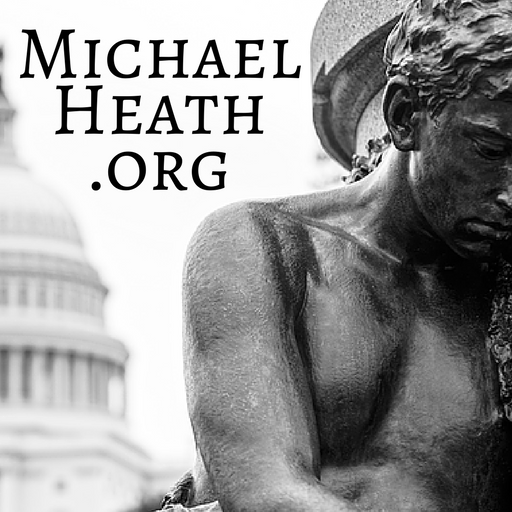 "Honor thy father and thy mother" -- Fifth of the Ten Commandments of God
The Personal Way of Fatherhood
As I begin writing this morning it is 2:39 AM. My mother is in the other room sitting with my father. Hospice just advised us that he is within 12 to 24 hours of departing this world. My parent's marriage lasted nearly 60 years. The website that I found when I searched on "The Ten Commandments" this morning brought up this explanation of the fifth, "As you should honor God, so should you honor those who brought you into this world."
Satan's attack on God the Father is relentless. It will not stop until God brings an end to him. Christians are promised suffering in this world at his hand, and as a result of our own sins. Through prayer and the pursuit of holiness we can overcome the devil. Without God's grace it is impossible to withstand his deceitful attacks. We must pray and seek God the Father's face.
This is as true of groups like families and nations as it is true for individuals. The United States of America is an experiment with leaving the question of who God is unanswered. We created a nation that would allow the religious question to be answered by each individual state. We include no acknowledgment of the Father, or the Son, in our Constitution or Bill of Rights. The decision not to answer this question created the mess in which we find ourselves in 2020.
Incapable of honoring The Father our nation can no longer honor any father. We honor anything but the idea of Father. And this has led to the elimination of all meaningful distinctions. A man who proudly declares himself to be "wife" can lay claim to serious consideration by a major political party for leader of the nation. Half the country is so unhinged from reality that they view homosexuality as a qualification for leadership. Sodomites are now the ones we must heed to better understand the Bible and Christianity. We think their sexual disorder informs deep spiritual insight.
My youngest son is six foot four inches tall. He just crested thirty years of age. On Saturday he visited with my dad who by then was confined to the bed hospice provided. It is situated in the living room next to a large window. My mom, brother and wife just reported to me this morning that my son's choice in saying goodbye to my by then unable to speak father -- his grandfather -- was to sit on the floor next to the bed. My father placed his hand on my son's head as if to confer a blessing. Everyone wept. My son reported to me yesterday on the phone that his objective during his visit was to honor the dying Patriarch of my family. He then quoted the fifth commandment to me over the phone -- honor your father and mother.
There is always hope. God is always headed someplace good. The devil never wins in the end. Love always prevails -- always. Christians worship a resurrected God. We worship a suffering God of perfect love who sustains the universe in a personal way. He is not distant from U.S. He is in us. But He will not violate our will. He created it free. We must choose Him. We must choose to honor The Father. With every next breath we can make the right eternal and reality-based choice.
Unreality chooses to believe that men can compete in women's sports. Sin finds joy in perverting the innocence of youth with suggestions of gender and sexual dysphoria. Evil passionately defends the murder of babies. Wickedness always thinks war.
The absence of the Father makes all this possible. He is the protector, the rule enforcer, the decision maker. He is the man. If we choose not to honor the Father then the male is reduced to a mere man. Collapse of all that matters follows the decision to teach that fatherhood doesn't matter. We are living through the collapse of all that matters in a political and religious culture that is more entertaining than big budget movies.
The way forward is simple. We must choose to honor our fathers and mothers. We must walk away from the nonsense. Turn it off.
Pray.
Amen.
I'm now commuting ten hours one way to and from Florida. I returned from North Carolina yesterday. My father's condition required my being here. It is a great blessing to honor him at this time. Thank you so much for your thoughts and prayers through this final passage for my father. I am blessed beyond words. Remember my wife, Paulie, as she prepares for her fifth course of six in her prescribed chemo therapy for ovarian cancer. She sits for that poisoning on Thursday.
DONATE
http://www.michaelheath.org/donate
=====
Helping Hands Ministries * 237 Byerly Street * Mt. Airy, NC * 27030