Mom finally uploaded the pictures on her computer. Now I can share with you how our first pineapple looked after Mom cut it all up.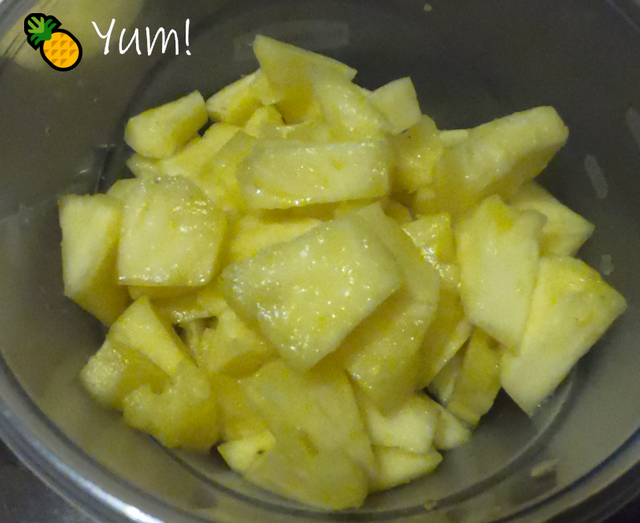 Sweet Pineapple
Some of the pineapples we buy at the store are very sweet but tangy. Some look sweet but when you taste one it isn't.
Or Dad said if you buy pineapples and they look ripe, when we cut them up they already taste fermented.
I don't mind kombucha, but I don't like fermented taste if we eat fresh fruits.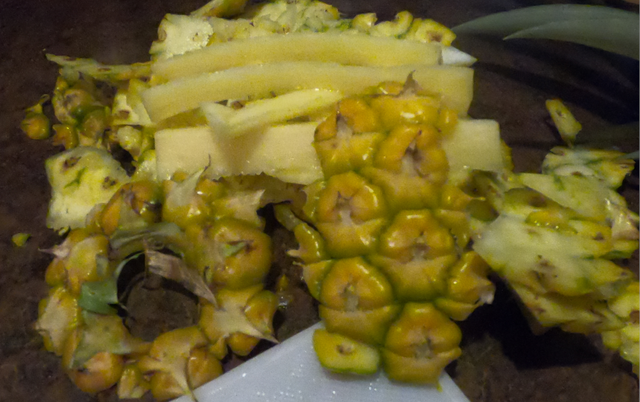 When Mom cut up our pineapple, she said the core was tender. It's surprising because she cut up pineapples before and they're usually hard.
The one on the picture looked like you could eat it. But that's the middle part of the pineapple. Mom couldn't help it, she nibbled on those they're so sweet.
It Is Great For You
This is what Mom looked up for me from https://www.organicfacts.net/health-benefits/fruit/pineapples.html
Pineapple is not just good food, it's healthy food. It helps with your tummy and your immune system. I know that we had breast milk so we have good immune system.
Eating organic fruits like pineapples can also help you fight the nasty things that make you sick. Well, if you eat too much it can make you sick too.
Cream Cheese Pineapple
We can't help it. While Mom was cutting up the pineapple into chunks, we were munching on them. We only stopped because we like them better chilled.
Mom also had to take aside some of them to dice up for cream cheese!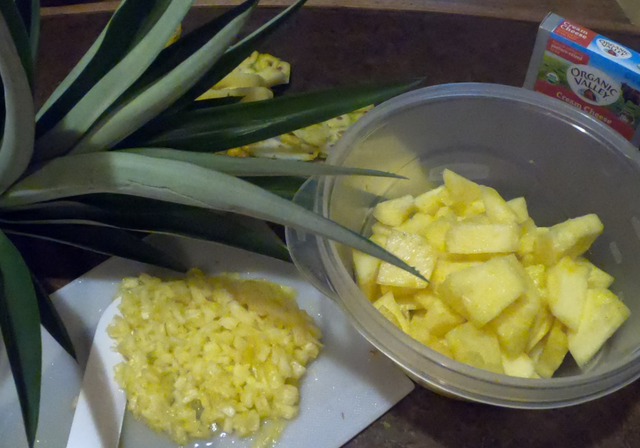 Pineapple Eyes
Have you tried preparing pineapple before?
I wish they didn't have eyes because it's a bummer wasting all that good yummy pineapple when cutting up the eyes.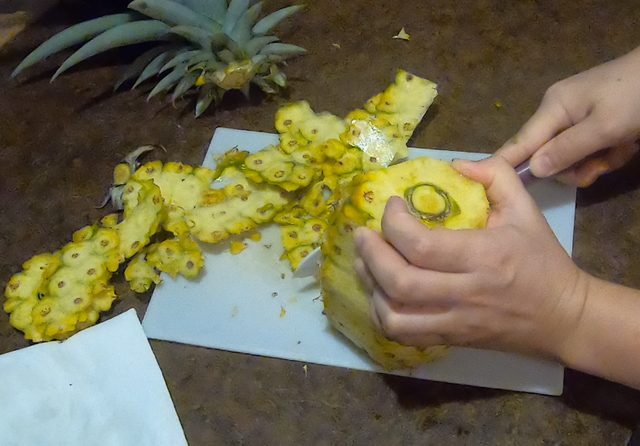 We want more pineapples!
The pineapple head Mom cut up is planted in another pot. Mom and Dad had it soaking in little bit of water until it grew roots.
No, we don't have a picture of the roots. Maybe next time when we get another pineapple going.
But that cream cheese pineapple is gone a long time ago. We used it as dip for crackers and it was gone quick.
For people who have tropical climate, I hope you're planting organic pineapples. Because we wish can have them more here in Oklahoma.