I wrote about finally getting all the Belhambra's trunks cut down here and this week, I turned my attention to the giant base as that is the real culprit when it comes to the separating wall corners. A new wall was built on the outside of the old broken wall but the section on the left remained standing and fell down during the first felling and I wasn't up to dismantling a large slab of wall at the time. One of the reasons why the wall is so ugly on my side is because the new wall was built right next to the original wall so the building mix was impossible to smooth.
This week, we got down to the task of chipping off all the plaster and building cement from the old wall so that the bricks can be recycled. It's such a mission to bring things up and down the stairs that the time and cost of disposing of the old bricks and then buying new bricks to carry back up the stairs makes recycling the old wall a viable alternative because my house is not at street level and can only be accessed via stairs.
Once the slab of wall was gone, the true extent of the tree base was revealed and it was frightening: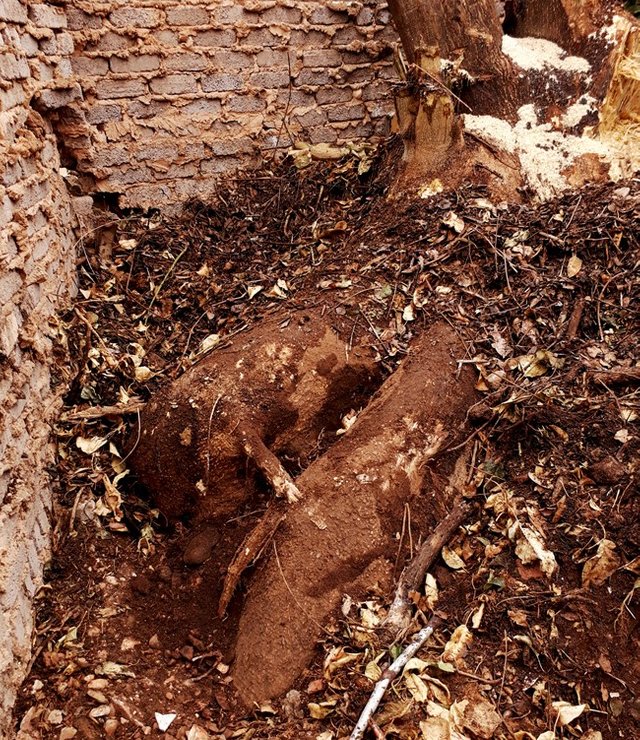 In total, we uncovered 4 giant roots the size of smallish tree trunks that needed severing and that was just the front left side of the tree. Here's one being cut that will give you an idea of the size of them.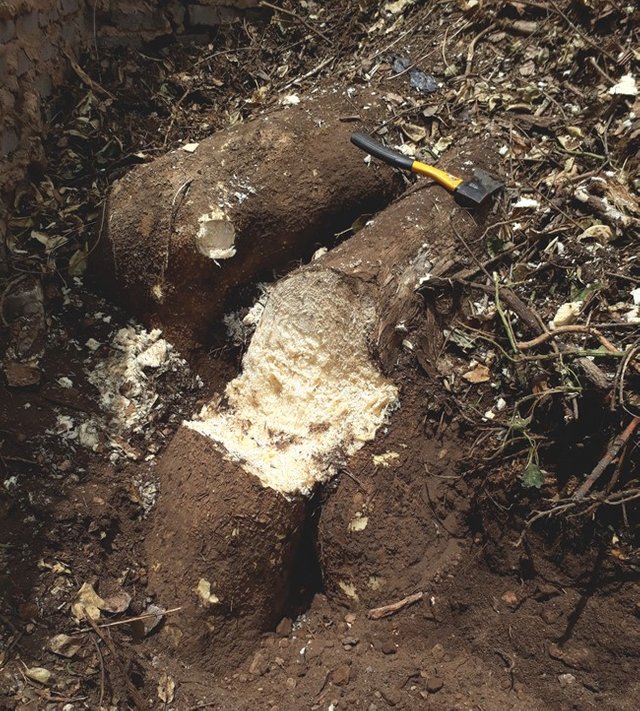 Fortunately this tree doesn't have a true woody tree structure, it is in fact just a giant weed and it's soft enough to chop through with an axe, although it still took quite a few hours, due to their size. Now I am in the process of stripping all the bark off the remaining above-ground parts as this will speed up the drying-out process and make it impossible for the base to form new shoots. The sections where we severed the roots will need to be monitored for shoots and they will need to be removed as soon as they emerge. In this way, the roots will use up their stores and the tree will die.
Belhambra trees are very impressive but they are such a terrible job to get rid of, if anyone is considering planting one, all I can say is: Don't!