🎈🏏🏏Contest Alert🏏🏏🎈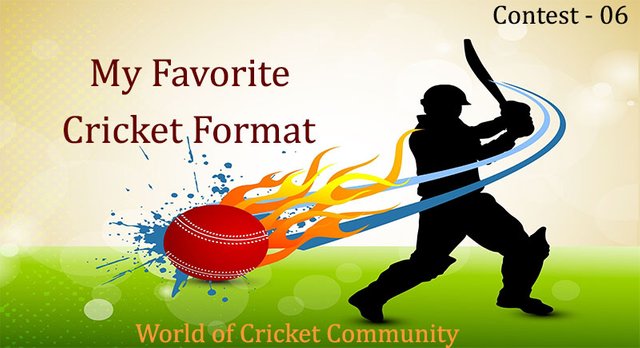 The game of Cricket has a history from way back from 18th century. Test cricket is the traditional form of the game, But then with the time One-Day Internationals and Twenty20 Internationals were introduced. Day by day countries and fans adapted to this with gaining wide popularity around the world.
And with the increase of competition t10 leagues, 5 over matches (like Honkong Sixers) were come in to the field.
So, write an article about your favorite format of this lovely game. It can be Test, ODI, T20 or any other format. You can write about street cricket too. But make sure to write about only one.
Here are some tips what to include. But we are not limiting you!
An introduction of the the format

Why you like it?

Your favorite memories, matches or players.
---
"Rules"
---
You can write in any language.
All posts must be original.
One entry per user to maintain the quality of the post.
Write at least 200 words.
You need to make your post in the World of Cricket 🏏 community and make sure to leave the link of your entry post in the comment section of this post.
Must use the #cricketcontest6 #worldofcricket as one of your first 5 tags.
You can add as many photos as you want but the proper sources should be cited.
Refer to this contest for extra points. Your referred friend just need to mention your name in his participation post.
You can resteem this post and share your entry on the social media platform. (optional)
"Deadline"
---
This contest will Run for 7 Days. It will expire after this post payouts.
---
"Prize Pool"
---
---
1st Winner Prize: 6steem
2nd Winner Prize:5 steem
3rd Winner Prize: 4 steem
4th Winner Prize: 3 steem
5th Winner Prize: 2 steem

Qualified entries will be selected for upvote from the @booming curation account.
---
---
JOIN US ON DISCORD
server
---
---
cc:
---
THANK YOU!!!