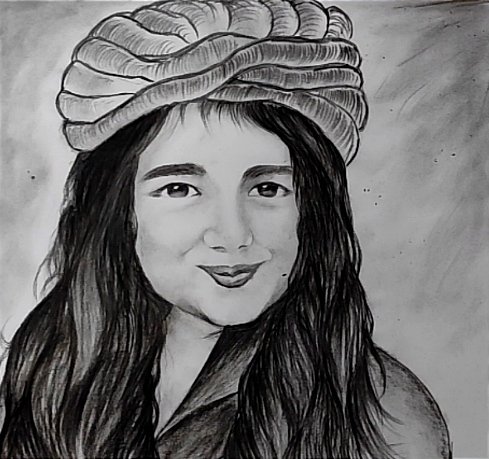 Hi all my dear friends. How are you..? I hope fine. I'm also fine by the grace of Almighty. Today I have come with another portrait drawing video tutorial. In the day I made a portrait drawing of a girl using graphite and charcoal pencil. And I captured the drawing process in my mobile phone. I'm going to share the video tutorial with you all.
Drawing instruments.
art paper
graphite pencil
charcoal pencil
eraser
cutter
cotton buds
drawing board
Now I'm sharing the video with you all.
Firstly I took all the instruments near my hand. The I used graphite pencil 2b. And applied it on the paper. Then I draw the shape of eyes of the girl. Then I also draw the other part of her face. After that I used charcoal pencil and draw the details of the eyes. And then I used a cotton bud to blend the graphite colour. To the next stape I draw hair of the girl by charcoal pencil. And at the final stape I draw the cloth cap to her head.
Thanks all for supporting me and for being with me. I would like to request everyone to join #club5050 programme to get more support.
If anyone want to buy my artwork and any portrait drawing. He/she can contract me in discord.
discord I'd : mdriart#0766
| Category | price |
| --- | --- |
| Poster colour drawing | 0.7sbd |
| Colour pencil drawing | 0.5sbd |
| Human portrait ( black & white) | 0.7sbd |
CC-