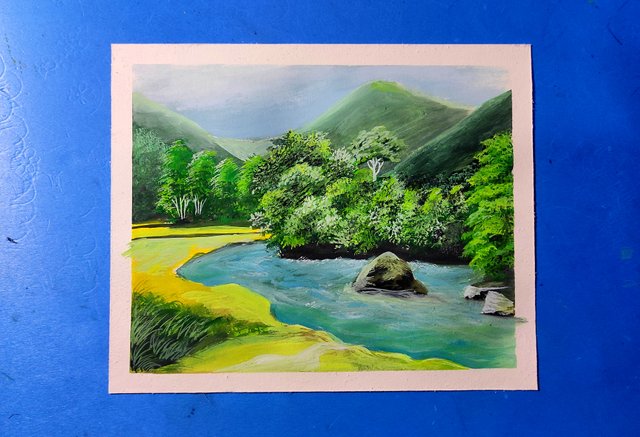 Hi all my dear friends. How are you..? I hope fine. I'm also fine by the grace of Almighty. Today I'm going to share another drawing video tutorial. It's another simple landscape painting. I used acrylic colour to draw the painting. I got some little concept from an object which I collected from a natural video. I took a screanshot of the moment and then I made the painting on the art paper.
Drawing instruments.
art paper
drawing brush
colour mixing plate
acrylic colour shade
Drawing board
water
graphite pencil
Let's enjoy the drawing video.
At first I draw the primary shape of the painting using graphite pencil. Then I prepared all the colour to put it on the plate by mixing as well. Then I applied it on the paper. Firstly I draw the sky using sky blue colour and then I used the mixer of blue and black colour to draw the spot where I will draw the trees. Then I draw the little river. Thus I completed the drawing process.
To learn more about art, follow my recent drawing post.
Thanks all for supporting me from the begging. And for being with me.
And I would like to request everyone to make more power up and join club5050 / club75 or club100 to get more support from curators.
If anyone want to buy my artwork and any portrait drawing. He/she can contract me in discord.
discord I'd : mdriart#0766
| Category | price |
| --- | --- |
| Poster colour drawing | 0.7sbd |
| Colour pencil drawing | 0.5sbd |
| Human portrait ( black & white) | 0.7sbd |
CC-