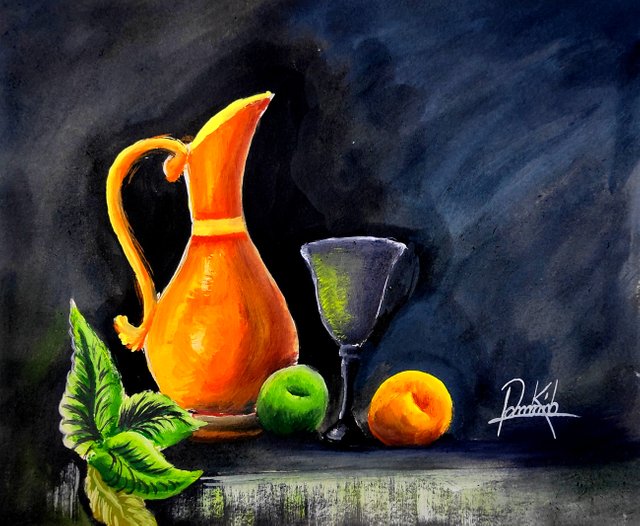 Hi all my dear Steemit friend. How are you all.? I hope fine. I'm also fine. This is 19/01/2022 Wednesday evening. Yesterday I draw a beautiful acrylic painting for the Steemit family and for my drawing lover friends. I made the painting by acrylic colour. It's the painting of a snacks table where I draw a pot a cup two apple on the table. Another side I draw a vegetable leaf.
Drawing instruments.
Acrylic colour shade
drawing brush
art paper
colour mixing plate
water
drawing board
graphite pencil.
Now I'm sharing the painting video.
At the first stape I draw the shape of the painting using 2b graphite pencil. Then I mixed black colour on the plate. And I draw the background part of the painting using filbert brush. After completing the first stape of colouring. Then I started to draw the pot. Here I used red and orange colour mixer. At the corner side I used white colour to make it realistic. Then I draw the drinking glass, two apple and the vegetable leaf. I used different colour to draw those objects. And at the final stape I draw the base where every objects was putted.
Thanks all for supporting me from the begging. And for being with me.
And I would like to request everyone to make more power up and join club5050 / club75 or club100 to get more support from curators.
CC-
@milakz
@daytona475
@steem.skillshare