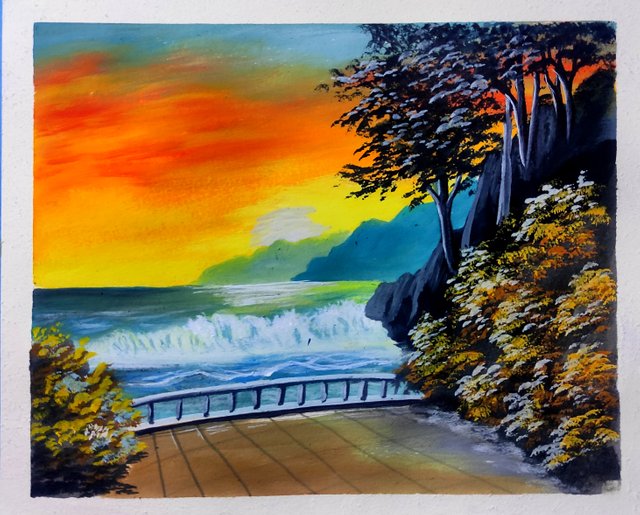 Hi all my dear friends. How are you..? I hope fine. I'm also fine by the grace of Almighty. Today I have come with another colourful sea beach painting by acrylic colour. And it's also the moment of sunset. Behind the mountain, the sun is going to be set at the moment. The sky is looking so colourful then. I tried to highlight the beauty of the sunset moment. I used acrylic colour to draw the painting. Yesterday at night I made the painting video.
Drawing instruments.
Art paper
drawing brush
colour mixing plate
acrylic colour shade
water
drawing board
graphite pencil
Stape by stape drawing process in the video.
In the evening, my little brother comes to me and he asked me to draw a colourful painting. Then he sits beside to me, I was preparing my drawing table and set up the stand to capture the video.
Then I made everything ok. And I started to capture the drawing video. At first I draw the shape of the painting by graphite pencil. Then I took some yellow, red colour on the plate. At first I took yellow colour and applied it on the paper to draw the sky. Then I gradually used of red colour. To draw all the colourful sky.
Then I draw the little mountain on the beach. Here I used lite black and deep black colour. After that I took some orange colour and draw some trees on the black spot. I also draw some trees to the other side. Then I draw the watching ground at last.
Thanks all for supporting me from the begging. And for being with me.
And I would like to request everyone to make more power up and join club5050 / club75 or club100 to get more support from curators.
CC-
@milakz
@daytona475
@steem.skillshare