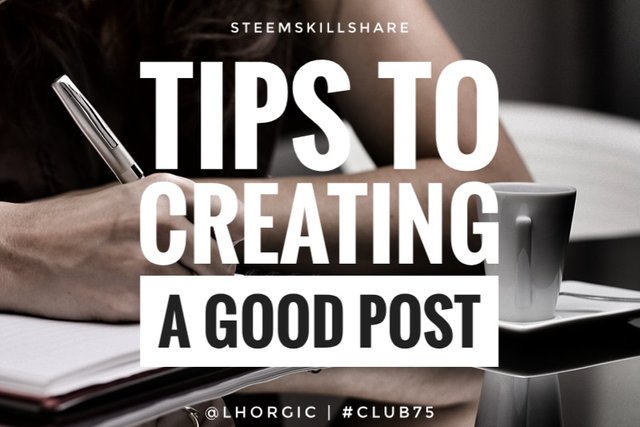 Hello friends and famz. Trust you're good. It feels good to be writing again here. Today I will love to share some tips on how to create a good post. If you have been finding it difficult to make a post,perhaps his could help out. Just enjoy the ride with me.

Choose a Topic of Interest

The very first thing you should do is to pick a topic of interest. Be sure the topic you're choosing centers around what you love because this will help you relax and flow well when writing or making the blog. You can only decide to deviate when you're given a specific audience that doesn't really flow with your interest but you still have to write to educate or inform them anyways.
To avoid this,just try as much as possible to identify and locate your niche where it's very easy to relate with your interest or passion.

Research about it

Don't be too quick to start writing because you feel the topic you want to write about is something you know. Try as much as possible to make research to augment what you know. And if the subject is a bit new to you,take time to do extensive research in order to be grounded and knowledgeable about the subject. This gives you some sort of authority in the sight of your readers when they get to read and also prepares you for their question.

Make an outline

After you research,create outlines for your post,this is more like the writing format or presentation style where you break the important information you want your readers to know into paragraphs and points. This should be carefully laid out. For easy comprehension,you could pick a point and establish it on one paragraph or more depending on the volume of the write-up,if your write up is short,one paragraph should explain a point.

Prepare your draft

After getting all these ready, I mean your topic,your research and outline then you create your draft. Draft here means a skeletal write-up of your the what you really want to publish as your post. The reason why you are creating a draft is so you can go over it and make correction where neccessary before making the final post which you would publish for your readers to read. It will not be nice rushing into publishing without creating a draft which make it easy for all forms of editing and correction.

Make your post.

Here is about the final stage where you make the real intended post after you must have created your draft and edited toroughly. This is the final work. It is assumed that in this stage the write up is 98% ready with the other 2% for publishing it for others to ready and benefit.

Conclusion

Here you go,you now have a simple comprehensive guide on how create a good blog/post. This method is generic however it might no be very suitable for writings that are voluminous like books,novel as this requires a lot of speciality. This method is just for articles and simple blog post.
Thanks for your time.
Regards:
@lhorgic♥️