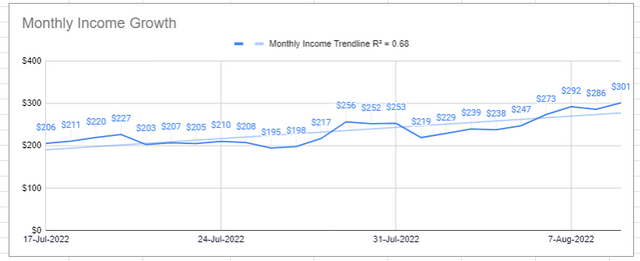 A year ago, I attempted a project for Universal Basic Income. At the same time, I started a project for myself. I staked a particular dollar amount it in a cryptocurrency. Later in the year, I offered a similar amount of money to buy equipment for "Steem Schools" in Nigeria. The earnings that equipment would have made were meant to buy more equipment.
Unfortunately, the UBI project would not sustain itself. People would participate as long as I would exhort them to participate. The Steem School idea fell through because the other participants could not agree on the project's direction.
My project, where I focused on making money by staking for myself, was more successful. Having given it a year, I decided to describe the process to others so they, too, might develop a similar income stream. I have to shake my head.
One aspect of staking is that it is a form of compounded investment. Earnings from one piece of equipment would have meant buying another (allowing more students), investing in a staked cryptocurrency creates more of that currency and so on.
The top graph shows the increases I have made in my staked asset since mid-July. The dollar amounts are not how much I put in but reflect the chance of monthly income I would have. Part of it is due to the return on staking (a weekly dividend), additional investments that I put in, and the fluctuation in the cryptocurrency. As of July 17, my expected monthly income was just over $200 and has risen to roughly $300. I describe it as an expected monthly income. What if I hold off receiving that income for two years?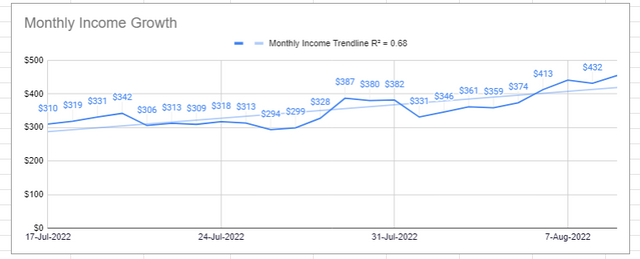 By delaying withdrawing from the staked investment for two years, the value of my monthly income would be over $400 per month, assuming I make no new investments and the price remains unchanged.
As we see that under the same conditions, my monthly income would be over $2000 per month.
Now is a particularly good time to invest in your future. When we see the cryptocurrency market return to its previous levels, what is invested now will increase by 4 or 5 times (or more). Perhaps in two years. the $400 per month I expect will be $2000. Instead of being financially independent in ten years, it is as little as two years away.