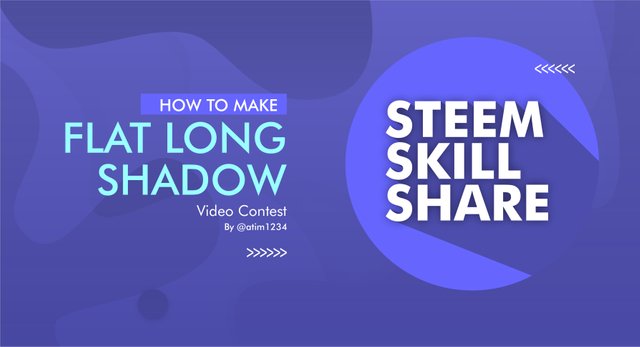 Hello Skillshare Steem Community Members, This time I want to share a video entitled Tutorial How to Make Flat Long Shadow in CorelDRAW, Actually, I made this video to take part in the Video Contest created by our Official Account @steem.skillshare.
So, I also happened to make this video as material for Graphic Design Class, Lesson 5, but it's okay to participate in the Contest. It's okay I made this video for Class preparation, So I don't think it's a problem.
But even if, I violated my Contest Terms I'm sorry. And here's a video tutorial on how to make a flat long shadow in CorelDRAW.
In this tutorial I designed a Steemskillshare Text with a flat long shadow style, For designers who are used to making this effect, this tutorial is very easy. Because this is a basic technique, but it will also embellish your design to make it look more attractive
To make this effect, we don't take long, only about 3 minutes, I don't explain in detail, the Tools and Menus I use, this is just a basic explanation, because before you create this effect using Corel Draw, you must understand the function and tools in this application.
So, I hope this video is useful, thank you

Don't forget to keep following the #club5050 Program
---

Best Regards To :
@milakz
@steem.skillshare

My social media
Instagram : https://www.instagram.com/abenk_bolang21/
Facebook : https://www.facebook.com/abenk.bolang21/
Twitter : https://twitter.com/abenkbolang
Email : muzammilabenk@gmail.com

Join SteemSkillshare Community
Join Our Discord

---
Alternative links delegates to@steem.skillshare :
50100200300400500
10002000300040005000
10000