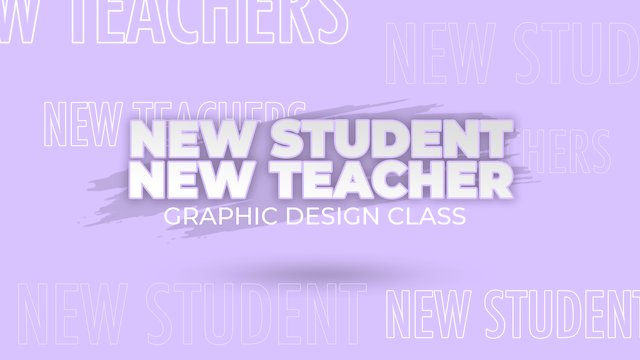 As in the previous Graphic Design Class notification, that we will start graphic design class soon.
Graphic Design Class Season 2 Coming Soon! - Teacher and Student Recruitment For Graphic Design Class.



And yes, We are about to Start this Graphic Design Class. In the previous announcement that I have also recruited several students and there are also two prospective Graphic Design Class Teachers who have registered as Graphic Design Teachers. But because there were only two people who registered as teachers. And this is their application:
But after I saw the portfolio of the two of them, I will only choose @lhorgic to be a graphic design class teacher in this second season. And for @aligraphic, you are not yet included in my criteria to be a graphic design teacher in our class, sorry. But you will still be able to participate as anything in this Community.
And congratulations to @lhorgic. Since you are the only one who will become a Graphic design teacher, then I will also intervene to teach this graphic design class. and for the learning curriculum, it is currently in the preparation of teaching materials, I will probably announce it in the next 2 days. maybe it could be faster.


And Welcome Also to Graphic Design Class Students. that is :
@aularluis , @ahsansharif , @dibie, @yolvijrm, @christianyocte,
@cachetes-27, @masrull, @basky14, @mujibrahman, @obrisgold @luiyi-22
Actually, some of you, didn't register well, and omitted some of the rules that I had set before, but it doesn't matter, I just want to remind you that all of these things you must study and understand well before you do anything. Likewise when you take a graphic design class.
You have been accepted as a Graphic Design Class Student, I hope you can learn Graphic Design and take classes well.



And for the Graphic Design Class this time there are rules and policies that apply, namely:
Posts From Teachers Don't Get Post PINs. Even though I taught it myself. But I will make an Announcement to be PIN Post on the Community Home.
Every post either teacher or student must give 10% of the payout to our curation account @steem.skillshare
Every Student Must finish Graphic Design Class well and as soon as possible.
If a student does not attend class three times in a row, this graphic design class will be excluded.
If there are teachers and students who are proven to be plagiarizing, they will be expelled from the Graphic Design class and will be muted from the community.
Because our Community really supports the #club5050 Program, every student and teacher is allowed to join this program, for more information you can read it here
And the rest still apply the rules that exist in the first season graphic design class.
Thank you.
Don't Miss the Announcement and Lesson Schedule for Graphic Design Class Soon!

---

Best Regards To :
@milakz
@daytona475
@ftz
@papi.mati
@slon21
@steem.skillshare

My social media
Instagram : https://www.instagram.com/abenk_bolang21/
Facebook : https://www.facebook.com/abenk.bolang21/
Twitter : https://twitter.com/abenkbolang
Email : muzammilabenk@gmail.com

Join SteemSkillshare Community
Join Our Discord

---
Alternative links delegates to@steem.skillshare :
50100200300400500
10002000300040005000
10000