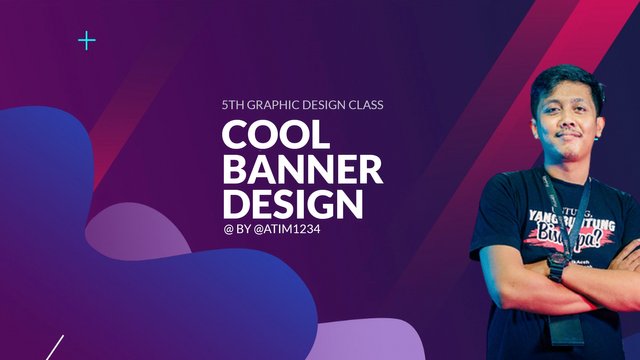 Hello friends, Graphic design class students, After attending the 4th Design Class taught by @lhorgic, now we will continue the 4th graphic design class, entitled: Banner Designing Practice.
Previously, I apologize to all of you, because I am a little late in making this 4th lesson, it's because of some of the busyness that I have outside of this job as the Head of the Graphic Design School.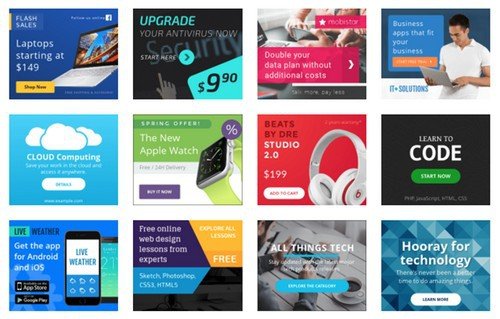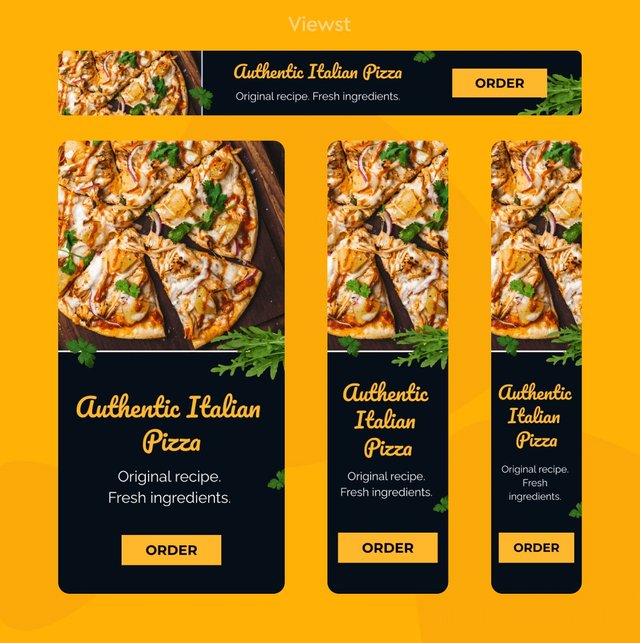 Have you ever seen this type of image above? Yes, of course, maybe most of you already know that the image above is a banner, but have you ever designed a banner?.
I myself first learned to design, the first image I made was a banner, yes because this image is very easy to make.
But, although this type of image is easy to make, there are principles that we must apply in designing a banner, to make it look attractive and beautiful to look at.
So banners can be said to be information media that contain promotional messages and publications, whether for the purpose of selling or to introduce something to potential customers.
These banners are usually printed or printed using digital print and are designed in advance. However, in the digital era banners are also used to explain or inform a media promotion/publication that contains images and text on a website, and social media.


Banner Functions and Uses.
Essentially, the banner serves as a marketing medium for publications, adverts, promotions, and a variety of other reasons. because the objective of putting up a banner is to promote or publicize something so that more people notice it when they see it.
So it can be concluded that the function of the banner is as follows:
Information Media;
Promotion media;
Identity/ Characteristics;


Design an attractive Banner.
Because the banner is a popular publication and advertising tool nowadays, we must be able to design or create banners that are as appealing as feasible. As a result, many individuals will be tempted to follow what is said in the banner that you create.
You must be skilled and creative in order to arrange the text in the banner and make a decent banner display. There are various approaches you may take to make your banner design appear stunning:
Use as few words as possible.
This is done so that when people view your banner, they can capture the material even if they only see it at a glance.
Short words that might pique people's curiosity.
Because most people are too slow to read in detail, we must present a phrase or sentence that will pique people's curiosity in reading the followup, which is what makes your banner attractive.
Also, the font size of the highlighted words should be larger so that people can read them well even from a distance.
Select the Appropriate Color
Color may influence how people react to what they see on your banner. You must also match the color of the banner to the company's branding. People take longer to read colors that are harmonious. On the other hand, even if the color is eye-catching, it will be quickly abandoned if the color harmony clashes.
Also, I recommend against using too many Dominant Colors in your banner, with no more than three.
Images that are appealing.
Of course, a picture must be included in a nice banner, or it may be substituted with an illustration. You must now pick an image or illustration that matches the banner you made in the image/illustration selection. However, the positioning must be considered so as not to disrupt the focus of information.
Design that is proportionate.
You must pay close attention to the proportionality of each location and design element in your banner so that it is not distracting and easy to read. Make certain that all of the information is readable and that everything you create is compatible and does not conflict with one another.
Well, that's all the opening lesson for this Graphic Design class, I hope this can help you in making an attractive banner.
But, apart from understanding how to make an attractive banner design, you also have to understand the tools of the application or design software that you will use to create the banner.


So for this homework assignment:
Explain what a banner is, the types of banners and their functions.
Create Your Version Banner, using Any Application or Software, ( Show Proof of Work or worksheets don't have to show your entire Work)
Banners that aim to promote Steemit and invite people to join the #club5050 program
Explain Why Your Banner Is Attractive!
Elements and Principles of Design What do you apply to your banner?
That's all the tasks you have to do in Class 5 season 2, with the following score conditions:
| Num | Task | Terms of grades | Grades obtained |
| --- | --- | --- | --- |
| 1 | Understanding and mastery of the material taught | 2 | ? |
| 2 | Unique and Interesting Information Processing from the Ad Banners that you Create | 4 | ? |
| 3 | Your participation in #club5050, #club75 #club100 | 2 | ? |
| 4 | The authenticity of the results of your work | 2 | ? |
---
Rules

There is no plagiarism, if there is plagiarism, it will be muted from the community

Posts Must Set Payout at least 10% for Community Curation account @steem.skillshare

Tasks should not be less than 300 words.

Tasks must be written in the Steem Skillshare Community.

The assignment will end until the Class Report has been published.

Use hashtag #atim1234-lesson5

Assignment title must be : Graphic Design Class Assignment - 5th Lesson : Branding By @yourusername

Don't forget to keep following the #club5050 Program
CC : Graphic Design Students
@aularluis @dibie @yolvijrm @christianyocte @cachetes-27 @samsol003 @madilyn02 @eliany @masrull @basky14 @yorianajsg @mujibrahman @obrisgold @luiyi-22 @ahsansharif


---

Best Regards To :
@milakz
@daytona475
@ftz
@papi.mati
@slon21
@steem.skillshare
@steemcurator01

My social media
Instagram : https://www.instagram.com/abenk_bolang21/
Facebook : https://www.facebook.com/abenk.bolang21/
Twitter : https://twitter.com/abenkbolang
Email : muzammilabenk@gmail.com

Join SteemSkillshare Community
Join Our Discord

---
Alternative links delegates to@steem.skillshare :
50100200300400500
10002000300040005000
10000