Hello,
---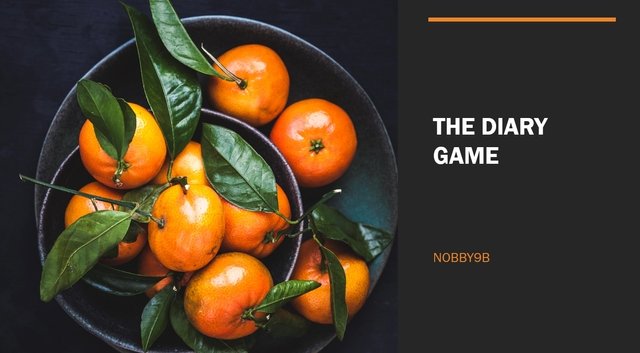 ---
Today, I wake up at 6 in the morning and goes for morning walk. I did some exercise and meditates for some time. Coming back home I brought some daily essentials. After coming back, I took my bath and goes to roof top. It a very clear and nice weather. I enjoyed the sun bath for some time which is very important for your body as it helps to generate vitamin D in our body.
---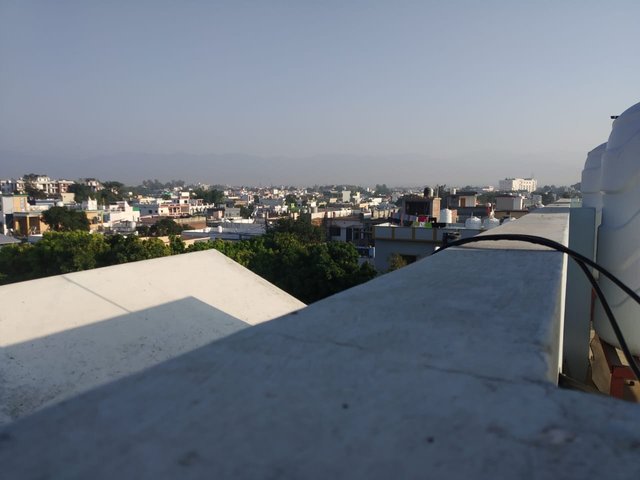 Rooftop
---
Afterward, I did my breakfast. I read some articles and listen to music. I started to watch the anime series One Piece.
After that, I activated on Steemit and read some articles. Today, I find some glitches or say problems in #CLUB5050 tool created by @starlord28. Source :. I do not really know that these are really faults or I misunderstood them.
What I found is, that the tool that tells about #club5050, calculates the SBD earned by the user and then converts them into steem at the current rate in exchange(SBD to STEEM) and then draws the pie chart about the power-up status.
To highlight the problem that I find, I am using my accounts example. When I search for my accounts details I get this :
---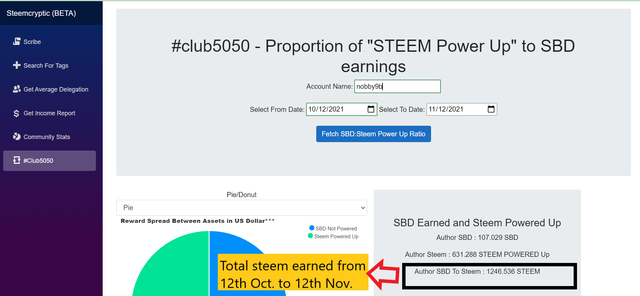 Checking power-up status Source :
---
I searched for 1-month details, the tool shows that I get 107.029 SBD in the last 1 month. The tool now converts these SBD into STEEM at the current exchange rate of 11.64 Steem for 1 SBD. After this conversion, the total STEEM for my account for this 1 month is 1246. Now, the tools draw the pie chart of steem power up status. At this time my power up is 50.6%
I checked these power up details after 5 hours and I get these details :
---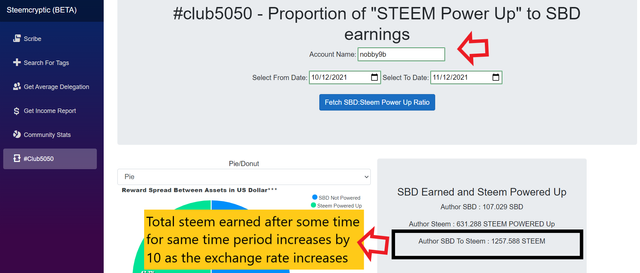 Checking power-up status after some time Source :
---
As you can see, I selected the same time period and now this tool shows total SBD as 107.029 but the STEEM earned is now 1257.6. Becuse now the exchange rate of SBD to STEEM is 11.75. And, due to this rise in exchange rate the tool now draws pie chart based on these details and my accounts power-up percentage reduces automatically.
Now, suppose the exchange rate for SBD to Steem goes to 20. And if I search for my power-up percentage for same period, the tools will show total steem earned by me as 107.029 * 20 = 2140 but my powered up steam remains same as 631. So, the tool now shows that my power-up percentage is 29.4%.
So, according to me this tools should be rectified, and the exchange rate of SBD to STEEM should be kept as the payout day's exchange rate or the exchange rate of the day on which I powered up my steem.
For your attention : @sapwood , @starlord28, @steemcurator01, @steemcurator02
Thank You !!!