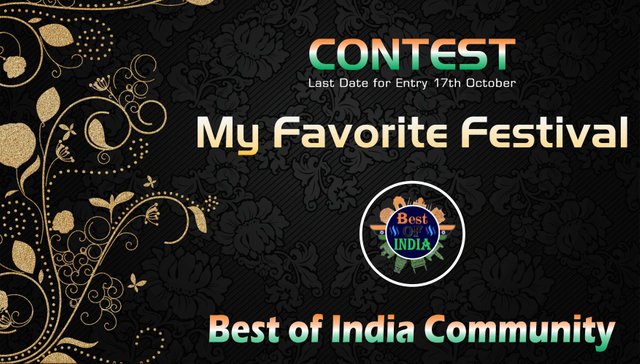 India is a land of festivals, where people of different religions come together in peace. The variety of interesting festivals celebrated in India is a true reflection of its rich culture and traditions. While many festivals take place throughout the year, October to January is the time when the country can look its best.
India is one country where all religion and society celebrate their traditions. There are Indian festivals that are intelligent, religious, and intellectual. Therefore, every day is a new celebration in this country. You also enjoy the many Gazette holidays that give you the opportunity to plan a trip around the country.

Contest Topic
Due to covid situation, we all know that we have faced many restrictions for the celebration of various festivals but it looks like the situation is somehow under control and we have some flexibility to celebrate our festivals.
So, we want to know from our community members what you think about your favorite festival, what is your favorite festival, why do you like it and how you celebrate it, what are the philosophy behind your favorite festival, how your favorite festival come into existence (history) and all you want to share we will appreciate.

Contest Rules
So, there are some strict rules for this contest to follow:
You have to post this contest on the "Best of India" Community.
The title of your post will be: "Best of India Contest | My Favorite Festival"
Post must contain at least 300 words.
You have to set 10% beneficiary for @bestofindia community to strengthen the community.
You have to upvote, resteem this post.
You tags must include #bio-oct in your first 5 tags with #bestofindia #steemexclusive #contest #india #festival
We are against plagiarism so be unique and original.
Minimum 3 photos of your favorite festival must be included and we will prefer your own taken photos else mention the proper source.

Comply with the Basic Structure of a Post
Basic Structure of a Post--
Proper formatting
Captioning the image
Specifying location(if any)
Proper alignment of the Images.
Consistent styling techniques
Emphasizing text (wherever needed)
Useful Resources to maintain the Basic Structure of a Post--

Contest Duration
This contest will start today and will end on 16 October 2021 at 11:59 IST. (Indian Standard Time).

Contest Prize
We will select the top 5 entries from the contest participants that have followed all the rules and who have covered the contest topic very well. We will also consider the quality of post and effectiveness, uniqueness, layout, and markdown styles, photos included, way of presentation, detailing, maintaining the Basic structure of a Post, etc.
| Winner Rank | Prize |
| --- | --- |
| 1st Place Winner | 10 |
| 2nd Place Winner | 7 |
| 3rd Place Winner | 4 |
| 4th Place Winner | 3 |
| 5th Place Winner | 2 |
In addition, all the eligible posts will receive BOI votes and up to a max of 30% votes from Steemcurator07. We will also select few posts for Booming support. All eligible content will receive upvotes from BOI.
We are eagerly waiting for your participation. So, grab this opportunity. Steem On...
Thank you.