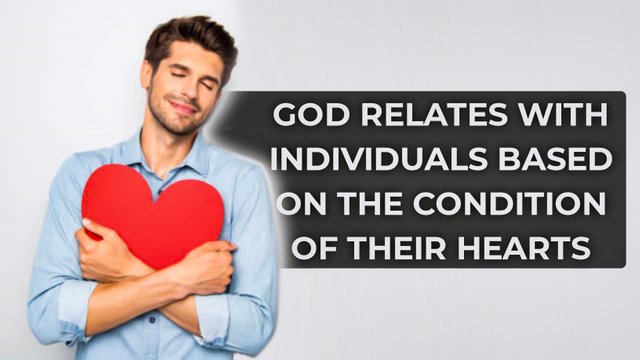 "So it was, when Ahab heard these words, that he tore his clothes and put sackcloth on his body, and fasted and lay in sackcloth, and went about mourning.
And the word of the LORD came to Elijah the Tishbite, saying,
"See how AHAB had HUMBLED HIMSELF BEFORE ME, I will not bring the calamity in his days. In the days of his son, I will bring the calamity on his house."
1 Kings 21:27-29 (NKJV)
• God wants a repentant heart, one who is willing to change when he or she heard the Word of God.
Someone who is confronted with the Word of God about his or her sin and is willing to repent (2 Samuel 12:7-13).
If some were told about their sins, the wrong they did, they would want to fight the person who told them.
"I will bless those who have humble and contrite hearts, who tremble at My Word."
Isaiah 66:2 (NLT)
If you humble yourself, tremble at God's Word, you shall be blessed.
• God's Word
Your attitude and response to God's Word are important to Him.
When you heard God's Word and you despise it in your heart, you may not receive the best of God.
God blesses those who tremble at His Word.
When you committed a sin, God is not happy; however, if you have a contrite, remorseful heart, that is, you show deep sorrow for the wrong done; God will have mercy on you (1 John 2:1).
God promises to defer the punishment of Ahab because He humbled himself.
God will have mercy on whatever you have done wrong if you come to Him with a repentant heart (1 John 1:9).
• Relationship with God
God is interested in fellowship.
~ Serving God is individualistic–you serve Him with your heart as a person (John 4:24).
~ Walking with God is not done collectively but individually, although we need to fellowship together as one body in Christ (Hebrews 10:25).
~ God relates with His children individually, and that is based on their hearts towards HIM.
~ You cannot hide from God; your thoughts and intentions are bare before Him (1 Chronicles 28:9).
• Those who choose their own ways, delight in their sins, are under His wrath.
"Just as they have chosen their own ways, and their soul delights in their abominations,
So will I choose their delusions and bring their fears on them; because when I CALLED, no one answered, when I SPOKE they did not hear; but they DID evil before My eyes and CHOSE that in which I do not delight."
Isaiah 66:3,4 (NKJV)
When someone delights in evil, such may bring a curse on himself or herself.
"Like a flitting sparrow, like a flying swallow, so a curse without a cause shall not alight."
Proverbs 26:2 (NKJV)
~ Curse is a product of sin.
~ God is merciful to those who have humble hearts ❤️, a repentant heart (1 John 1:9).
~ What happens to an individual after he or she committed a sin is determined by his or her heart condition.
~ Some are under a curse because of their attitude to God's Word—they are indifference to the Word.
When you love what God hates, you put yourself under a curse.
~ If you associate, identify, or partner with a cursed person, you may partake in his or her curse.
~ If you help, show mercy to a cursed person, you may partake in his or her curse.
~ If someone is under God's wrath and you want to help or support the person, you may partake in his or her sin. Paul admonishes Timothy and every leader or believer:"Do not lay hands on anyone hastily, not share in other people's sins; keep yourself pure"(1 Timothy 5:22).
• Find out why people are in problems before you get yourself involved in their matters—in order to help.
God may not be happy when you use the blessings He gave to you to help someone who is under His wrath.
Listen to God, that is, ask before you get involved in people's matters—get His approval.
• Take note:
Ahab had a right heart but married to a woman with a wicked heart (1 Kings 21:25).
If you have a wrong person around you, you may bring yourself under God's wrath: If you keep listening to him or her.
If you allow someone to influence you negatively, especially against God's will, you will suffer for it.
"But there was no one like AHAB WHO SOLD HIMSELF TO DO WICKEDNESS in the sight of the LORD, because JEZEBEL HIS WIFE STIRRED HIM UP [incited him]."
1 Kings 21:25 (NKJV)
Remember, God relates with us individually. Do not allow spouse, parent, friend, or whomever to influence you against God's will.
• You will not fail in Jesus' name.
Peace!