Greetings friends some few days before we talked on the diagnosis of disease based on the ultrastructure and the Staining Method. Here we continue with the Staining Method which is ELISA. A typical example is the diagnosis of hepatitis virus.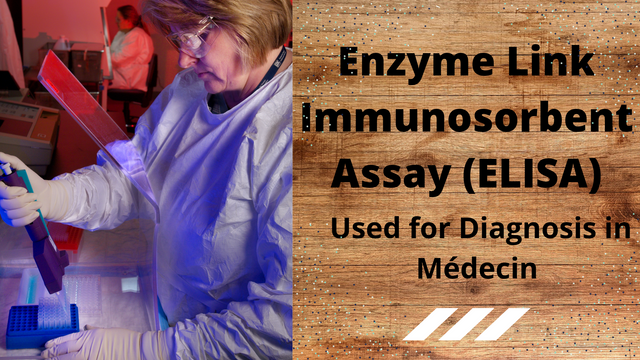 Designed on Canva
ELISA in the diagnosis of hepatitis B
A diagnosis of hepatitis B often involves a membrane test. ELISA is generally used to detect HBsAg antigens located on the surface of the virus. The hepatitis B surface antigen (HBsAg) is the most commonly used antigen for screening for this infection. It is the main perceivable viral antigen to show up during disease. The outer envelope contains proteins that protect the viral structure and allow it to enter the target cell.
These particles are not infectious and are composed of lipids and proteins, which are part of the surface of the virion called surface antigen (HBsAg), and which are produced in excess during the life of the virus. This test therefore uses the constituents of the viral membranes to diagnose the disease.
Use of membrane receptors:
Biological membranes also have receptors specific to certain molecules or ligands. A qualitative and quantitative diagnosis can be used for the diagnosis of certain pathologies. To do this, we use radio-labeled ligands or specific fluorescent ligands that, in the presence of the receptor, will bind specifically to the receptor to form a complex receptor-ligand label which can be detected and quantified. The presence of the receptor-ligand complex indicates the presence of the microorganism.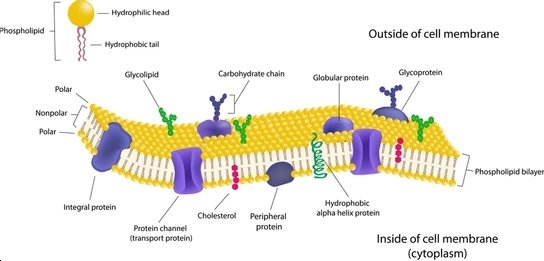 Source Structure of cell membrane
Diagnosis of a fungal disease:
The plasma membrane of fungi differs from that of human cell plasma membranes by the presence of ergosterol. Fungal cells can be diagnosed by quantification of ergosterol, which can be done by HPLC/DAD.
The cells are first lysed by physical abrasion (agitation with glass fragments of the order of one micron). Then an HPLC is performed, which allows to separate the constituents of the cell, including ergosterol, and then a DAD detector is used, which allows to detect and quantify the ergosterol present. This ergosterol informs on the presence of fungal cells in the analyzed sample.
CONCLUSION
In sum, it was a question for us to show the utility of the biological membrane in the diagnosis of diseases through our different posts. To do this, we first explored the components of the membrane that can be used in the diagnosis, then showed the dysfunctions related to the membrane components, and finally listed the strategies for diagnosis of the membranes, which are based essentially on tests.
It emerges that the membrane, being a bilayer made up of phospholipids, proteins and carbohydrates, is an element which, because of its components, generates the development of diseases such as channelopathies, hereditary spermocytosis, sphingolipidosis...
In addition, the diagnosis of these diseases is based on very precise tests or diagnostic methods such as staining tests, cryo-electron microscopy, and electrocrystallization, highlighting the ultrastructure of the biological membrane.