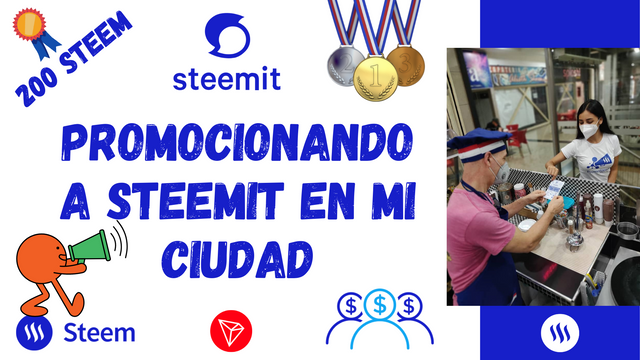 ---
Hola queridos Steemianos❤️
En esta oportunidad quiero hacer el anuncio ofical del inicio de este divertido concurso llamado "Promocionando a Steemit en mi ciudad" suena divertido no? Como representante de Steemit para nuestro pais "Venezuela" la promocion forma parte de mis responsabilidades, y ahora mas que he sido nombrada como promotora oficial de steem en la comunidad PromoSteem 📣.. Asi que, espero que todos los usuarios de mi pais muestren su compromiso con nuestra plataforma ya que la promocion es importante tanto para steemit como para ti tambien.
Este concurso esta dedicado para todos los venezolanos no importa en la comunidad donde hagan vida y todos podran participar gracias a la etiqueta exclusiva para el concurso.
Antes de continuar quiero agradecer al patrocinador de este evento nuestro querido @Stephekendal una persona que siempre ha estado pendiente de promocionar a steem en cualquier parte del mundo. Gracias por la oportunidad y por darme esta gran iniciativa.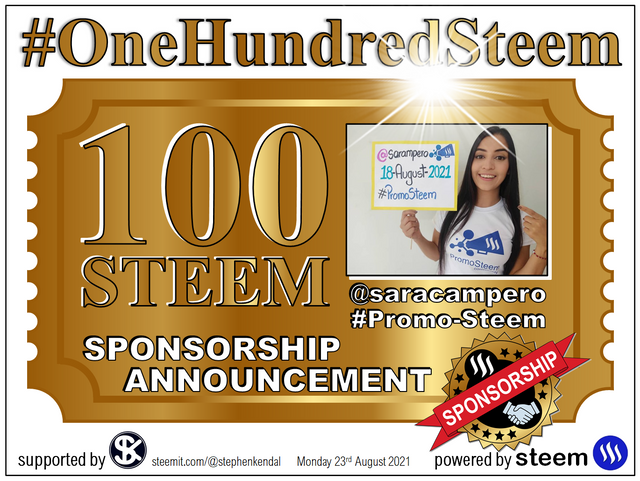 Sponsor announcement, by @stephenkendal
---
Tematica del concurso
El concurso trata de promocionar steemit en nuestra ciudad, puede ser como lo he estado haciendo yo "repartiendo volantes", puenden organizar reuniones o meetup, o lo que se les venga a la mente para promocionar nuestra red social en su ciudad.


¿Como participar en el concurso?
Escribe un texto de al menos 200 caracteres en
El título de tu publicación debe iniciar "Promocionado a Steemit en mi ciudad: "Título de su actividad" by @autor".
Utiliza las etiquetas en este orden #promosteeminmycity #promo-steem, #steemexclusive, #venezuela, #contest. Recuerde hacerlo en este orden y que la etiqueta exclusiva este dentro de las primeras "4" siempre "no invente".
Debe dar resteem a este post y publicar su enlace de participación en los comentarios de esta publicación.
Debe invitar al menos 3 amigos a participar en el concurso.
Puede publicarlo desde su comunidad favorita, lo importante es que use la etiqueta.
Puedes promocionar tu comunidad lo importante es que más personas se unan
Puede participar una y otra vez, las veces que desea porque sería bueno que dedicara varios días a hacer esta promoción en su ciudad.
También se agradece compartir esta publicación y sus participaciones en sus redes sociales (twitter, facebook, instagram, tiktok, etc) usando las etiquetas #steemit #steem $steem $sbd @steemit y puede mencionarme si lo desea, No olvide compartir el enlace y capture en los comentarios de su publicación
---
Premios y recompensas
50 $STEEM para el 1º Lugar. + 1 camiseta personalizada
45 $STEEM para el 2º Lugar. + 1 camiseta personalizada
40 $STEEM para el 3º Lugar. + 1 camiseta personalizada
35 $STEEM para el 4º Lugar. + 1 camiseta personalizada
30 $STEEM para el 5º Lugar. + 1 camiseta personalizada
Las camisetas personalizas con el logo de su preferencia (steemit, steem, promosteem, o la de su comunidad favorita
---
¿Quiénes ganarán? O puntos a tomar en cuenta
Tomaré en cuenta las personas que mejor se desempeñen y más personas logren unir y registrar. Recuerden hablarles de los logros, la criptoacademia, y la construccion de Steem Power para que apoye al crecimiento de su comunidad favorita.
---
Duración del concurso
Estableceré 10 días para este concurso para que todos se preparen y puedan participar, comenzado desde las 00.01 del día 03 de septiembre.
Fecha de culminación: 11:59pm, 12/09/21, (Hora de Venezuela)
---
Y qué opinan? ¿Están listos para promocionar a Steemit en su ciudad?
Es importante mencionar que las participaciones "no tienen" votos garantizados, así que lo invito a realizar su mejor trabajo para que pueda sorprender a todos los curadores de la plataforma.
También quiero recordarles que está prohibido hacer menciones a los curadores (
@steemcurator01
,
@steemcurator02
) en sus publicaciones. Si no sabía de esto lo invito a que revise los anuncios de todos los líderes de comunidades.
---
Herramientas para participar y ejemplos de como hacerlo
Los invito a imprimir algunos de los siguientes volantes que traen información concreta para que las personas comiencen en Steemit. Los pueden imprimir en blanco y negro que es más económico, lo importante es que las personas tengan la informacion.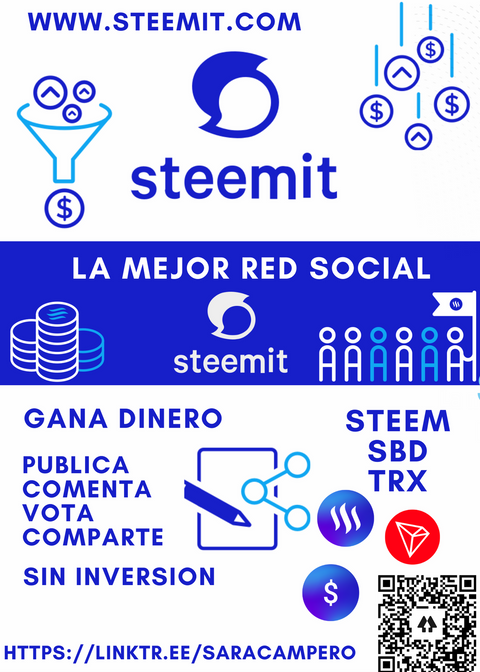 My second flyer part 1, by @saracampero
---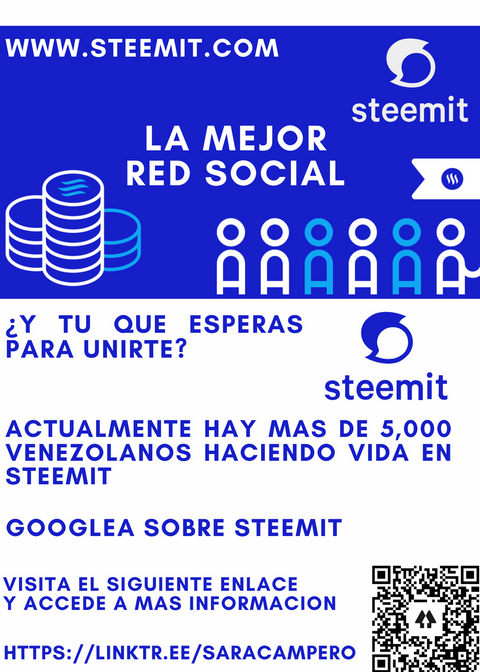 My second flyer part 2, ​by @saracampero
---
También, puede visitar la siguiente publicación para que vea como yo lo estoy haciendo "promocionando steemit en mi ciudad"
---
Recuerden, pueden participar desde cualquier comunidad de su preferencia utilizando la etiqueta #promosteeminmycity en las primeras.
---
¿Estamos en pandemia?
Pues si, pero igualmente usted sale a comprar comida, a reuniones, al chismear con la vecina, a jugar lotería, etc, aproveche esos momentos y entregue volantes. Obviamente cuídese y desinféctese con alcohol antes, durante, y después, sin olvidar su tapa bocas. Demuestre su compromiso y que tanto le importa nuestra plataforma.
Muchas gracias a todos estaré atenta esperando todas sus participaciones prometo visitarlos rápidamente, No olviden invitar a sus amigos.. Bye-Bye. ❤️❤️
Saludos
saracampero
Country Representative Venezuela
✯✯✯✯✯✯✯

✯✯✯✯✯

✯✯✯

✯
Cc.
@steemitblog
@steemcurator01
@steemcurator02
@stephenkendal
@shortsegments
@cryptokannon
@steemchiller
@jphamer1
@trafalgar
@xpilar
@upvu
@steemingcurators
@steem-agora
@reflektor
@hingsten
@bippe
@twinner
@upmewhale
@gotogether
@justyy
@successgr
@sct.krpw
@etainclub
@xedal
@enki
@steemwomensclub
@cotina
@crearte
@promosteem.com
@marcybetancourt
@mariana4ve
@arie.steem
@oscarcc89
@alejos7ven
@hive-181136
@fjjrg
@aleravago
@sampraise
Cc to all the CR's.
SOUTH AMERICA [14]
EUROPE [7]
OCEANIA [1]
---