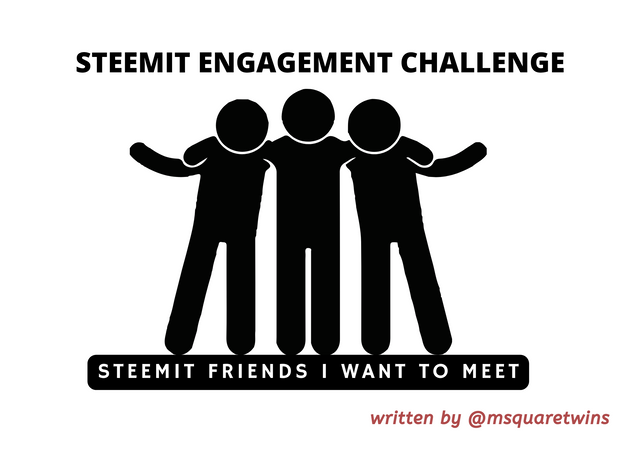 Image Designed on Canva
---

Introduction

Hello Steemians!
It is a beautiful day again on this great platform. I hope you had a great night. I am Kehinde Micheal and my username is @msquaretwins here on this platform. The steemit engagement challenge that started on Monday this week is no doubt a great and good initiative from the steemit team. It has increased the engagement and participation. This post is my 4th entry in this contest and I am glad I am making it on this great community, steemvenezuela. In this post I will be talking about my steemit friend that I want to meet, where I meet them and the reason why I want to meet them. Happy reading!
---

My Steemit Friends I want to meet

There are so many amazing friends that I have meet virtually online here on this great platform. All of them are wonderful people from various part of the world. In this post, I will be writing about few of them now. Later I will discuss about some others at any opportune time.
My first steemit friend I want to meet is @beautybb. Mrs Adaku Beauty Ome is from Nigeria and I met her on @steemalive telegram community platform.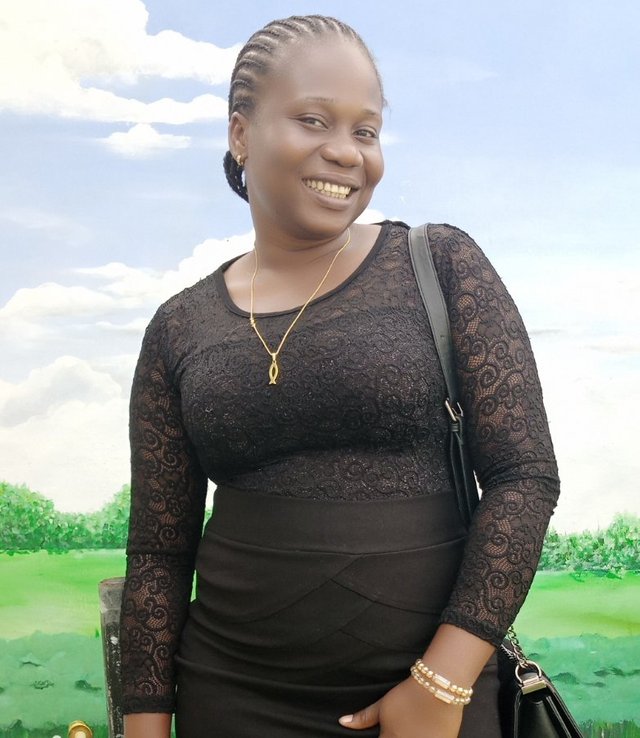 @beautybb
I met her on steemalive telegram platform. Then she was having a slight issue about cryptoacademy homework and she sent a message to me to make enquiry about the issue she was having and that where we first have conversation together. Although I have always noticed her participation both on steemalive community on steemit platform and on telegram platform, but our one on one conversation was around August last year when she sent a personal message to me on telegram to make enquiry about a particular cryptoacademy homework post.
What I Admire about beautybb
There are so many things I admire about beautybb, I will shortly describe it in the next paragraphs with practical example.
Inquisitiveness: One of the exceptional quality that I admire about beautybb is inquisitiveness. She is always curious to learn new things and in fact, I can say that our meeting together via steemalive platform is because of her curiosity to learn new thing. I cherish that quality about her.
Humility: Apart from her inquisitive spirit, I also notice something about her. She is very humble. Her humility is amazing. It is one thing to be inquisitive, it is another thing to be humble. Beautybb possesses the two quality, she is inquisitive and humble.
Detailed Oriented: Another important trait I noticed about beautybb is her ability to pay attention to every detail. At first when we started chatting and putting her through some things, she did not know that I am a Twin. So when she collected with me on steemit platform and went through my blogs, she discovered that I am a Twin. She then asked me, "are you a Twin?" and I said yes. She said she's been wondering seeing my username and my Twin brother' username.
Grateful Heart: Not many people have a grateful heart. There are some people who you will help and will not even say thank you. Beautybb is not a person like that. She is always thankful for any little thing you do for her.
Resilience and Tenacity Another trait that I noticed about her is Resilience and tenacity. She is someone that does not give up easily on any task. I am not saying this to flatter her. I noticed this times without numbers. When she joined cryptoacademy community, she has little or no knowledge about cryptocurrency and some technical tools to analyse crypto chart. I would always check her entry and saw her score below average. She kept on having low scores in the academy.
But despite the fact that she's having low score, she did not let her initial failure in the crypto academy weigh her down because she believe in herself. Instead she kept on pushing and making her post until she mastered some technical tools and gained some knowledge about cryptocurrnency. Then after she has mastered some tools and gained some knowledge about cryptocurrency, she has been getting great score. I believe her resilient and doggedness makes her a grate personality.
Intelligence Another important trait is that she grabs things easily. Just tell her what to do and she will come up with great job. Her well contributions in steemalive community platform also shows her intelligence.
Why I want to Meet Beautybb
I want to meet this friend of mine because I will like to have personal chat with her one day. Out chatting has been on social media, steemit platform and telegram. Therefore I will like to see her one day and have physical chatting.
---

Another steemit friend that I want to meet is @oluolvic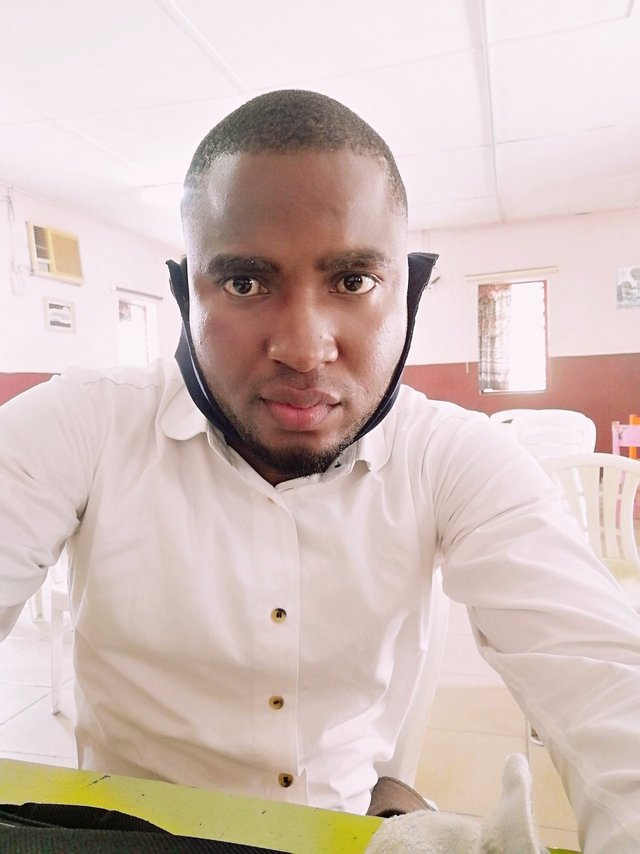 @Oluolvic
@olulvic is Mr. Olu Olusola and he is from Nigeria. I met him through my Twin brother, @msquaretk. @msquaretk and I were the one that introduced him to and guided him on steemit platform.
What I Admire about Oluolvic
Below are some of the things I admire about Mr. Olu Olusola.
Writing Skill: Mr Olu Olusola is a great writer. I remember reading his introduction post. His writing skill is very great and amazing. I like people who can use pen to communicate their ideas and thoughts. Mr. Olusola is one of them. He does not just write, he writes with excellence and that, I admire about him.
Teachability: Another great quality I admire about Mr. Olusola is his teachability. His teachable spirit couple with his humble heart amazes me greatly.
Patience: Apart from his teachable and humble heart, Mr. Olu is someone who is patient and always listen to instruction. I believe this quality make him unique.
Fast learning: Mr. Olu is one of the persons that I introduced to steemit who learn very fast. His fast learning ability is very amazing and wonderful.
Positivity: One of the thing I like him for is his positivity. He always believe that at the end everything will turn out well. I remember when he sent message to me that his account has been hacked. I was very sorry to hear that from him, I advise him to take heart and not to worry that all things work together for good. His response was "all is well". From our little interaction so far, I deduce that he is not tensed by any situation that confronts him.
Why I Want to meet Him
Although Mr. Olu is from Nigeria but we have not be able to meet him except virtual text messages we do together online. So I hope to meet him someday in person and have great time together via chatting.

Conclusion

In this post, I have mentioned two of my steemit great friends out of many that I want to meet. I have discussed how I met them, the great qualities I admire about them and why I want to meet them. I am happy to participate in this nice contest. I hope you enjoyed this article.
I therefore invite, @ngoenyin, @fredquantum, @nane, @jueco @focusnow @ijelady to take part in this contest.