Hello Everyone!
You are hearing from Aniqa Mashkoor, a Pakistani :) So far, it's my third publication following the steemit engagement thread and I am loving it. I just love the topic presented by steemit Venezuelaa about writing about the friend I want to meet from steemit.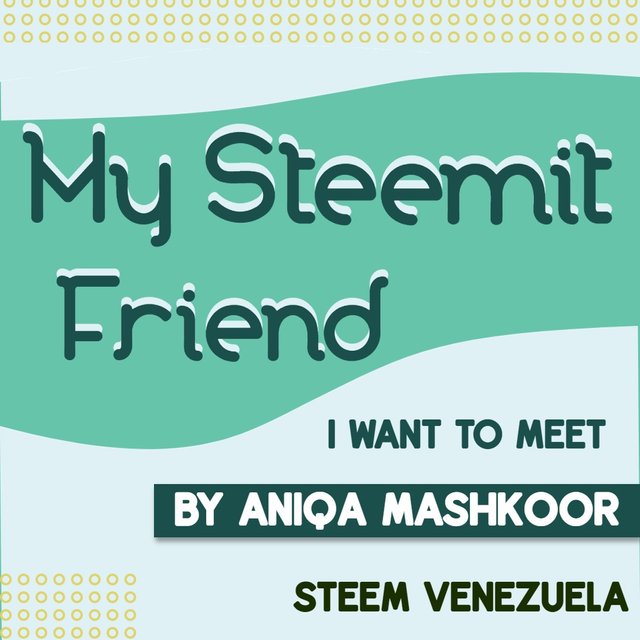 Steemit is like a family to me, I have spent now more than a year here and have made many friends. And the best part about this platform is it helped me to know people from different parts of Globe or else I would have never known different people a from different regions.

My Steemit friends that I want to meet
---
Although I have so many friends here but according to the rules we have to write about only one person so for me that one person is @pixie.dust, She is from Pakistan and belongs to my own community. I have never met her, nor do I know her in personal, I just don't even know her actual name but just wanna meet her :p
It's about the content she shares I found it similar to my personality. You always get attract towards the people you feel the same. There are few reasons for that I want to a meet a person from this virtual platform.

I don't believe in making new friends this randomly but I love meeting new people and exploring their personality traits. I myself is a bit talkative. Recently I saw her post about places she love about Karachi and after that I realized that most of them were my favorite too.
Beside this I like her publications, they always have something new and different not the same daily story and that is a good thing. Post presentation matters a lot and the thing I like about her is improvement. It's clearly visible when a person puts her efforts in something and I feel glad that she's improving with her every post.
She has shared many different recipes and the positive factor is they are easy to read and follow and that belongs to how you assemble your piece of writing so appreciation for you love <3 After reading her publications I feel she's a young lively soul who doesn't have some very high figh boundaries she feels real and natural. This is all my perspective and assumptions about her as I said I have never ever seen her in actual but I wish to meet her soon and tell her this all by my own self.
After reading her diaries and other post she seems to be a decent person. All my love to your way. I would like to meet you one day In Shaa Allah now whenever we'll hold any meet up or anything else. Till then take care and keep sharing your days with us.

This ws all from my side. Hope to meet her soon someday. Take care of yourselves and do remeber me in your prayers and I'll do the same. Lot's of love for you all.
I invite @fabiha, @drhira, and @amnafaraz2005 to participate in this contest.