Hi Everyone,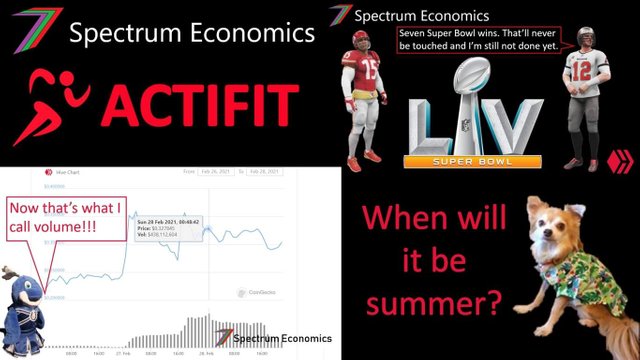 Yesterday, I managed to put up a decent count. I just fell short of 10,000 counts. I went out twice. I went out in the afternoon to walk Mango the dog by the lake and in the early evening to pick up a few items for tea. Mango loves his walks but he is quite fussy about the weather. He doesn't like it when it's cold, raining, snowing, or windy. He isn't a fan of winter. He's not a huge fan of spring or autumn either. He normally wears a coat. When we get going he's quite happy. He loves to bark at other dogs.
My Content
---
I posted twice since my previous Actifit Report and Update. My first post was a detailed investigation of the price movements of Hive. The price of Hive often fluctuates for no apparent reason. Price appears to move mostly unrelated to events on the blockchain. In my post, I attempt to explain how demand and supply affects price movements. I explore movements in demand and supply, the elasticity of demand and supply, and the shapes of the demand and supply curves. I discuss the complexities of the determinants of demand and supply and how these affect movements in price. I discuss the possibility of price manipulation. I also make comparisons between the price movements of Hive and the early price movements of Steem.
In my second post, I revisit my NFL playoff predictions from the start of the year. My predictions started off badly but ended quite strong. I predicted the loser of the Super Bowl (Chiefs) at the beginning of the playoffs. I was less successful with guessing the winner. However, I got back on track from the Championship Round onwards. I should have made this post several weeks ago but I only just watched the game. The game was a bit disappointing. It was not the epic high scoring game many would expect from two of the best quarterbacks in the league. The viewership was also down in the US from previous Super Bowls. I doubt any other combinations would have drawn a bigger crowd.
That wraps up this Activity Report and Update. I recommend you take a look at my Hive Price post. I think many of you who are curious or just confused by Hive's price movements will find the information I present useful. I wish everyone a great week.

This report was published via Actifit app (Android | iOS). Check out the original version here on actifit.io




0