Hi Everyone,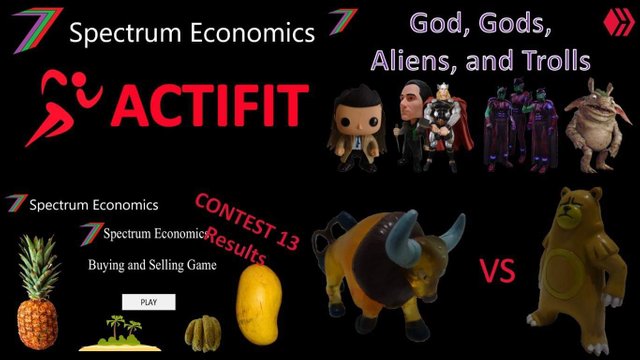 It has been an exciting couple of weeks in crypto. Bitcoin almost reached an all-time high. Many of the other altcoins have performed well too. Two days ago prices took a sudden hit but I doubt it is much to worry about. I expect it just means we will need to wait a little longer to see a new all-time high for Bitcoin. Most other coins have a long way to go to reach all-time highs.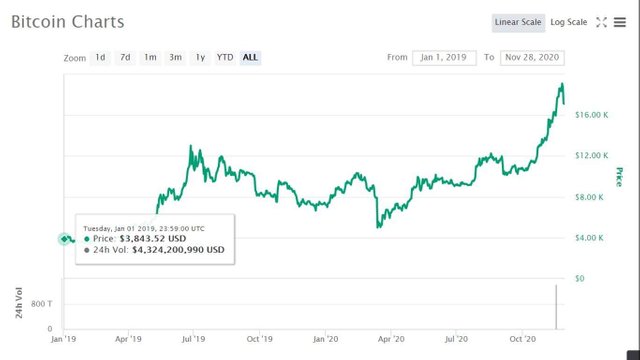 Bitcoin has had a good 2019 and 2020. Prices have approximately doubled in both years. It would be hard to find these levels of growth in any other investments. What's even more exciting is that 2021 could easily be better than both 2019 and 2020. The current cycle is following a similar path to the cycle from 2014 to 2017. See the logarithmic growth in price below.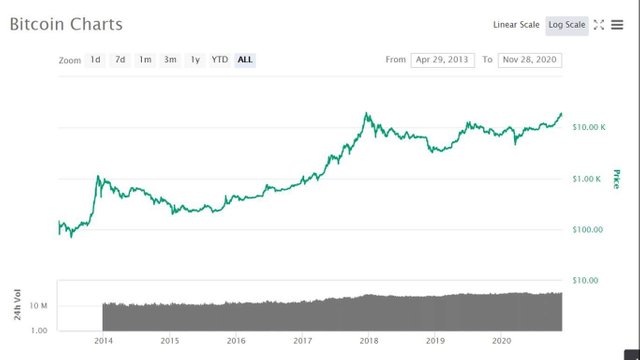 2021 could follow a similar path to 2017. Therefore, the price of Bitcoin could climb above US$100,000 before the end of 2021. However, 2022 could become a repeat of 2018. The price of Bitcoin could then fall back to around US$20,000.
If you believe history will repeat itself, now is a good time to pick some crypto. Of course, there are no guarantees of anything. Markets are a little more complex than just repeating cycles. The world of crypto is significantly different than 4 years ago. There is far greater awareness and far more altcoins to invest in. Awareness will help increase the chances of mass adaption. This will reduce the volatility of price. The large of number of altcoins could become a distraction and hinder the growth of good crypto projects. It would have been good if the 2018 Bear Market had killed off most of the weaker coins but instead more coins have arrived.
I have invested very little in Bitcoin. Instead, I have invested more money into Hive. Hive has struggled to maintain a higher price. It appears that the price of Hive is not responsive to increases in the price of Bitcoin but is very responsive to decreases in the price of Bitcoin. The price climbed a little over several days but the gains were wiped in less than one day.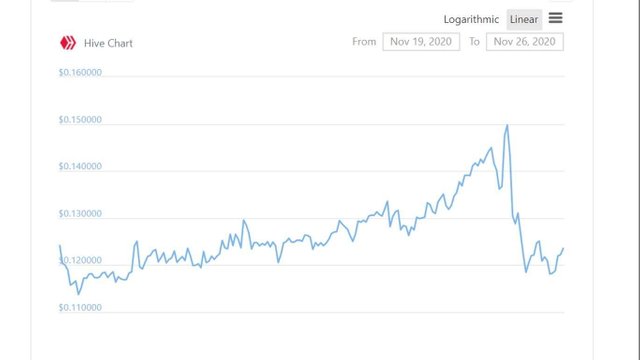 The current price of Hive and market cap ranking is a little disappointing. It is also very difficult to guess what will happen to price in the next year. If Bitcoin has a great 2021, Hive should attract some investors. Considering the very low market cap and lack of liquidity, an influx of investment could lead to a very sharp spike in price. If that happens, it is difficult to know how long price would remain high as price could fall very quickly as well.
The return of the Bear Market could also lead to another 90%+ drop in price. If that comes, the price of Hive needs to be sufficiently high so that it does not dip below a price where our witnesses are forced to leave.
If Hive substantially increases it's user base and community before a harsh Bear Market returns, the hit on price shouldn't be as bad as it was in 2018. It is also important that the people we attract are not just here for the money or else they will leave when price drops.
My Content
---
I posted twice since my previous Actifit Report. I posted the results of my Buying and Selling Game. I have given away 35 Hive to @sinahit for his winning entry. I will have another contest in December. The December contest will be a little different. Let's call it a Christmas special.
In my other post, I shared my beliefs regarding the origins of humans. I discussed how I have taken a little from science, science fiction, and religion to form my beliefs. I feel the answers are out there somewhere but piecing everything together is very difficult.
My Activity
---
I almost forgot. This an Actifit post. I need to mention something about my physical activity. I didn't do too much over the past few days. I did more on Sunday last week. I got my video camera out and did some filming around the lake. At the moment, it's just raw footage but I have started to sort some of it out. I'll give an update on what I am doing with that in a few weeks time.
That brings me to the end of this unusual Activity Report and Update where I spent most of my time talking about crypto. I wish everyone a great weekend and I wish you all the best if you choose to take a chance on Bitcoin, Hive or any other coin you believe has an exciting future.

This report was published via Actifit app (Android | iOS). Check out the original version here on actifit.io




8510