For the first time in I don't know how long, I did zero work in the yard or garden today. No doubt I'll pay for that lapse at some point. But I did get a long walk with our dog this evening. While walking toward one of our local lakes, saw a convoy of military trucks heading east on Highway 7. Next stop Minneapolis?
We harvested our first pumpkin today. And since this is the first time I've ever planted pumpkins, it's a double first. I planted the Sugar Pie variety which is specifically for eating rather than for jack-o-lantern carving. The seeds are quite tasty after being lightly salted and baked on a cookie sheet. The quartered pumpkin is in the oven right now, baking having been coated with olive oil. When softer, it will be puréed and ready for pie-making.
The garden's going gangbusters. Sunflower seeds are probably a few weeks from being ready to harvest. Lots of squash, eggplants, beans, and cucumbers being harvested regularly. A few tomatoes here and there, but peppers disappointing so far. I've had great success with peppers for several years, but this year not so much.
Some "art" that started out as a picture I took this spring of one of our apple trees in bloom, artified with DeepDreamGenerator: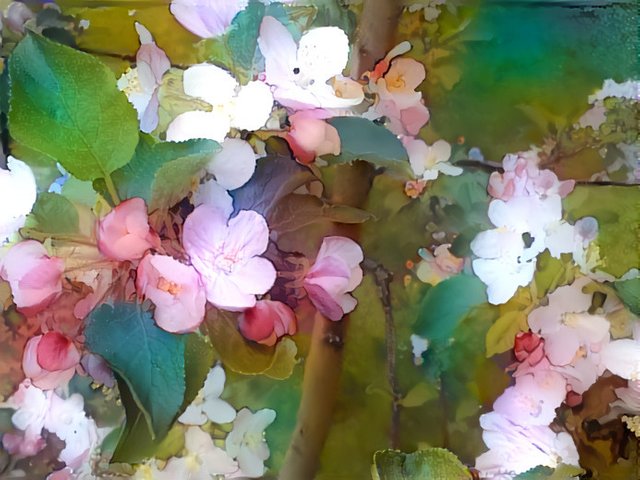 This report was published via Actifit app (Android | iOS). Check out the original version here on actifit.io



This actifitter chose to donate this report's original AFIT token earnings to @schoolforsdg4 charity

10555