Hello, this is @joviansummer. I'm developing a BLURT blockchain explorer on Telegram messenger. If you're interested, please check the link below:
[ENG] jsBLURT project - blockchain explorer on Telegram messenger
A new command, "/wstat" has been added. This command gives you witness status information. You can see witness node version, received votes, last confirmed block number, current block number, and the number of missed blocks.
For example, start a chat session with "jsblurt_bot" on Telegram and send a command as follows to see @joviansummer's witness node information.
/wstat joviansummer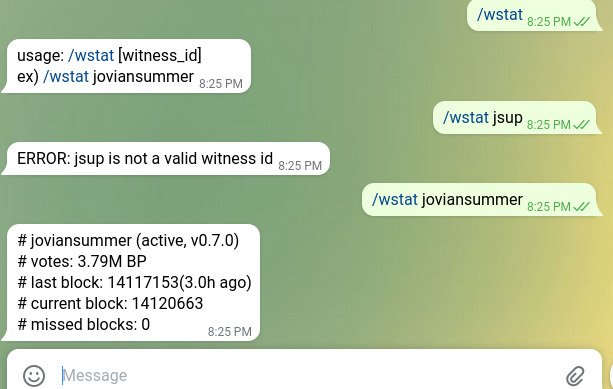 So far, 3 commands have been implemented as follows.
/help: show help message
/stat: account status information
/wstat: witness status information
Now, I'm moving on to the heart of this project, account operations log.
Thank you for reading!
---
@joviansummer's STEEM projects
@jswit witness project:
I'm running a STEEM witness node. I'd really appreciate it if you vote for my witness account @jswit. (https://steemitwallet.com/~witnesses)
[ENG] Introducing @jswit witness project
@jsup curation project:
[ENG] Introduction to @jsup curation project
[ENG] Using @jsup curation project as an auto-voting agent