Kurup is Malayalam movie and released in 2021. It's a crime thriller movie and you will really enjoy this move because this is movie full of suspense. The budget of this movie was ₹38 crore and earned ₹80 crore.
On the morning of 1984, the Kerala police received a report of a burning car lying in a paddy field, yet the Kerala police did not know how much an ordinary car would suffer them! Maybe they thought it was ordinary normal accidents, but it was not.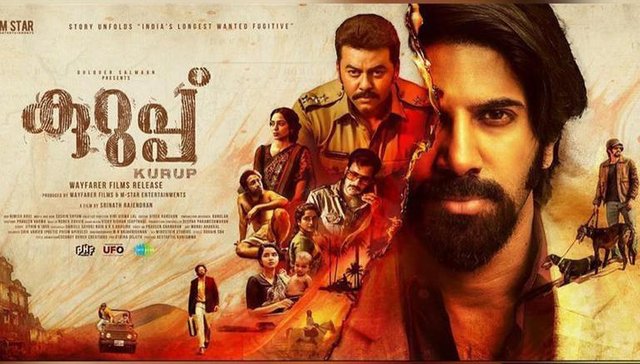 image source
A boy born into a village family. The parents want him to do well in his studies, but he was indomitable and failed to continue his studies. He joined air force as an airman under pressure from his family. But it was not possible to keep a stubborn man to a regular job. Suddenly one day he came to his village on leave, then there is no plan to back in his air force, then he was declared an escapee. Then it occurred lot of incidents in rest of the move.
Movie Name: Kurup
Director: Srinath Rajendran
Casts: Dulquer Salmaan, Indrajith Sukumaran, Sobhita Dhulipala
Language: Malayalam, Hindi
Imdb Rating: 7.3/10
My Rating
★ ★ ★ ★✭(4.5/5)