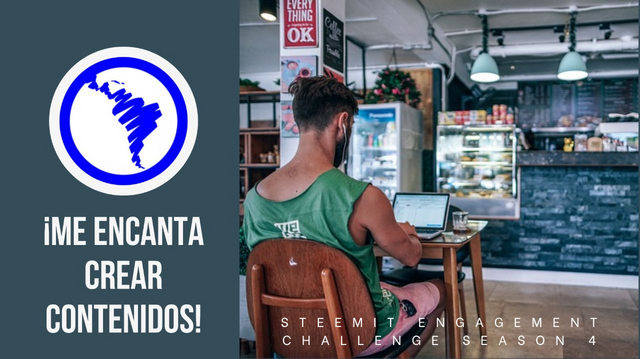 Creado con canva. / Fuente
ESP
---
---
Introducción
---
Ha sido una experiencia grata formar parte de la cuarta temporada de este gran evento llamado Steemit Engagement Challenge, ha sido un proceso de crecimiento, aprendizaje y no hay duda alguna de que hemos disfrutado leyendo a cada concursante a través de Comunidad Latina. Les damos la bienvenida a la última semana de esta temporada, antes de empezar te recordamos nuestro introductorio:
Todos estamos acá por que nos gusta auque sea un poco redactar, relatar nuestras experiencias o simplemente compartir nuestro arte literario en la plataforma. Steemit nos ha convertido en creadores de contenido y hoy vamos a revisar un poco este tema.
---
¿Que tienes que hacer?
---
Describe los siguientes topicos:
¿Cómo te sientes creando contenido? Describe tus sentimientos.
¿Participas en el juego del diario? ¿por qué?
¿En qué protocolos de contenidos o dinámicas (concursos) sueles participar? (Y en qué comunidades)
¿Qué tipo de contenido te gusta más y qué tipo de contenido te gusta menos?
¿Consideras alta o baja la calidad de los comentarios? ¿por qué?
En tu opinión, ¿qué tipo de contenido debería ser más valorado por los grandes y pequeños curadores?
¿Te gustaría ver a Comunidad Latina en otra temporada del Steemit Engagement Challenge? Explica tu respuesta.
Muestranos algunas fotografías donde estes en tu proceso de creación de contenidos. (En tu computadora, en tu sala, afuera fotografíando cosas, será interesante ver algún detras de cámara)
---
Reglas y criterios
---
El título debe ser Amo crear contenidos.
Asegúrate de publicar tu entrada en Comunidad Latina.
Asegúrate de usar las etiquetas #cotina-s4w4 #steemgrowth #steemexclusive y la etiqueta de tu país. (ejemplo, #venezuela)
Invita a 3 amigos a participar, vuelve a publicar esta publicación y deja el enlace del concurso en tu publicación.
Deja el link de tu entrada en los comentarios de esta publicación.
Tu entrada debe alcanzar los 5 comentarios y 10 votos, es importante que visites a otros.
---
Información adicional
---
Acá encontrarás información extra que no son necesariamente reglas pero que podrían ayudarte a mejorar tu experiencia a través de la comunidad.
Recuerde que al configurar su publicación al 15% para @cotina, será elegible para recibir apoyo adicional de los miembros de cotina con @ecosynthesizer. (opcional)
Recuerda que al establecer Cotina como proxy de voto apoyas el crecimiento de la comunidad. (opcional)
---
Premios
---
15 STEEM serán repartidos entre 15 usuarios, 1 STEEM c/u.
NOTA Recuerda steemcurator01/02 estarán pasando y recompensando a varias entradas frecuentemente.
Originalidad, creatividad y cumplimiento de las reglas seran evaluados.
---
Esperamos por su participación.
---
ENG
---
---
Introduction
---
It has been a pleasant experience to be part of the fourth season of this great event called Steemit Engagement Challenge, it has been a process of growth, learning and there is no doubt that we have enjoyed reading each contestant through Comunidad Latina. We welcome you to the last week of this season, before we start we remind you of our introductory:
We are all here because we like writing, recounting our experiences or simply sharing our literary art on the platform. Steemit has made us content creators and today we are going to review this topic a bit.
---
What you have to do?
---
Describes the following topics:
How do you feel creating content? Describe your feelings.
Do you participate in the diary game? Why?
What contests or dynamics do you usually participate in? (And in which communities)
What kind of content do you like the most and what kind of content do you like the least?
Do you consider the quality of the comments to be high or low? Why?
In your opinion, what type of content should be most valued by large and small curators?
Would you like to see Comunidad Latina in another season of the Steemit Engagement Challenge? Explain your answer.
Show us some photographs where you are in your content creation process. (On your computer, in your living room, outside photographing things, it will be interesting to see some behind the scenes)
---
Rules and criteria
---
Title should be I love creating content.
Make sure to publish your entry in Comunidad Latina.
Make sure to use the #cotina-s4w4 #steemgrowth #steemexclusive tags and your country tag. (example, #venezuela)
Invite 3 friends to participate, republish this post and leave the contest link in your post.
Leave the link of your post in the comments of this post.
Your entry must reach 5 comments and 10 votes, it is important that you visit others.
---
Additional Information
---
Here you will find extra information that are not necessarily rules but that could help you improve your experience through the community.
Remember that by setting your post to 15% for @cotina, you will be eligible to receive additional support from cotina members with @ecosynthesizer. (optional)
Remember that by setting Cotina as voting proxy you support the growth of the community. (optional)
---
Awards
---
15 STEEM will be distributed among 15 users, 1 STEEM each.
NOTE Remember steemcurator01/02 will be passing and rewarding multiple entries frequently.
Originality, creativity and compliance with the rules will be evaluated.
---
We look forward to your participation.