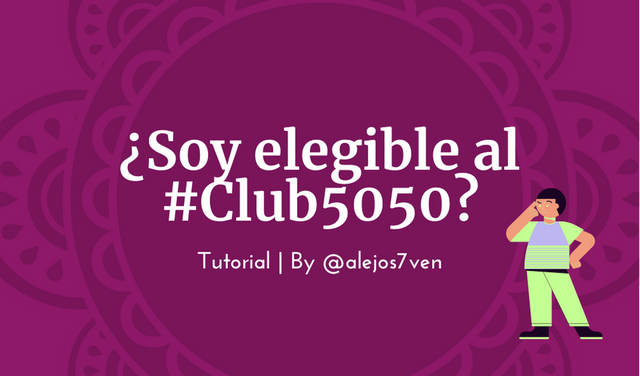 Imagen creada con Canva.

Saludos,
Esta semana para el #cotinatech he decidido suspender el curso de programación básica ya que en el siguiente capítulo comenzaremos a entender un poco todo lo que hemos visto en algo cercano a "código funcional". En esta ocasión como reemplazo al curso vengo a traerles a ustedes un tutorial que estoy seguro les ayudará a saber si son o no elegibles para el #club5050. Haremos uso de la herramienta https://steemworld.org/transfer-search mantenida por el testigo @steemchiller con la cual podremos fácilmente ver toda la información que necesitemos para entrar al club.

Primeramente pasemos a recordar en que consiste esta iniciativa. El #Club5050 es una estrategia de crecimiento que se implementó con el objetivo de incentivar a los usuarios a invertir el 50% de sus ganancias (retiros) en Steem Power lo que beneficiará el precio del Steem en sí y creará usuarios mas fuertes que puedan eventualmente contribuir mucho más en el trabajo de curación de contenidos. Quienes esten en el club pueden optar por soporte adicional por parte de las cuentas steemcurator ya que se quiere impulsar al máximo a las personas comprometidas con la plataforma.
Cabe a destacar que los votos no estan garantizados debido a la alta participación en la dinámica, aun así te dará un buen chance de ser apoyado.

Ahora la pregunta del millon,
¿Cómo determino el 50% de mis ganancias?

Es acá donde entra en juego esta herramienta, el método para determinar si eres elegible es mirar tu historial de retiros en 30 días y compararlo con la cantidad de Steem encendido. Es decir, si en 30 días sacaste 50 STEEM deberías haber encendido 50 STEEM también.
Esta herramienta te solucionará la vida, tan solo deberás entrar a https://steemworld.org/transfer-search.



Allí nos encontraremos con un formulario donde podremos configurar ciertos parametros para consultar la información que necesitamos. He remarcado los campos que utilizaremos donde:
Type: Será el tipo de operación; haremos uso de Normal Transfer para ver nuestros retiros o Transfer to Vesting para ver nuestros Power Ups.
From: Colocaremos el nombre de usuario de la cuenta a monitorear.
Date Range: Estableceremos el intervalo de tiempo a monitorear, es decir desde 30 días atrás hasta la actualidad. (Si hoy es 3 de Noviembre, entonces en el primer cuadro seleccionaras 3 de Octubre y en el segundo la fecha actual).
Siguiendo estos parametros utilicemos mi cuenta para ver un ejemplo.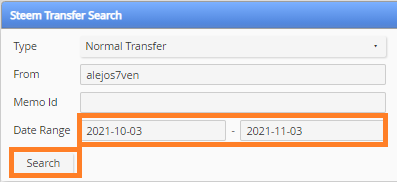 Establecemos parametros tal y como lo mencionamos y hacemos click en "search" para cargar las transacciones.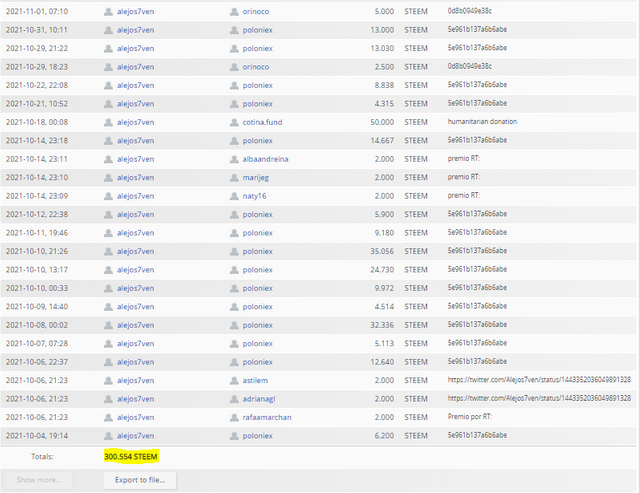 Despues de un tiempo se cargara la lista de retiros realizados con tu cuenta en ese intervalo de tiempo y justo al final la sumatoria de todos ellos. Lo importante es que esta cantidad sea igual a la cantidad de steem encendido, tal como podemos ver yo retiré 300.554 STEEM en el último mes, ahora veamos cuanto encendí cambiando el Type a "Transfer to Vesting".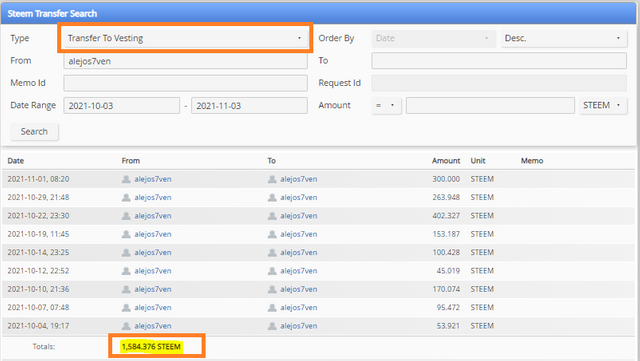 Cambiamos el tipo de operación y volvemos a pulsar sobre "Search", lo que nos cargará el historial de encendidos y la sumatoria de los mismos. La cantidad total debe ser igual o superior a la cantidad retirada, en este caso debería haber encendido al menos 300 STEEM o más. Como podemos ver encendí más de 1500 así que si soy elegible. Veamos otro ejemplo, revisemos a la vamiga @graceleon.

Retiros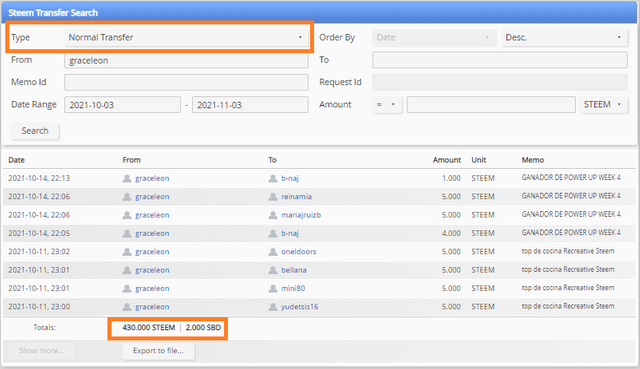 Algunos registros fueron escondidos para reducir el espacio y tomar la captura.


Encendidos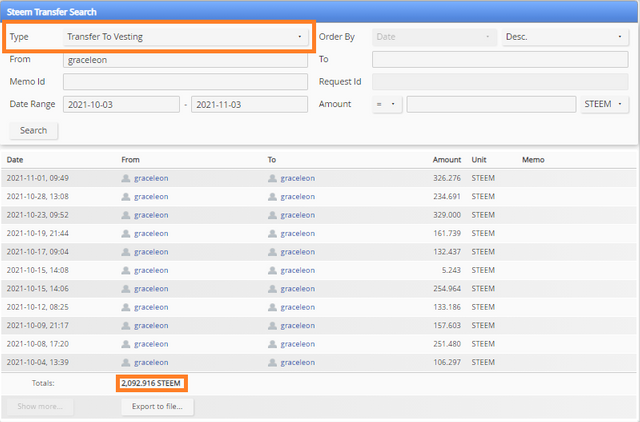 Tal como pueden ver ella retiro 430 STEEM + 2 SBD por lo que para ser elegible al club debio encender un apróximado de 450 STEEM. Como contraste ella encendió mas de 2000 STEEM por lo que también es elegible al Club.

¿Qué hago si no soy elegible al club?

Pues tu trabajo será acomodar las cuentas para que tu cuenta esté nivelada, es decir, si sacaste 500 STEEM y encendiste solo 300 STEEM tienes un encendido pendiente de al menos 200 STEEM. Puedes usar tus recompensas nuevas para cubrir el restante o comprar STEEM externamente.
Para nadie es un secreto que esto es algo difícil por lo que si no tienes los recursos para nivelar tu cuenta puedes optar por esperar para que la cantidad de retiros se reduzca y puedas ser elegible con mayor facilidad. Durante el tiempo que no seas elegible puedes utilizar la crypto academy o entrar en concursos para conseguir algo de STEEM extra. ¡No te desanimes! Si te lo propones llegarás lejos.

Espero este tutorial les haya gustado y hayan comprendido todo a la perfección, quiero recordar que tener dudas es algo natural por lo que sientase libre de dejarlas en los comentarios, estamos acá para guiarle en lo que este a nuestro alcance.
Recuerda que si haz hecho power down o haz delegado a algún servicio de inversión no serás elegible.
Todas las capturas son de mi propiedad tomadas con herramienta Recortes de Windows y editadas con Paint.
---