La Aventura 197 de mi vida lo titulé:
¡Les cuento lo que pase en estos 5 días de ausencia!
Hola aquí estoy nuevamente les doy la Bienvenida a mi Diario soy Aleisbert, Venezolana, Ingeniera de profesión, Decoradora de eventos sociales, Mamá de Austin y es un gusto conocerte por esta vía y un honor saludarte, antes de comenzar a contarles como fué mi día quiero agradecerte por leerme y por dejar esos comentarios tan enriquecedores, sé que tu tiempo es valioso y por eso lo valoro.
Hola amigos, muy buenos días, hoy en mi diario quiero contarles todo lo que he hecho estos 5 dias que no publique mi diario.
Resulta que desde hacen 5 días estoy participando el @steemfoods en el Juego del diario de los alimentos y waoo estoy encantada ya que realmente es muy calidad leer y ver las comidas que otras personas preparan, como siempre les digo yo no soy cocinera especializada jajaja pero intento en lo mayor posible hacer comidas que sepan bien, tal vez no lucen espectaculares pero saben bien jajajaja y eso es importante también ¿cierto?
Les voy a dejar el enlace de mi publicación de ayer The Food Diary Game Season: 3|13-11-2021 | Día de una linda sorpresa de parte de mi amiga.
Por otro lado te cuento que aparte de hacer comida también hice muchos oficios del hogar como lavar la ropa, lavar el baño, limpiar la casa, cuidar de mi hijo. Hablando de mi hijo también te cuento que ya esta mejorando de la tos, le estoy dando miel con limón y el medico le receto nebulizaciones cada 8 horas y le ha ido muy bien, ya esta bastante mejor
| Mi bebe nebulizandose con Salbutamol | Mi hijo con su juguito de manzana |
| --- | --- |
Bueno ya mi esposo y yo estamos mas tranquilos porque nuestro hijo eta bastante bien.
Aprovecho también de contarte que sabes mi querido diario que yo entreno 3 veces a la semana ¿verdad? bueno y es que precisamente estaba entrenando para participar en una carrera que organizo la gobernación de mi estado llamada Carrera LED y es un evento hermoso, espectacular donde atletas nacionales e internacionales participan.
En ese evento estaba participando mi prima y mi tío político el esposo de mi tía la hermana menor de mi mamá, y les cuento que les fue muy bien ya que obtuvieron el primer lugar en categoría Master(Gollito Gonzalez) y el 5to lugar en categoría juvenil(Joesleidy Gonzalez), lo que nos llena de orgullo.
| Disfrutando del evento | Mi bella mami en el evento |
| --- | --- |
Lamentablemente no conté con los recursos para inscribirme, mas sin embargo asistí con mi familia y participe en las bailoterapias, taebox y en la clases funcionales de crossfit.
| En el evento | En familia para disfrutar del evento |
| --- | --- |
Por ultimo y no menos importante también te cuento que como siempre he estado trabajando en mi emprendimiento, el día Viernes ayude a una gran amiga a montar un set para su hija que esta particuipando en un concurso online de una revista digital y bueno me encanto esa experiencia.
Les presento a Marcela, les voy a dejar el enlace "Kids of the world" by @olesia and @soulwind
Precisamente ayer decoramos un evento en un sector llamado San José, era el cumpleaños de una chica llamada Mariana que cumplió sus 18 años. Ella quiso una decoración con aro grande forrado, globos en tonos morados, plateados y dorados y con mariposas.
Les muestro como nos quedo, a Mariana le encanto, espero que a ustedes los que me leen también les guste mi trabajo.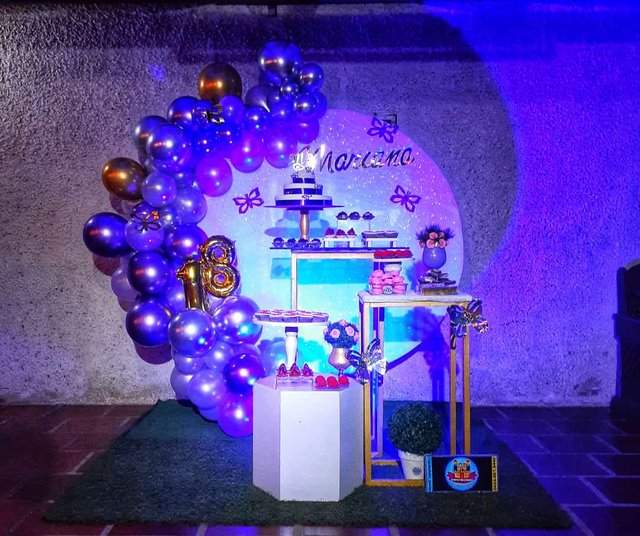 Coro-Falcón_Venezuela


Le doy Gracias infinitas a Dios por poder estar cada día aquí y por poder generar ingresos para el bienestar de toda mi familia.

"Te invito a visitar mi blog @aleisbertblanco y si notan que escribo mucho es porque me gusta hablar mucho jejeje, disculpen lo largo
Imágenes tomadas desde mi Samsung A20.
Configurado al 15% para la comunidad.
Locación: Coro-Falcón_Venezuela
Me uno al #club5050(Siempre verifico que este cumpliendo con el club para poder usar bien mi etiqueta).