Hello Steem Women Club Community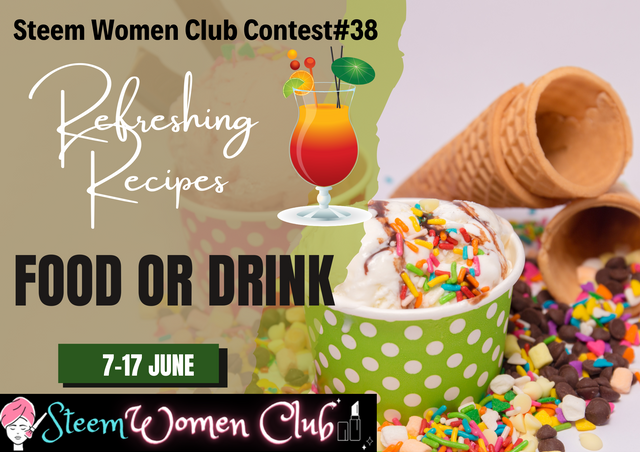 Introduction
We are back to great competitions. 💃💃💃
This is not an engagement contest. However, depending on the quality of your contest submissions, you may receive votes from the curators.
---
Steem women club Contest38 Topic;
Refreshing Summer Recipes "🍨🥶
If we consider most of the northern hemisphere of the world, we can see that the weather is warming up and summer is coming. In fact, some countries always live in the summer. In this period, we are longing for the recipes that make us cool and make us say oh. That's why the fun recipe contest has started for you.
---

Contest Tips
• Share cold recipes
• Beverage, ice cream, cold cake,
•any recipe you make in the summer
•Everything is included.

Contest Rules
The competition is valid until June 7 - June 17, UTC time 00;00.
•Your contest title Steem Women club Contest#38 | Your title |
•Share in Steem women club community
•Competition text should be at least 250 words.
•Your article should not contain any plagiarism.
•The text or pictures must belong to you.
•The important tags of the competition #womenclubrecipe #steemwomenclub #steemexclusive
•Participants must follow club5050 or club75 or club100 as appropriate. Use the appropriate label for the club.
•Bots, vote buying etc. should not be used.
• At least 30 sp delegation to the Steem women club community
•Comment to users participating in the contest
•Follow svm038 and steemwomen club accounts.
• resteem this contest announcement.
•Tag your friends
• If you want to add beneficiaries to your posts, you just have to add -steemwomenclub official account. If you add beneficiary accounts other than the official account, you will not be able to win the contest.
note Delegation is not required for users who do not have sp/steem/sbd in their wallet.

Competition Awards
Winner booming vote
2.Winner booming vote
3.Winner booming vote
4.Winner booming vote
5.Winner booming vote

SteemWomen Club Discord :https://discord.gg/yFykMWBb
İnstagram Account: Steem WOmen Club
Twitter Account:Steemwomenclub
Blog Site : Site

Support us by delegating STEEM POWER.