Hello beautiful women of Steem Women Club community;
Today I'm going to announce to you that we are relaunching a project that we started 6 months ago. A lot of women like it and want to continue. so there will be movement to the community.
That's why we're starting again with the fun stuff. We look forward to your support for our community.
Quick notes for quality post selection rules;
•You must be at least club5050
•You must have at least 2 active posts in the Steem women club community.
•You must delegate at least 30 sp to the community.
• Your quality posts should be at least 200 words.
Plagiarism is strictly prohibited. For detailed rules. Please read the link carefully.
[March Support Program Information and Rules](https://steemit.com/hive-188403/@steemwomensclub/steem-women-club-community-monthly-report-feb-or-march-support-program-information-and -rules-or-participation-in-the-club5050)
Thanks to the delegations you have made and will promote to our community, we will be able to be the curators of women. And you will win the delegation prize.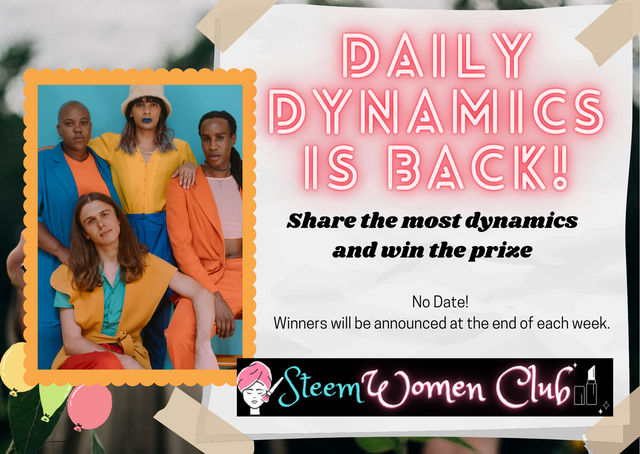 I will tell you about an activity that you are already familiar with. Few women started these dynamics. But after a while it stopped. Now we will ask you to share dynamically on different topics every day to increase the number of active posts. It will be a fun and rewarding event. We welcome your views on this matter..These dynamics have to be shared on different topics every day. Every day has a different theme. Here, as in the table;
Monday : Casual makeup and skincare Makeup tips, tips to take care of our face, products, routine of the day, etc.
| Topic or Category | Description | TAG |
| --- | --- | --- |
| Monday ; Casual makeup and skincare | Makeup tips, tips to take care of our face, products, routine of the day, etc. | #lifestyle |
| Tuesday ; DIY, creativity, and art | Crafts, sewing, crochet, DIY, recycling, drawings, paintings, artistic makeup, etc. | #creative , #handicrafts #art |
| Wednesday : Beauty, hair, nails, and body. | Beauty tips for the care of hair, nails, and body skin. Products, routines, treatments, cleaning, etc | #lifestyle |
| Thursday : Healthy Living | Fitness, physical exercises at home, nutritional advice, diets, healthy drinks and meals, everything that improves our health, etc. | #health #sport |
| Friday : Fashion | Accessories, clothing, design, outfit of the day, common garments in our city, dresses in our closet, price comparison in different stores. Everything that has to do with fashion | #lifestyle |
| Saturday : Recipes (food and drinks) | Special dishes, favorite food, meal of the day, all kinds of drinks and juices, cocktails, etc | #food |
| Special day | Day to let ourselves go and share any important content for women, summary of our week, tips for improvement, motivational, entrepreneurship, advice or experiences about motherhood, experiences like daughter, sister, granddaughter, grandmother, trips in the week, vacations, etc | If it's Travel #travel |
---
NOTE ; Thanks to these tags, you can vote on steemcurator04 - 08 accounts.
--
• By writing both your dynamic and diary in one day, you will make the Steem women club rule. You will have two active and quality posts per week.
Header for your Dynamic Posts; Daily Dynamic Monday | Your Title
---
---
Dynamic Award
At the end of a week, representatives will identify the most dynamic sharers of the week.
For example, you shared 5 dynamics in a week.
The 5 women who share the most dynamics of the week will be awarded 2 Steems each.
This will continue every week.
You can dynamically share once a day.
Please only use this tag in your dynamic posts.
The most important Label to follow the dynamics; #dynamicwomenclub


SteemWomen Club Discord :https://discord.gg/s5g2unD7
İnstagram Account: Steem WOmen Club
Twitter Account:Steemwomenclub
Blog Site : Site

Support us by delegating STEEM POWER.