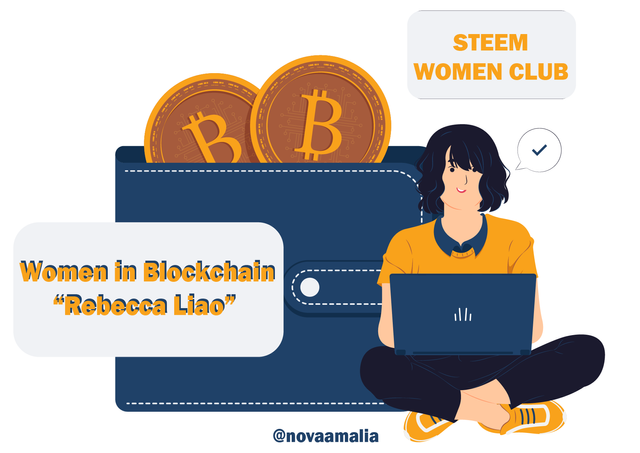 source Edited with Adobe Illustrator
---

---
---
Greetings all, I am @novaamalia and this is my third post in the SteemWomen Club community, after getting verification from the team and also the Mod I officially became a member of this community, and I will share posts that match my interests in Photography, traveling, share about Blockchain, and Cryptocurrency.
---
In this post, I will continue to discuss the woman who became a pioneer in the world of Blockchain and cryptocurrencies, the information I share hopefully can be a motivation for all women around the world to continue to advance and develop in any field.
---

---
---
Rebecca Liao
is a tech women who is
Co-Founder
and
CEO
at
Saga
, a technology project that develops a protocol that allows Blockchain developers to take single-tenant
VM
and can launch them automatically on a dedicated blockchain, with their provided validators, security structure with optimally optimized incentives. She is also the
Co-founder, and Adviser
of
Skuchain
, a platform using Blockchain technology that provides end-to-end solutions for supply chains, currency agnostic within the Skuchain blockchain linking procurement and financing arrangements, contract management, and inventory tracking.
---
From the information I got from his LinkedIn, Rebecca Liao graduated in Economics from Stanford University and Harvard Law School. She is the person who founded The Aleph Mag, a digital magazine that discusses Chinese culture, art, and legal politics. Rebecca Liao speaks several language, English, Cantonese, Mandarin, and German.
---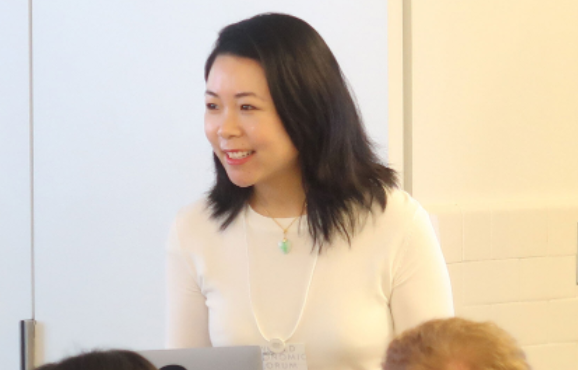 source
From the official website Rebecca Liao explains that she is an advisor on the Sommelier Protocol, which is a platform built on the Cosmos Blockchain designed as a gateway for interchain DeFi that can connect the Cosmos platform with Ethereum. Rebecca designed the DAO for the Sommelier project to maximize governance, project growth, and regulation.
There are many achievements and skills of this woman that I found, after reading his LinkedIn, I was amazed and felt happy that there was a woman who managed to make a high influence in the world of technology that usually synonymous with men, Rebecca managed to prove that women also deserve to be side by side with men from all fields.
---

---
---
There are many projects that Rebecca Liao has worked on, here I will explain one of them, Skuchain.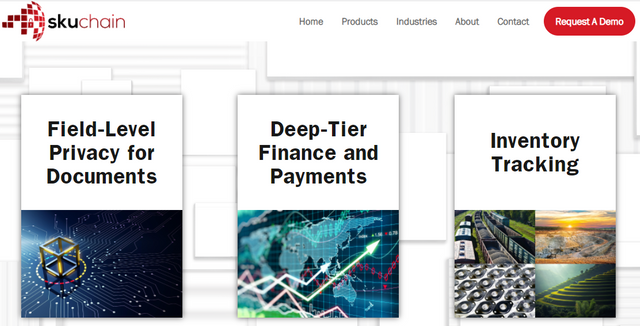 source
Skuchain
is a Project founded in 2014 in Silicon Valley working on a currency agnostic using Blockchain, the platform can link procurement and contract management, direct control over corporate payments, and manage their financing in a buildable manner. This project generates a liquid supply chain where data flows in real time in a risk mitigated and a new pool of capital.
Skuchain provides solutions to financial and inventory issues for companies in the cryptocurrency world by creating several technologies that will make them easier to solve, such as the EC3 platform that encourages seamless orientation with a focus on the needs of buyers and their supply chains. Skuchain also works with the concept of Collaborative Resource Planning (CRP) that allows collaboration with each other by sharing ERP systems while maintaining the desired level of data privacy.
---
Some of the products from Skuchain are:
1). EC3 (Enterprise Collaborative Commerce Cloud)
functions as:
Manage the entire cycle of procurement contracts for payments
Make corporate payments easier by giving non-bank companies control of the process.
Perform real-time audits of supply chain transactions.
---
2). CRP (Collaborative Resource Planning)
Serves as a bridge between decentralized ERP systems, standalone supply chain management tools, Excel spreadsheets, EDI documents, and the like.
---
3). EDIBUS
EDIBUS is a platform for securely encrypting data across the supply chain, serving as a secure platform for companies publishing EDI documents to the Blockchain network.
---
4). ICF (Inventory Control & Finance)
Serves to organize inventory into financeable assets, offering payment terms that benefit both buyers and suppliers by reducing costs to both.
---
By using this product from Skuchain, it is hoped that the company will be able to exercise more careful control in processes related to inventory and production with all of the company's partners. Companies can disclose information by level and can access financing and insurance across the entire ecosystem while developing new supply chains, and companies can also save costs efficiently.
---

---
---
In this post, we can find out that there are many women out there who becomes the leader or the main person in the world of technology and can compete with men, as women we must not be consumed by the stereotype that women must be below men.
I was amazed and felt happy that there was a woman who managed to make a high influence in the world of technology that usually synonymous with men, Rebecca managed to prove that women also deserve to be side by side with men from all fields.
The point is to keep the spirit to realize the dream of becoming a strong woman without the need to bring each other down, because every human being, both men and woman has the same rights in carrying out the life they want.
---

---
I just want to say thank you to the mods @steemwomensclub @svm038 @nadiaturrina who always support the members in the community so that women can express themselves according to their interests and hobbies to make quality writing, hopefully in the future I can continue to make positive contributions to this community.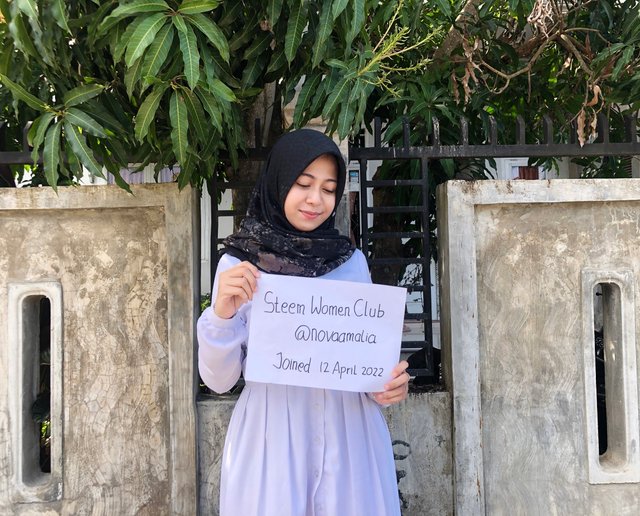 ---

---
---
---

---