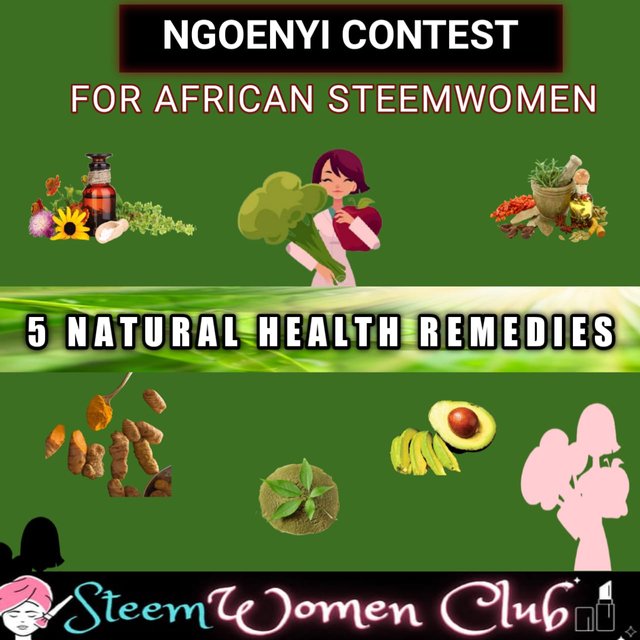 Hello dear beautiful ladies, I warmly welcome you all to this exclusive contest for the African women.
All African woman in one way or the other needs natural remedies in her home or to be aware of in case. And we are endowed with the wisdom and knowledge to find out these remedies as they are all over the African region.
These remedies have helped a whole lot of women in taking care of both themselves and those dear to them. However, some among us may not know most of them or we may have limited knowledge about most of them. No human knows it all and as such we can learn from each other.
With this background, it is important to host this contest that will help educate us all on many more known or unknown natural remedies that can be used by the African women in their various homes even though caution of usage needs to be exercised.
WHAT IS THE CONTEST TIPS?
Suggest at least 5 natural remedies known to you

Tell us how use them and the mixture

Tell us their uses

Any side effects?

Who is eligible to use them and who is not

What positive or negative experiences have you had using them?
CONTEST RULES
Plagiarism is highly prohibited and you will be banned from the contest if found. Properly source your images if you must get download them, it must be from a free source site.

Subscribe to steemwomenclub community if you have not done so. Upvote, resteem and drop your entry link at the comment section of this post and follow @ngoenyi.

Set 20% beneficiary to steemwomensclub

Share your entry in Twitter, or Facebook, or any other social media platform and drop the link to the share as you are dropping your entry link

Entry must be in steemwomenclub community and one entry per user

You must be in any of the clubs, 5050, 75 of 100

Write in not less than 300 words and make sure you apply markdown styles in your entry

Entry ends after this post pays out and that will be on 24/01/2022 by 11:59pm.

Drop your entry in our post links group also

Include #naturalremedies #steemexclusive #yourcountry #contest and others
REWARD POOL- 20 STEEM
20 steem has been mapped out for this contest. But apart from that, your entry might stand a chance to get booming support if you make quality entry.
The 20 steem will be distributed thus:
1st place 8 steem

2nd place 5 steem

3rd place 3 steem

4th place 2 Steem

5th place 2 Steem
You must suggest workable remedies and add disclaimer sentence. Something like: "this is just a suggestion." And so on. Please be detailed and apply all rules.
I wish you all the best in your contest entries.
Cc: @steemwomensclub
Cc: @svm038
Best regards from me
@ngoenyi, African representative.

This is my introductorypost here


image source