Hello my dear friends of Steem Ghana community, it's my pleasure to share my Sunday diary with you guys, all the way from Nigeria.
Basically, Sunday was all fun for me. I went on a hangout with some of my friends.
First I went to church in the morning by 8am and I came back home by past 11am. I had a little rest and had my bath and got dressed up for the hangout.
The hangout held in Johnson Jakande Park Ikeja Lagos State Nigeria.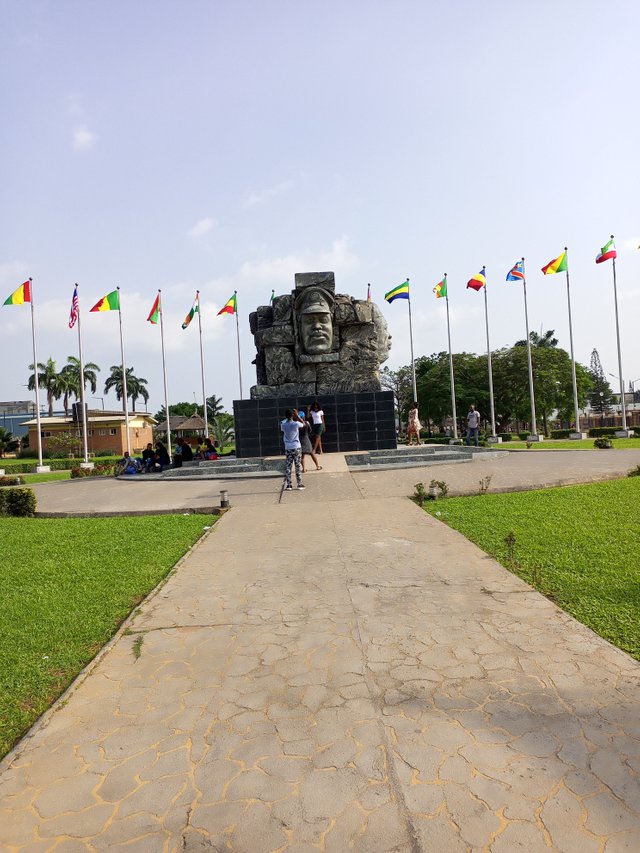 What3words
Johnson Jakande Park Ikeja is a recreational park where people come around to have some fun and relaxation. It is beautiful and spacious. It is one of the tourist centers you may love to visit whenever you visits Lagos Nigeria.
It has some historical artisans as seen in my above and below pictures, which depicts our Nigeria culture and tradition.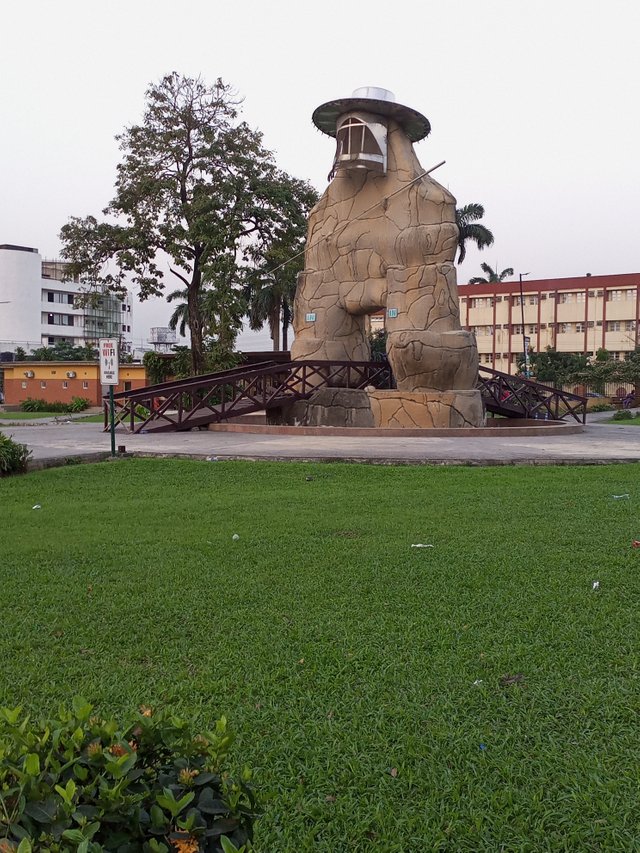 What3words
So I left my house at around past 2pm, I met @ruthjoe and @ammyy as we had all agreed to go together.
The below is the 3 of us on our way to the part.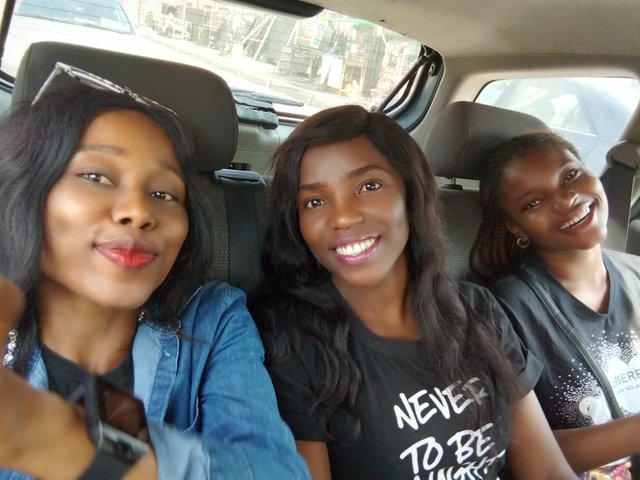 @talktofaith, @ruthjoe and @ammyy
The below is me @talktofaith set for the fun in the park.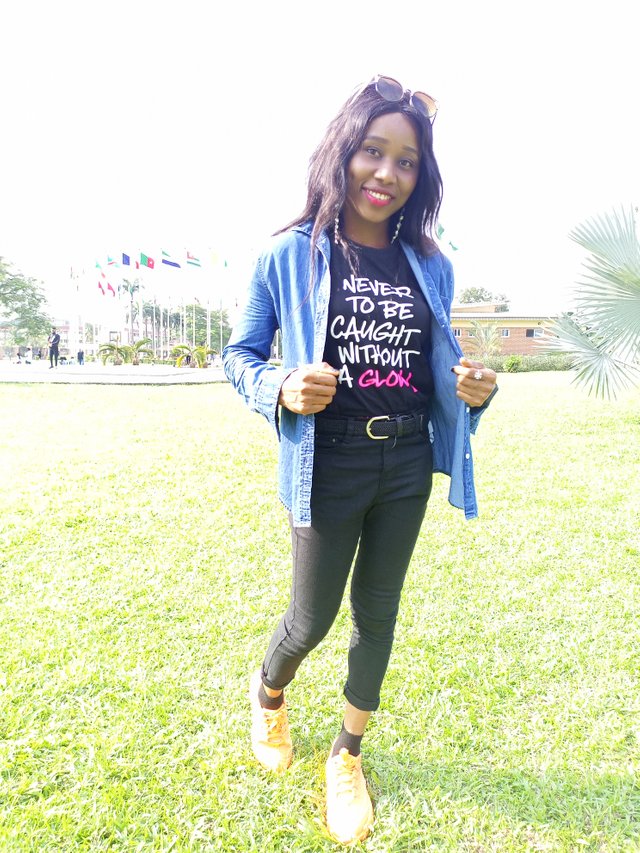 @talktofaith
It was a bunch of fun, we played different games and we also had different competitions. The below picture is our question and answer game, anyone that fails the game have to leave the circle, it was real fun.
So many persons failed their questions and that made it much more fun.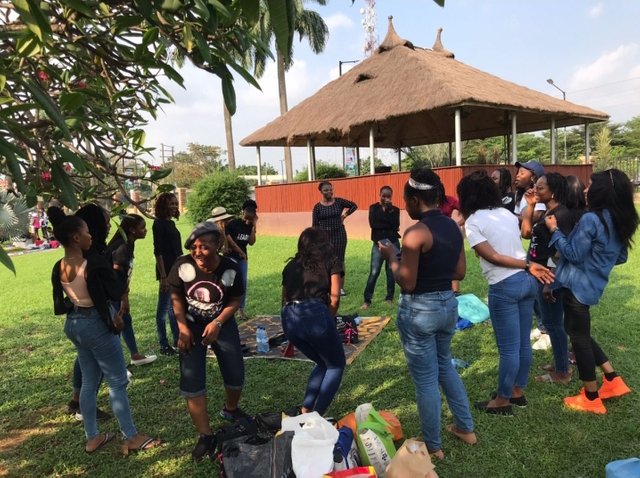 game time
The below was when we pupped a wine.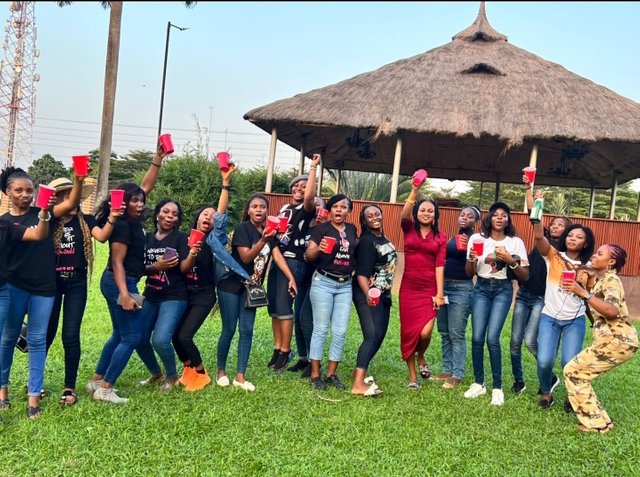 Wine pupping time
We had to jump with our cup of wine in our hands in the below picture.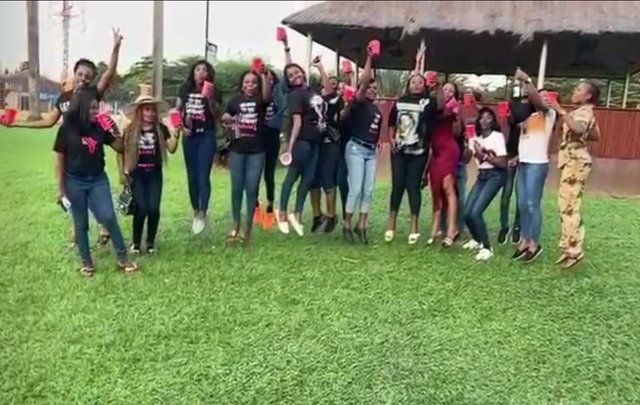 Jumping with our wine
We had to toast the wine together as well. We toasted to love, sound health, long life, peace, prosperity and plenty money. The below is our toasting picture.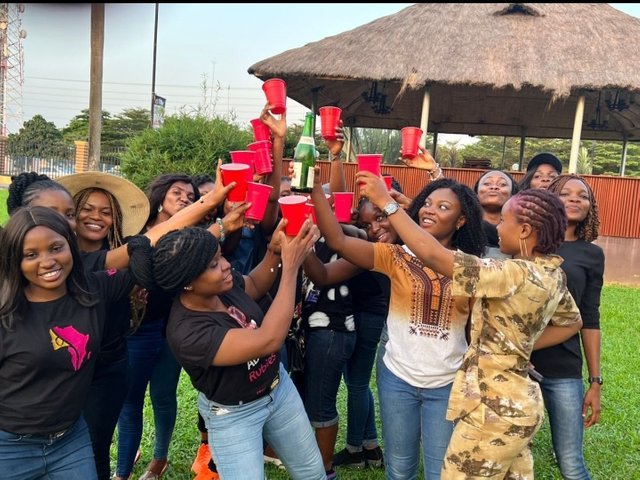 Toasting the wine together
After a couple of games, we had different picture sections.
Here the lady on blue jean and white t-shirt is @illie-ella, they refused her from joining the picture, so she was crying.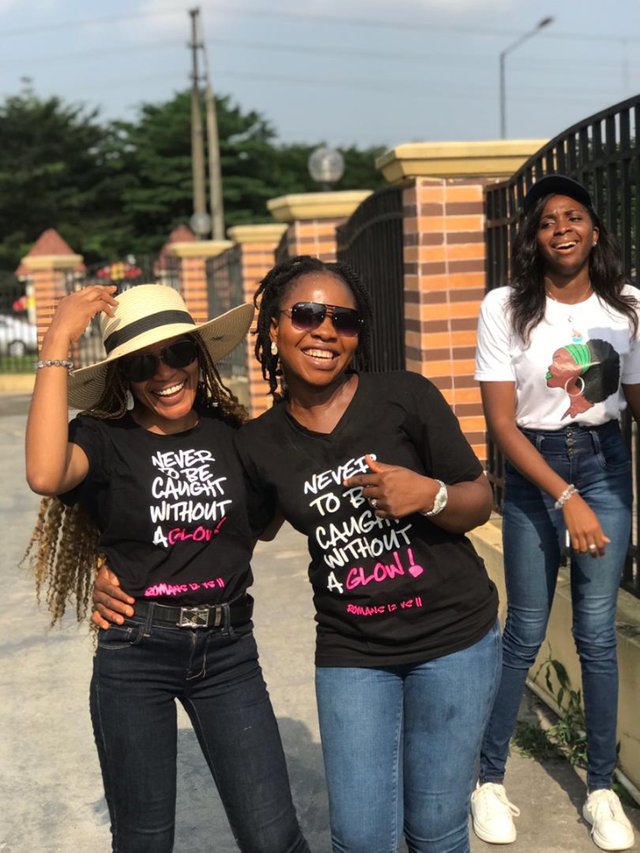 @illie-ella and co
Picture section, all shades of beautiful ladies. I love these ladies. Sunday was really a good one for me. It was all fun.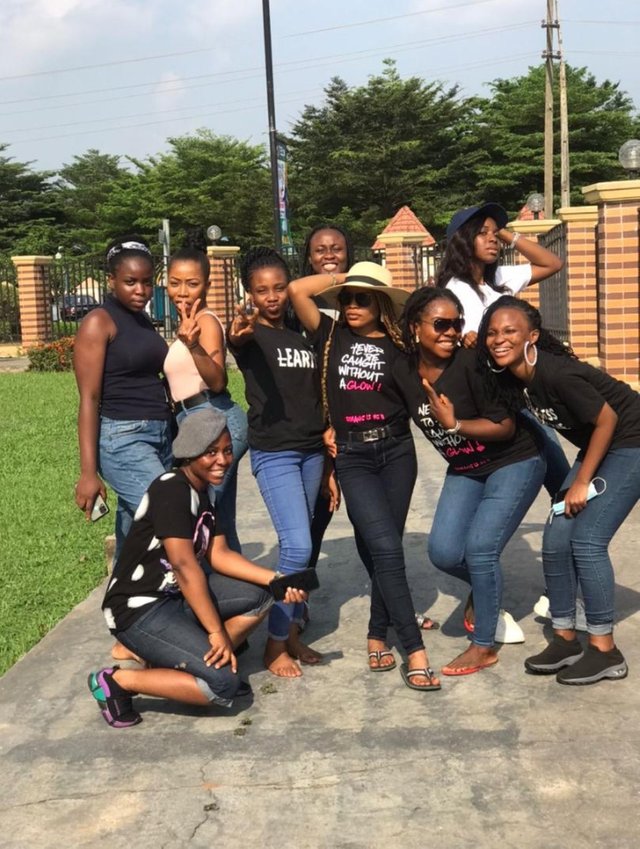 Since this year 2021, this was the first time we came together as friends to have fun, so it was really exceptional.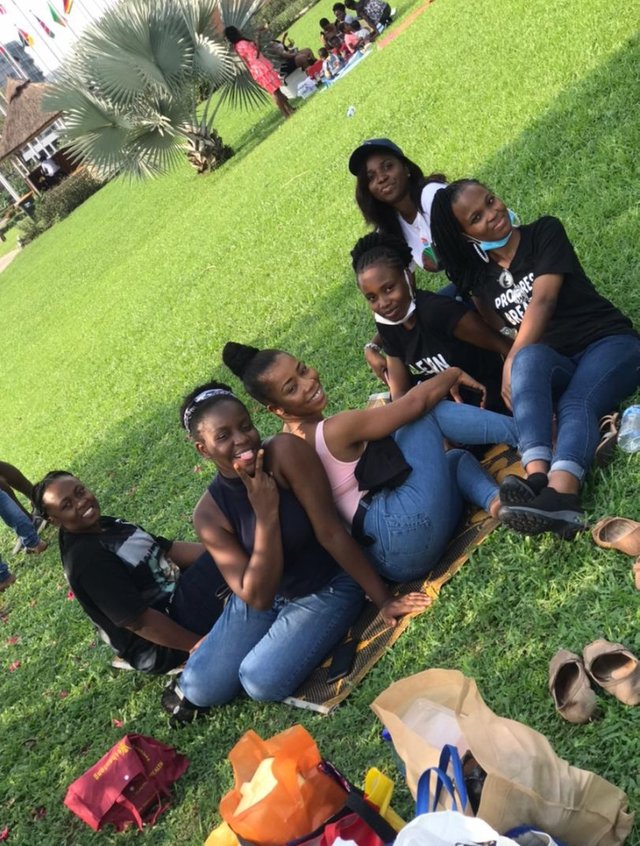 Another set of beautiful capture
The below is really a funny picture here. We have @ruthjoe and @analee and 2 of our friends on the picture.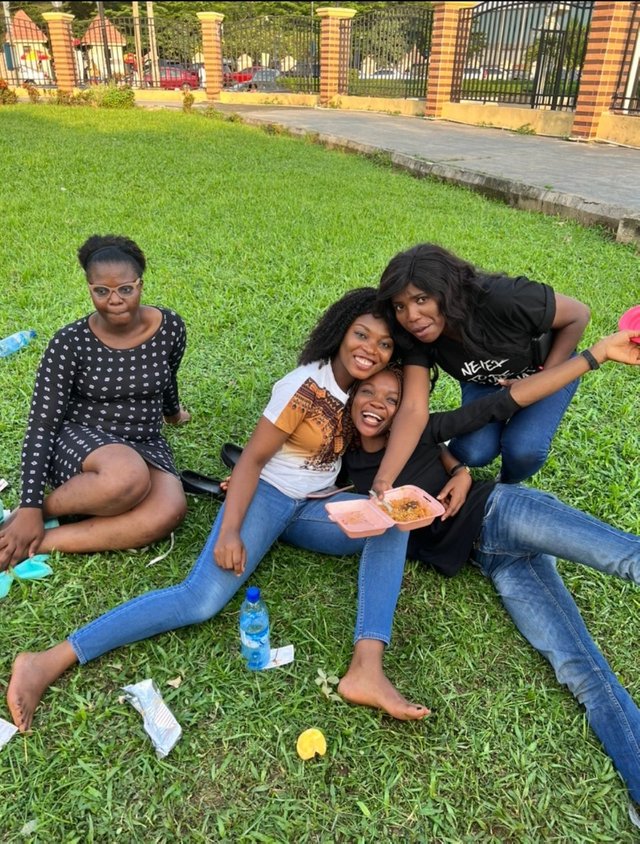 Fun time
Did I forget to tell us about the meal part.?
We had varieties of meal. It was more like a love feast. So everyone prepared their different Delicacies.
We had jellof rice, white rice and chicken sauce, catfish pepper soup, small chops, oranges, drinks, assorted meat, goat meat pepper soup, moi-moi etc. It was all fun, we all ate and ate and ate.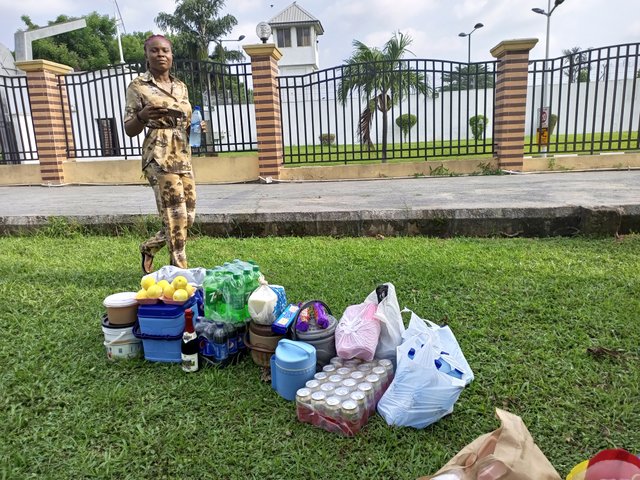 Our food
The below picture was the refreshment section, we all sat on the floor and placed orders to our different meals. It was all fun, I had a taste of almost all the meal, though I didn't eat much, but I just wanted to know if they all knew how to cook. And the meals tasted real great.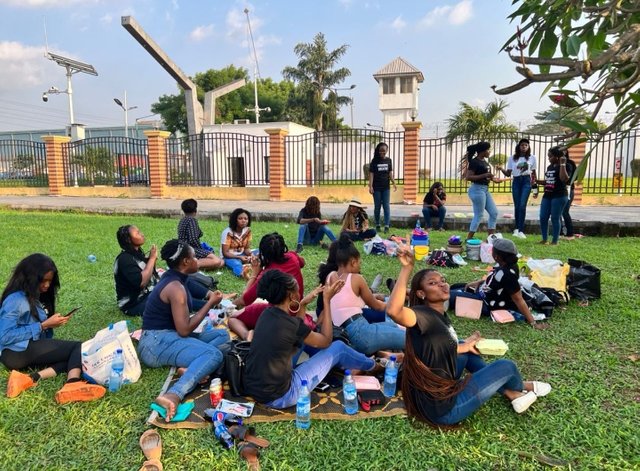 Refreshment section
And the fun went on and on and on and on and on, till 6pm (the closing hour of the park), then we got on our way going to our various house.
Conclusion


These ladies made my Sunday. So many of them are so fun to be with. I laughed my ribs out. I felt like let Sunday never end, I wanted more of the fun. But unfortunately, Monday needed to come, so Sunday had to end.
This was exactly how I spent my fun-filled Sunday, with my friends.
Thanks for visiting my diary.
Best regards