---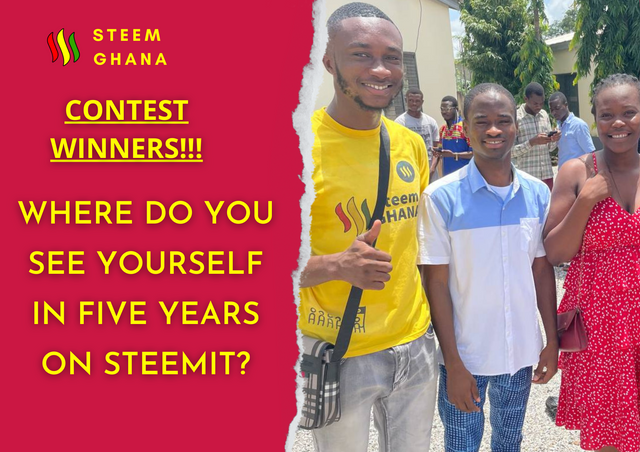 In our just concluded contest, we had a series of great entries coming in. I was delighted to find out about the great plans our steemians have for the future and what it has in store for us all.

Here are the winners.

1ST PLACE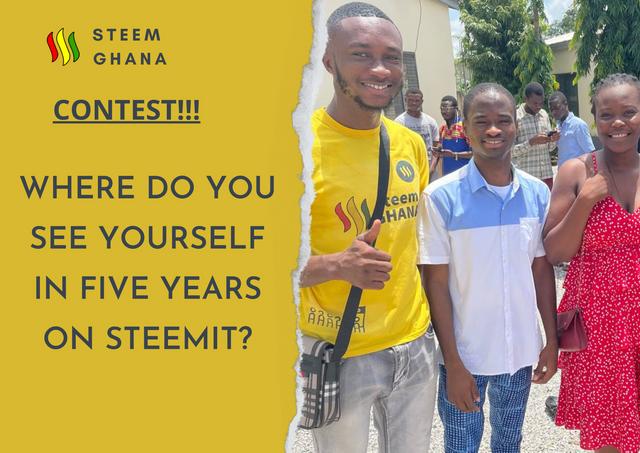 #club100💪 ||Betterlife ||Contest ||How I See Myself In 5 Years On Steemit ||05-06-2022||#club100💪
---
At least I post twice or once a day. As I continue to write day in and day out, my writing skills will be improved. Though it is not easy to write a post if you're not very good with writing skills, but with perseverance and hard work my writing skills w will be improved, which will help me to write an article or anything worthy to share w without difficulty......

2ND PLACE
@ishayachris




CONTEST : WHERE DO YOU SEE YOURSELF IN FIVE YEARS ON STEEMIT? By @ishayachris

---

I have seen a lot of changes on myself ever since I joined this platform. First of all, through this platform I have gained knowledge of crypto currency, and I have learned how to compose a free plagiarized articles. Also, I have learned different things from various people across the world by reading their articles.....

3RD PLACE

@chichieze




CONTEST : WHERE DO YOU SEE YOURSELF IN FIVE YEARS ON STEEMIT?

---

That will be my first growth on Steemit as an individual. Right now, am not yet a dolphin, but between now to the next 5 years, I will grow to become a dolphin, double dolphins, Orca and even 🐋 whale.....

4TH PLACE

@wase1234




Where Do I See Myself In 5 Years On Steemit

---

I don't know if there'll be a group of people I'll Impact but I will like to serve as a motivation, an encouragement and also give advice to incoming steemians. I would like to hold contests and do SP delegations. I would like to be part of a charity movement and help others through steem.....

5TH PLACE

@successjoh




Where Do You See Yourself In Five Years On Steemit || My Entry To Steem Ghana Contest

---

I might have upgraded in my writing/content creation skill. I am trying everyday to see how I can upgrade in my writing skill, coming to steemit has really helped me in that, and I hope I will be better in 5 years to come.....

The various steem prizes have been sent to the winners from our SBD rewards.

---

| RANK | PRIZE |
| --- | --- |
| 1st | 10 Steem |
| 2nd | 8 Steem |
| 3rd | 6 Steem |
| 4th | 4 Steem |
| 5th | 2 Steem |

---

Thank you to all our other participants

---

Regards,
@njaywan.