---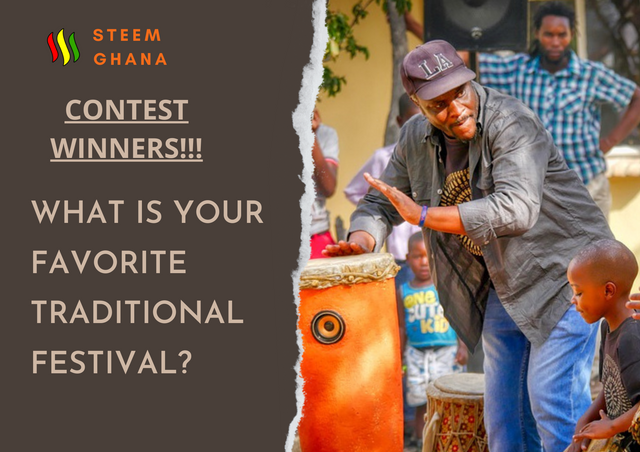 In our just concluded contest, we had a series of great entries coming in. It was quite a joy to read all the entries and see some of the festivals that are celebrated around the world.

Here are the winners.

1ST PLACE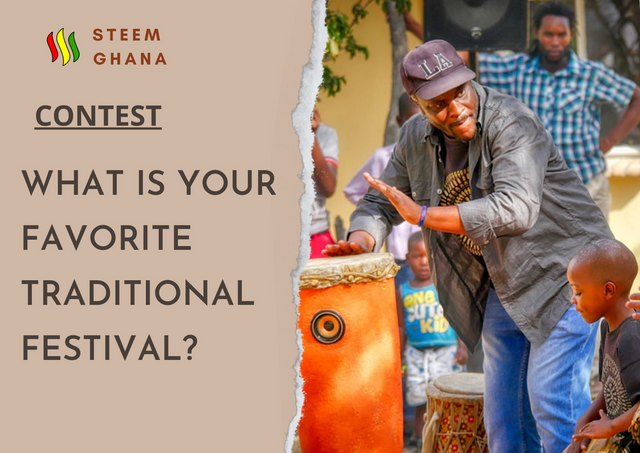 "ODWIRA" MY FAVOURITE FESTIVAL
---
Odwira is celebrated by the Akuapems and other Akan groups such as the Akwamu. The festival is celebrated at the beginning of the Akan lunar calendar when falls between September and October. The main purpose of the odwira is to cleanse and purified the people and the land as the gods ushers them into the new season where foods are harvested......

2ND PLACE
@ghani12





CONTEST : WHAT IS YOUR FAVORITE TRADITIONAL FESTIVAL? by @ghani12

---

The festival of Shab-e-Barat is celebrated on the night before Muharram. It is the night when Muslims believe that God forgives all sins and people can do anything they want to, as they will be forgiven on this day.....

3RD PLACE

@prof2





Contest || My Favorite Festival ||Akwasidae Festival || 14-05-2022||

---

During Akwasidae festival, the chiefs honor persons and community ancestors. A gathering occurs in which drumming, dancing and singing are a normal celebration to honor lesser gods and spiritually ancestors. The main food offered during the festival is mashed yam, garnished with hard-boiled eggs......

4TH PLACE

@ijelady




CONTEST : WHAT IS YOUR FAVORITE TRADITIONAL FESTIVAL?

---

Oghu is a organ doctrine and it is been celebrated only in Igbo tribes, according to my late father, it started from Water, that is why it has a woman as the leader who does some of sacrifice before the celebration will start.....

5TH PLACE

@udyliciouz





CONTEST : WHAT IS YOUR FAVORITE TRADITIONAL FESTIVAL? || Calabar Carnival Festival|| by @udyliciouz

---

The calabar Carnival festival otherwise known as Nigerians'biggest street party is the festival you should not miss. This festival is one of it kind and every member of the community as well as state and country do travel down to the city where this carnival is celebrated so as to witnessed it and as well participate in the carnival. Thousands of tourists also visit the state because of this carnival......

The various steem prizes have been sent to the winners from our SBD rewards.

---

| RANK | PRIZE |
| --- | --- |
| 1st | 10 Steem |
| 2nd | 8 Steem |
| 3rd | 6 Steem |
| 4th | 4 Steem |
| 5th | 2 Steem |

---

Thank you to all our other participants

---

Regards,
@njaywan.