Hello Steemit Family
Contest Time!!!
Greetings to all and sundry. Trust you are all good. Steem Ghana comes to your doorstep today with the philosophy of cooperation and teamwork.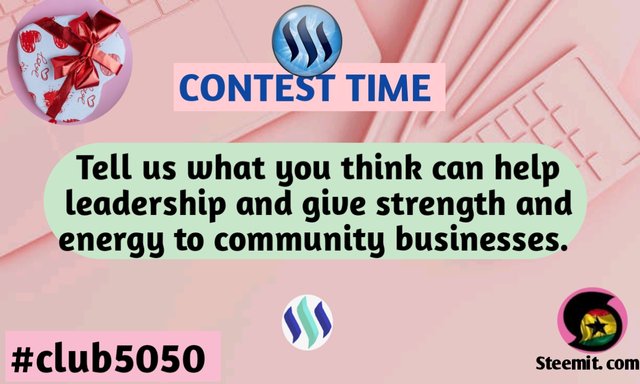 We cherish and love you all for your cooperation and contribution towards the steem-ghana community and the Steemit Community as a whole. About months ago, Steemit Team gave us a chance to apply for the country representative. And these country reps are leaders for specific countries in order to help the steemit body in their various countries grow. Two Country Representatives have been selected for Ghana. And we are grateful. It has become very expedient that we share our views towards their new offices and about their work they are about to do for the community.
---
As steemians from Ghana, we have a responsibility to help by sharing our concerns. What helped, what didn't help, what needs change, what needs reinvigoration? All steemians are invited to participate.

In this contest, new country representatives have just been selected to steer the affairs of @steem-ghana in the next years or more. In your view point what five things should they do to reinvigorate @steem-ghana and steemit.

CONTEST RULES
Every participant should resteem the post.

Contestants must invite two other steemians to participate in the contest.

Abuse, misuse of words are strictly prohibited and wouldn't be entertained.

Every entry link should be submitted in the post comment box.

Voting, Comments and engagement will be a major focus to award.

Tags should include : #steemexclusive #ghcontest #steemgrowth #ghana and any other tag.

Contestants can use #club5050 only if they qualify for its additions.

Plagiarism is strictly prohibited !!!

At least 300 words are required.

Entries halt immediately this post expires.

PRIZES TO BE WON
IST PRIZE - 10 STEEM
2ND PRIZE- 8 STEEM
3RD PRIZE- 6 STEEM

1. Credit will be given to clarity and orderly presentation of ideas.
2. Effective use of markdowns will be commended .

This contest was authored, edited and posted by @juzkid
---
Thank you for your attention. Hope to hear from you soon
Let us begin now...🔥
Best Regards