Holla Steemit Family
Contest Time!!!
Warm greetings to all and sundry. I am of great conviction that we are all doing great. Steem Ghana will like to express gratitude to everyone for the help, support, consistency, time, engagement and cooperation. We must say Ayekoo! and thank you to you all👋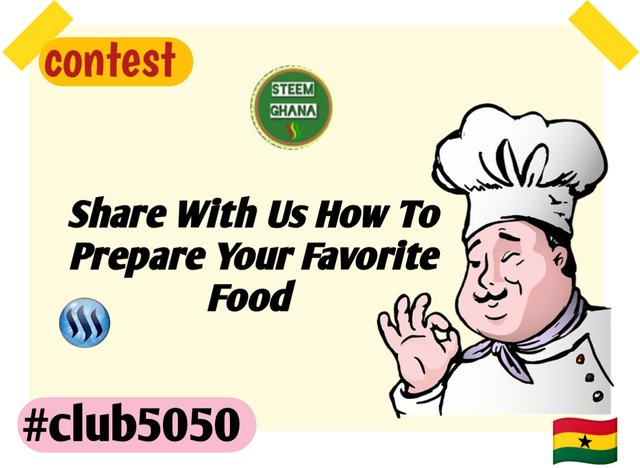 Another contest Day. One way or the other, we have prepared some meals and people have salivated and applauded us for such delicious dish. It may be local, continental or any type. Personally, I have my own meal I very well know how to prepare. Which food do you have mastery on its preparation?

Personally, I say my hands on dishes can't be compared. I don't know what you think of yours as well. Come let us contest.

In the contest, share with us the name of the dish, the ingredients you used in preparing the dish, when and where the meal can be served and where you learned how to prepare it?

📌About the contest:
---
Share With Us The Food You Like And Really Know How To Prepare

---
CONTEST RULES
Every participant should resteem the post.

Contestants must invite three other steemians to participate in the contest.

Accompanying the post with pictures will be a plus to scoring.

Every entry link should be submitted in the post comment box.

Voting, Comments and engagement will be a major focus to award.

Tags should include : #steemexclusive #ghcontest #food #ghana and any other tag.

Contestants can use #club5050 only if they qualify for its computations.

Plagiarism is strictly prohibited !!!

At least 300 words are required.

Entries halt immediately this post expires.

PRIZES TO BE WON
IST PRIZE - 8 STEEM
2ND PRIZE- 6 STEEM
3RD PRIZE- 4 STEEM
4TH PRIZE - 2 STEEM

1. Credit will be given to clarity and orderly presentation of ideas.
2. Effective use of markdowns will be commended .

This contest was authored, edited and posted by @juzkid 🇬🇭
---
Thank you for your attention and concern. Hope to learn and enjoy your delicious foods.
Bring it on.... 🔥
cc:
@nattybongo
Best Regards 🇬🇭