CONTEST TIME
---
Special contest available for all steemians.
The greatest disappointment in steem-life is when your post doesn't meet the desired attention. It turns you down and without care, you can't post back such quality content again.
Are you a victim to that?
I believe we have a lot of steemians here who share similar plight.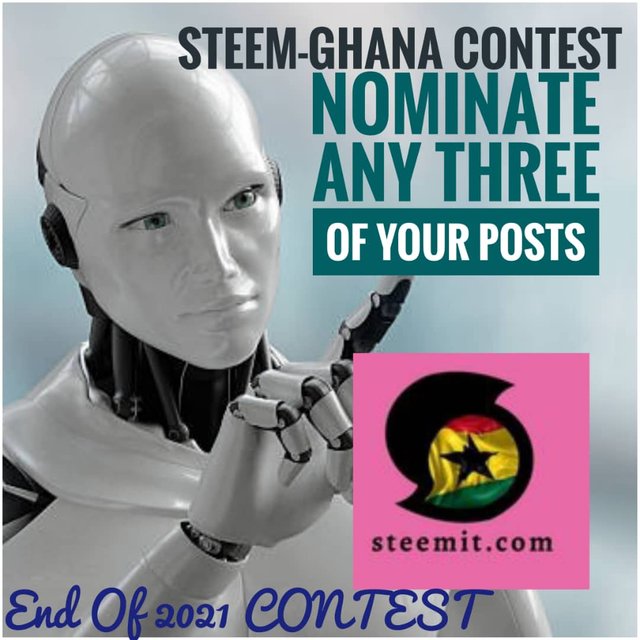 Nominate three of your posts that you think needed huge attention from fellow steemians throughout 2021 but couldn't reach your desired attention. Let us know why u think it was important and draw our attention to its details

Copy links of at least three of your posts and let us know why u think they were potent or tenable enough for steemians to have visited them.

Is it not amazing?
@steem-ghana is helping steemians to revive their lost post in this Contest. Bring it on steemians.

CONTEST RULES
Every participant should resteem the post.

Every entry link should be submitted in the post comment box.

Tags should include: #steemexclusive #ghcontest #steem-ghana and any other tag.

Contestants can use #club5050 only if they qualify for it's calculation.

Plagiarism is strictly prohibited !!!

At least 250 words is required.

Entries halt immediately this post expires.
PRIZES TO BE WON
IST PRIZE - 15 STEEM
2ND PRIZE- 10 STEEM
3RD PRIZE- 8 STEEM

Credit will be given to clarity and orderly presentation of ideas._

Impactive post will receive Christmas bonuses for their efforts ._

This contest was authored by @juzkid and edited and posted by @oppongk
---
Thank you for your time and attention.
---
cc:
@oppongk
@nattybongo
@njaywan
Let us begin now...🔥
Merry Christmas🎊🎊🎊🎉