Hello Everyone…!!!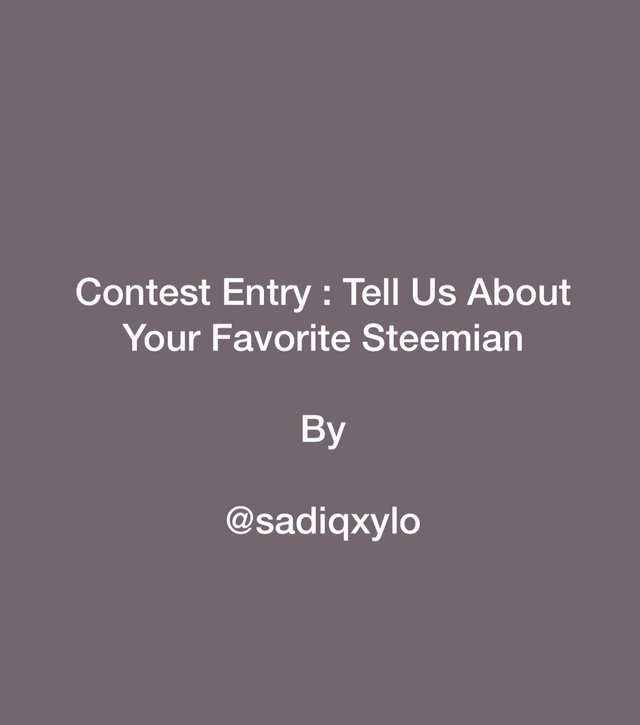 ---
---
Contest has been a great part of this community since it's initiation. It has create a forum for all to contribute their ideologies towards a particular content. We have been able to express our consent and also hear that of others through contest topics.
Contest has been a weekly routine for this community, where moderators and country reps give out interesting topics for members to share their ideas and earn upvote from the community account and sometimes from curators. This week contest has been an interesting one, " Favorite Steemian ". Where we are to talk about our favorite steemian who as impacted you journey so far on this platform.
I was introduced onto this platform by a hardworking member of this platform and a country rep to this platform, @njaywan. He took me through all the achievement tasks, guided me in all areas I needed to know to be perfect on this platform. He sometimes give upvotes to contents and leave a positive or suggestive comments. I do appreciate all his efforts.
Joining this platform my aim was to learn about cryptocurrency of which I frequently heard from colleagues mentioning Bitcoin. I didn't know what all these was about until I join the crypto academy community. From first seasons where professors leave out five weekly tasks. I participated in only assignments in the first season of which one contained plagiarized content and the other two was graded with low marks. But I constantly monitored the best students from the seasonal assignments.
Among the good students it was @kouba01 content I liked the most, contained simple language and easy to understand content. I began monitoring his crypto posts. The first season was over and on one of his post steemcurator02 suggested for him to apply for a crypto professor. It was obvious from his content that he has matured knowledge in crypto and when he becomes a professor a lot will learn from him.
For the second season he was appointed as crypto professor and I was very glad seeing his name among the professors. He started with his first lesson on the topic Cryptocurrency CFDs Trading. I participated in this task and was graded eight out of ten. I was overwhelmed of the comments he left on my post and that motivated me to deep much into cryptocurrency. This is the link the my post for his first homework task.
The rest of his homework tasks was on Technical indicators. He always give a brief explanation of the indicator its uses and its calculation, the go further to explain how it identifies trend, identifying support and resistance, trend reversal and many other important signals.
Upon participating in his lessons, I gained a quick knowledge in crypto and that help me score more marks in other professors homework tasks. I developed a lot of interest in the digital market and began buying a lot of assets.
@kouba01 crypto contents have really contributed a lot to my achievements on this platform and my general knowledge in cryptocurrency.
A lot can testify how he responded to their crypto assignment and fishing out the possible errors encountered and how they to go by it next time.
Aside making good contents on this platform he always power up his earnings. Actually, he was the first person I saw on this platform with 100% power up on a crypto post, upon all the difficulties in writing these stuffs. He power up a lot and currently have over 45 thousand steem power which is a great contribution to the platform. He always give an upvote on all my crypto post before it's been curated my the steemcurators.
Few months back I read his diarygame where here talk of being in the gym as a daily routine of which I like doing the most. I see him as a kind person and he has really contributed to my stay in this platform. For that, he is my favorite steemian.
My favorite steemian is from Tunisia 🇹🇳 and a father as well. He always create contents related to crypto and technology. Recently his group won the curators team and he started as being a teacher in his bio.
Sir @kouba01, you have really contributed to my knowledge in crypto and I appreciate you for that. Continue creating quality content for pupils like me to always benefit.
---
---
Thanks for your time