Greetings fantastic Steemians!
---
Sorry! I have been aways for a day haven't posted here. It is due to stress as we have been ending the week days. I would say is always good to exercise the body routinely no matter the age. I could remember when I was young, I kept my fitness by taking part in sporting events and going on joining daily, however, it's diminishing with time. This shouldn't be so, the body cells needs constant exercised. We build weight with too much fact and colestrol which make us very heavy, one of the best alternative is the burn those fat with lots of exercises.
---
Well, we were ending the week day so we planned taking our students out to play friendly match at Jeduako. We took off in the morning around 9 am when the vehicle arrived to convey the students and some of the teachers who were willing to go.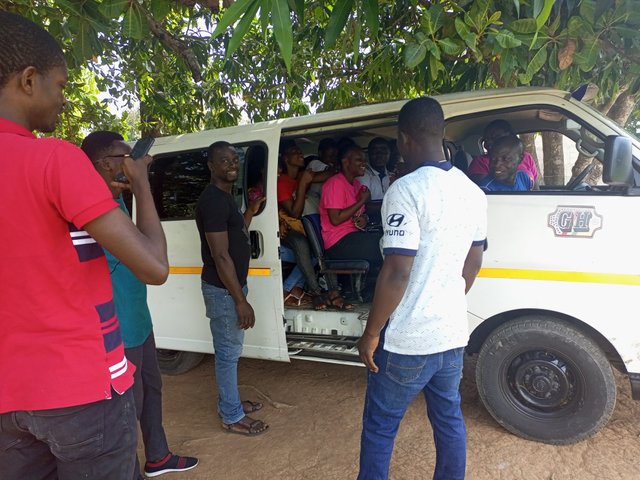 Before the journey when the urvan arrived, students & teacher boarded
---
We could not occupy the urvan so five teachers including
@tkkinsley
who is the owner of the vehicle took the taxi 🚕. I took
@fortune182
motorbike in order to reduce the pressure of overloading in the urvan. We then set off. From our place to the middle of the road; a town call Akamadoa is tarred while the rest of the road to Jeduako isn't tarred and the road is very bad too. According to rumour of those who have been visiting Jeduako, due to the bad state of the road has given chance for armed rubbers to disturb travellers and business people. This even scared most of our students including our players not to join us.
The journey isn't all that far but due to the bad state of the road it took us about 45mins instead of 30mins drive. We reached there around 10:55am.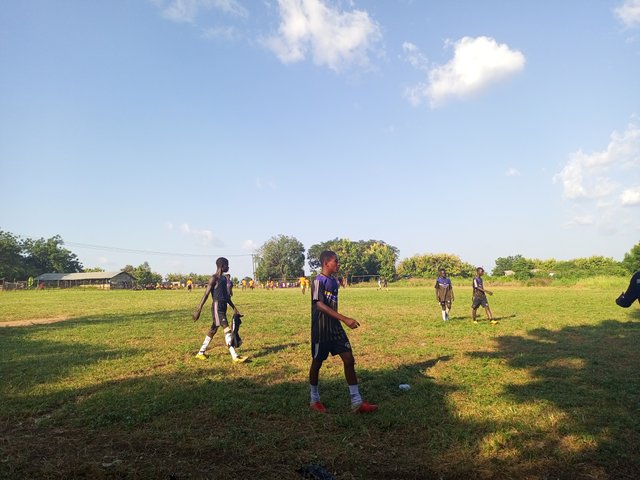 students playing football
---
Since the road is far and isn't good, we did not waste much time when we arrived. We began the teachers game by playing volleyball first. I was happy to have taken part in this game. It ended 2:1 against us. We relaxed for about 15mins and began the teachers football. That also ended 3:1 against us. I must say that it has been a long time most of us played such games. Even we lack physical training.
---
While the boys were playing football, we allowed our girls to also played volleyball. These were few girls who came, they were 8 and most of the players didn't come. But we decided to entertain them not looking for win. The boys football ended 1:1 while the girls volleyball was 2 straight in favour of Jeduako Methodist JHS.
---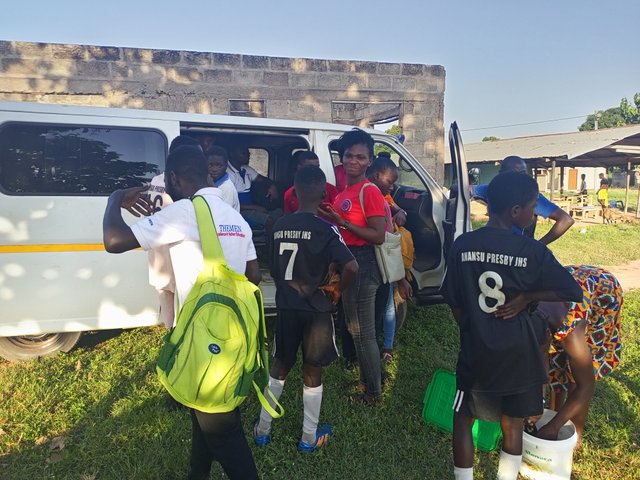 students and teachers boarding the urvan to set off back home
---
After they have served as nice meal, we thanked them for hosting us nicely sought for permission to go. We packed our luggages and begin to board vehicle. By this time, I didn't go motorbike but joined the taxi. When we reached to the Jeduako town centre, our tyre got puncher and we need to inflate it with air. It was rather some nail which pierced through it. So, we searched for certain local vulcanizer to repair for us. It was about quarter to 5 pm and we were still hanging around. We were little disturbed about the situation, but we couldn't help. When the vulcanizer finish everything and set off it was around 5:30 pm. We arrived home when it was 6:18 pm
---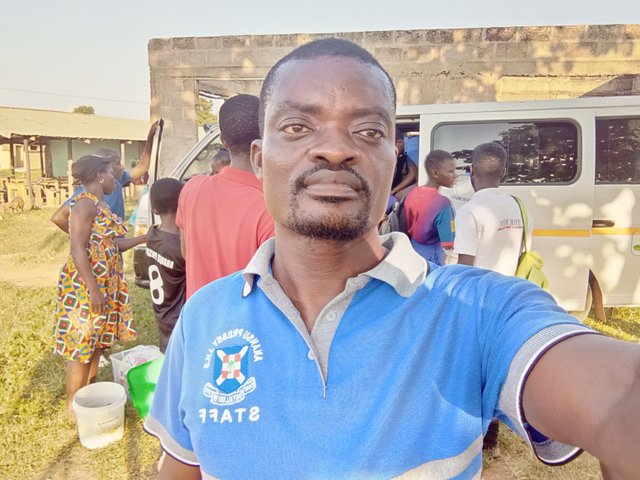 taking selfie 🤳 the background of teachers and students at the time they were boarding the urvan
---
All my body are weakend after the game, so I woke up very nervous but had to attend lectures , since we would be have on campus teaching practices and again a lot of lectures go on during Saturdays. We even close around 5:30 pm beginning Lectures at 7 am. My thigh, my arms, my feet and my waist all pains me.
---
By 7:10 am, I was in class ready to have ICT Lectures. The lecturer was late for 30mins.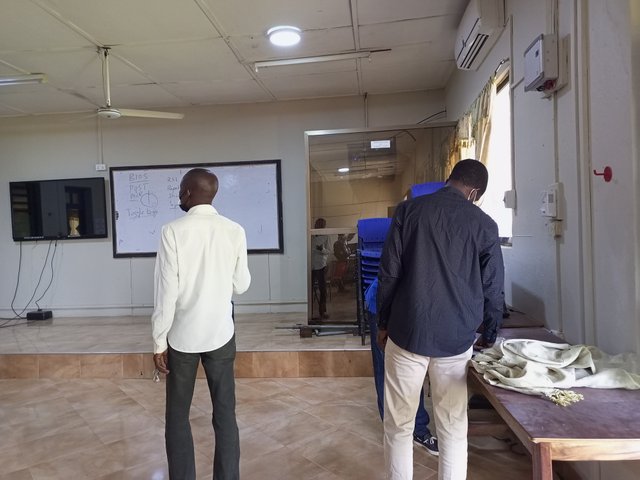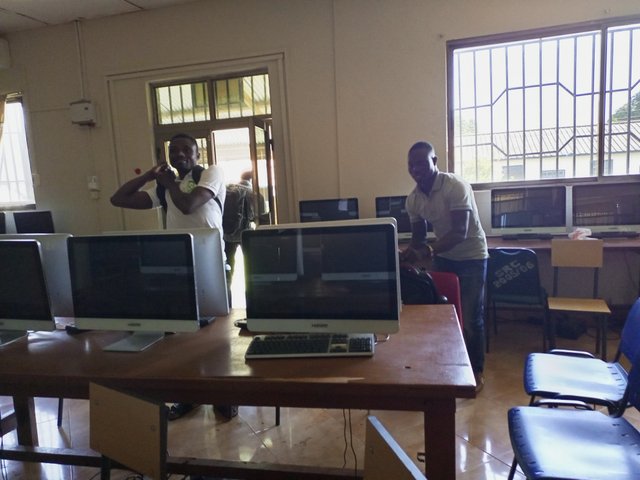 After the ICT Lectures ready to break for 30mins before the next lectures
---
After the ICT Lectures, we had 30mins break to stretch our body or if some students want to suck some porridge. I took my bag and found my way outside to get some food to eat. I took vehicle straight to Obaa Yaa Steem chop bar as I Introduced as Steem business here. There were a lot of people around here this morning. I opted for fufu instead of light food, since this food could sustain me for several hours before I could feel hunger.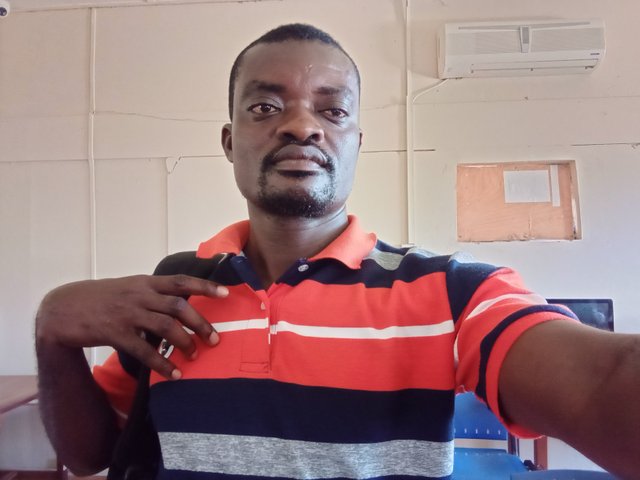 Leaving the ICT room to find some food to eat
---
I quickly took Pragyia back to Campus after enjoying my fufu at Obaa Yaa Steem chop bar. When I arrived, the were yet to begin the next lectures which was Research in Education. I seated comfortably to listen to the lacturer and also contribute. It was so interesting. After the this lectures, we waited for the the next lecturer; Mr. Shaibu who lectures on Integrated Science Methods. This was followed by on campus teaching Practices which took places between 3:30pm to 5:30 pm, that was 2 hours. I was very fortunate to be the 3rd student to deliver on the topic "Diffusion of substances." I used practical demonstration as you know I love practical work than teaching in abstract way. I don't often feel when I am teaching my students in abstract way.
---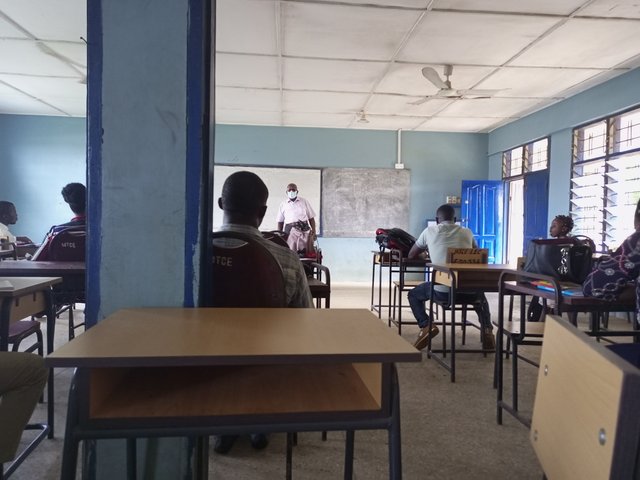 Joining Educational Research class
---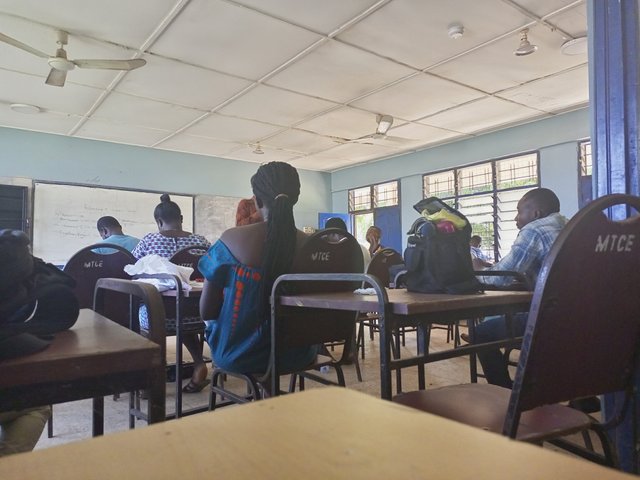 Joining Integrated Science Methods class
---
My hair was too busy so I went to barbering salon to barber my hair to look nice. Even though it was late hour but I couldn't do anything. I was thinking about eating my supper too late if I could substitute with light food. I arrived home when it was very late around 6:20 pm. I ate and took my bath. I was very tired so I couldn't do much work in Steem. I had to get ready for bed and wake up early to check what is going on Steem platform since I have been out for a day. Thanks for your attention, Steem funs!