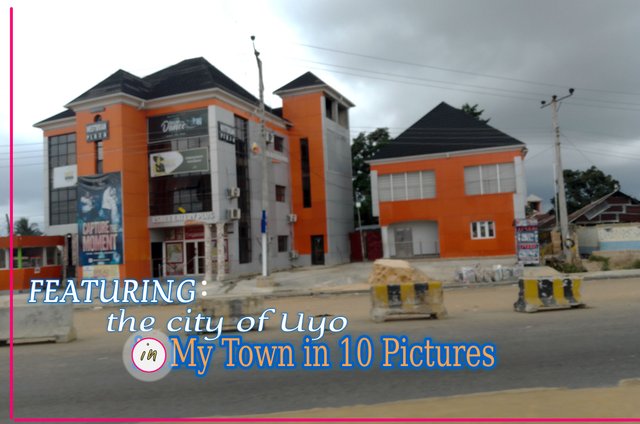 Picture showing WestBrain plaza a conglomerate.
If you have spent all your life at home and have dreamt of visiting Nigeria, due to the stories you may have heard and if our Nollywood movies got to you, then you may have created a picture of what Nigeria looks like.
The truth is simple, some of those facts are stretched or exaggerated. Sometime it is just to make it look better but at the other end it could be designed to make it look bad.
Let me take you round a little corner and you can't generalize what you see here because this is not Nigeria. It's just a small city in Nigeria called Uyo. The city of Uyo is located in the geographical south of Nigeria while politically, AkwaIbom State and Uyo as it's capital is located in the South-South.
Following a report from Macrotrends, the metro areas of the city of Uyo should have an estimated population of about 1,265,000 residents. This is according to macrotrends.net
Which I hope I was counted.
Uyo had never been one of the important towns like Lagos, Abuja, Kaduna, Ibadan, Port Harcourt and nearby Calabar. For the city of Uyo to pup up when searched, someone has to put it there. So let's write about Uyo.
Presenting the city of Uyo in my town in 10 pictures.
[ 1 ] Good Roads
Once a vicitor gets into Uyo from the airport, you will be greeted by a seemingly endless stretch of good road that stretches in to the city and creates a network all around the town.
A few years ago we had chronic road crises. today the city of Uyo had one of the best road network in the area, built by indigenous contractors like Hensek all major roads in Uyo are kept clean by the ministry of works.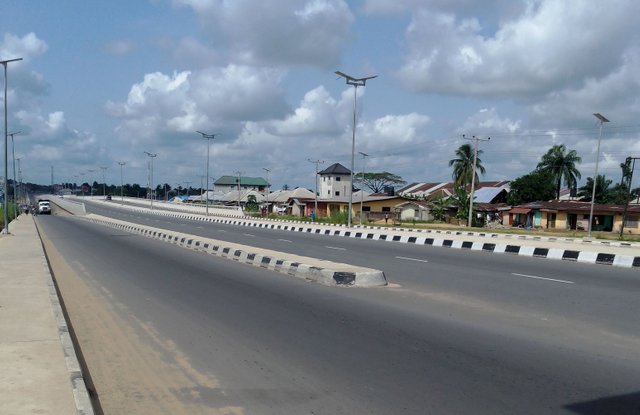 • Picture showing road leading into Uyo from abak.
• Located at Ekom Iman Junction in Uyo.

[ 2 ] Smart Building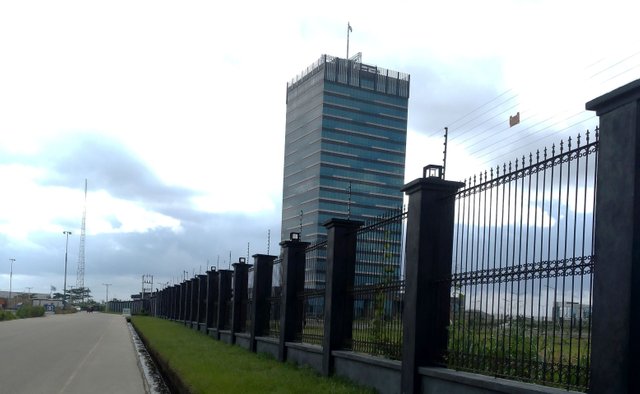 • The DAKADA Tower is a smart building
• Located at banking layout off Udoma Avenue in Uyo.
At the moment, the DAKADA Tower is the tallest building in the city of Uyo, rising up to 21 storey. it is only followed by the Tropicana lodge which is not yet completed. The DAKADA Tower is a State project with office space for lease. The facility has four escalators with stairways for Cluster phobics. The tower has a 24 hour power supply with round the clock security. The beauty of the tower picks at night when it gets light up.

[ 3 ] Private Business
Private businesses like schools, restaurant, fastfood, bridal shops, boutiques, phone shops and many businesses that offer a variety of services are found in Uyo. The newest in its own category is the shop at the left edge of this building, here you cab buy or swap used items based on its value and current state.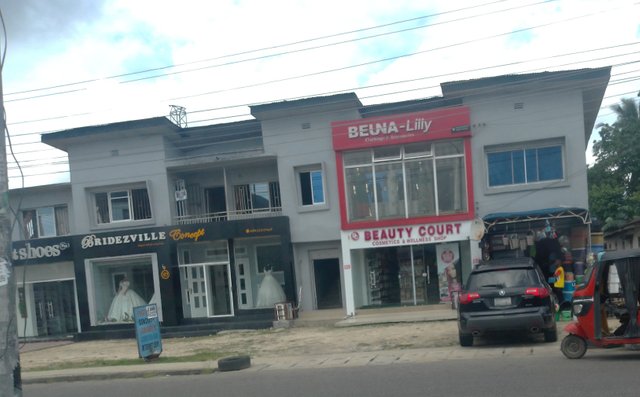 • Picture of Privately owned businesses
• Located along Oron Road in Uyo.

[ 4 ] Health care
Among the private businesses are places like Quenthall. Quenthall is a conglomerate consisting of a pharmacy, a medical test laboratory, a beauty care shop, a perfume/Cosmetic shop and digital scan, radio and ultrasound services. Quenthall was among the first private businesses in Uyo to run a round the clock service for the public.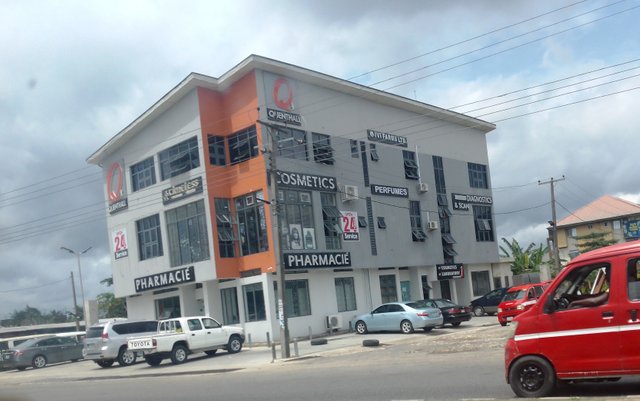 • picture of Quenthall building in Uyo
• Located along Oron Road by Noah udo street in Uyo.

[ 5 ] The Akpan Andem Market
Not every corner in my town is glittering. We have a local market and like the usual African market environment, The Akpan Andem Market is a mixed market where you can buy food, cloths and other stuff. This market is segmented into areas where similar products are sold.
The picture is showing a section where general food items are sold. This place generates a lot of waste and some times overwhelm the waste disposal system. Here is were you see the regular folks who buy and cook regular food like fufu and soup.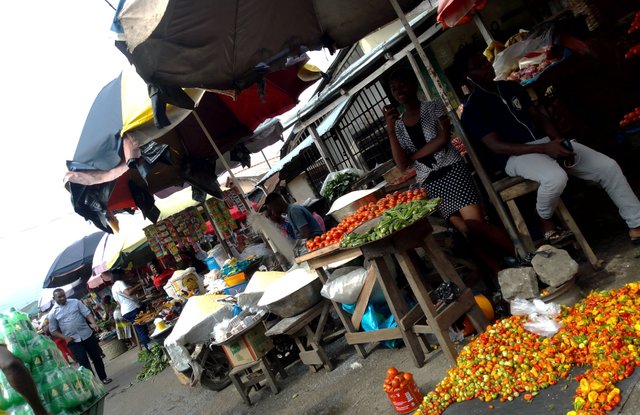 • A section of the Akpan Andem Market in Uyo
• Located along Udo Umana street in Uyo. Close to the old stadium

[ 6 ] Small Businesses
A large number contribute their support for the economy as small business owners. This is a small business that retails engine oil. In front of it is a sign showing that you can get black market fuel for your vehicle. And by the side is a tire technician locally known as "vulcanizers".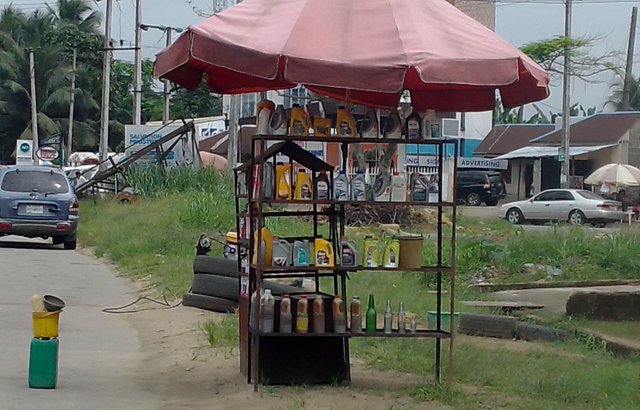 • Artisans run small businesses by the side of the road
• Located along Udo-Udoma Avenue by Aka Road. in Uyo.

[ 7 ] State Secretariat
The various ministries responsible for the running of different aspects of the state are housed in this complex. It was built by retired Air Commodore Otuekong Idongesit Nkanga. And was named after him. The Idongesit Nkanga Secretariat was given some additional touch by Governor Obong Victor Atah.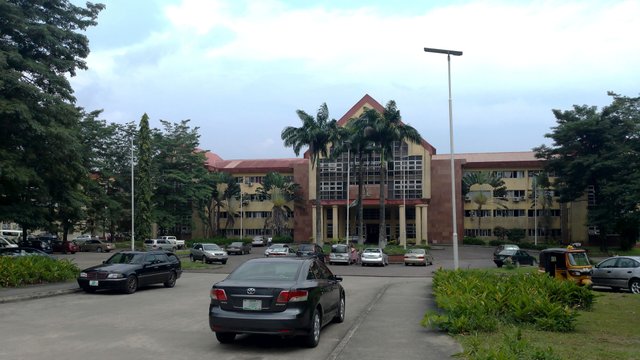 Where the state is administered
• Located along Abak Road by Ibrahim Badamasi Babangida Avenue in Uyo.

[ 8 ] West Brain Plaza
WestBrain plaza has a fast food, where you can have both fries and local food like Atama, Afang, Ekpang Nkukwo, pounded yam, melon soup with Garri or fufu.
At WestBrain there is a photo studio and a music studio for editing both pictures and audio. At the top floor of WestBrain plaza is a studio where you can learn various dance choreography.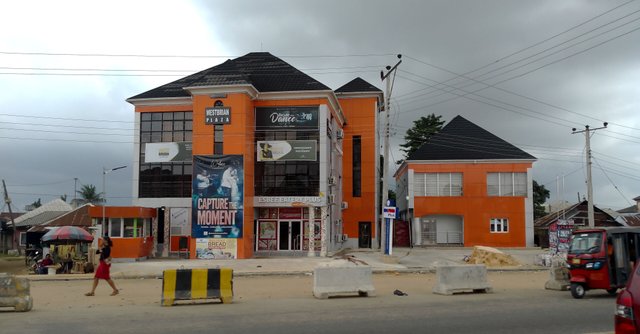 • West Brain Plaza, for both continental and local dishes
• Located along Oron Road by Timber Market in Uyo.

The City Center shopping mall is among the large size malls in Uyo. The store stocks food, drinks, kitchen utensils, some electronics, dresses, jewelry, stationary, home decor and more.
With city center you can place an order online and have your goods delivered at your door.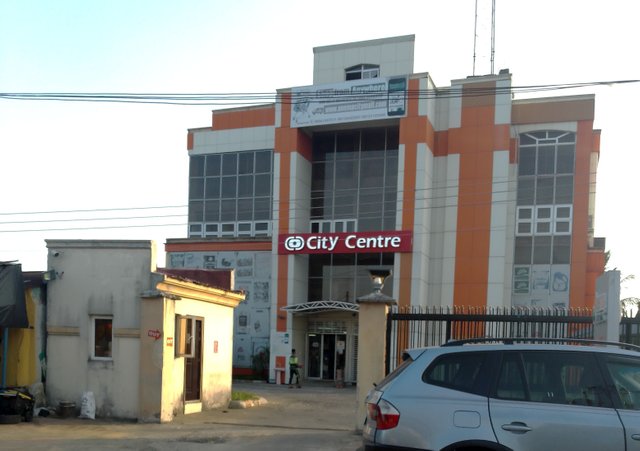 • City Center shopping mall
• Located along NEPA line in Uyo.

[ 10 ] The Pacesetters Place
Dealing With women health and beauty care product from longrich. Creating passive income from multilevel marketing matrix. MLM is becoming very popular in Uyo and AkwaIbom State in general. Beautiful offices and testimony often attracts new members.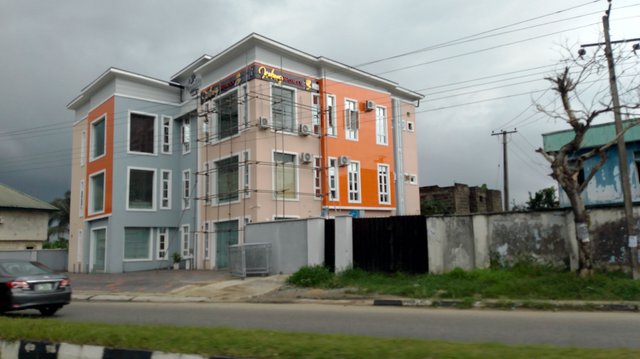 • The Pacesetters Place
• Located along Oron Road by Aka Itiam Raod in Uyo.

From this tour of the city of Uyo, I hope you can see some similarities with your own town and may also have spotted a number of differences. I made a conscious effort to take you round areas where you can make a fair assessment of the town. There are still more places to be visited but that will be covered in another tour of the city of Uyo.


.
mytownin10pics steemexclusive photography club100 nigeria lifestyle