@Bettervision is happy to announce that our plans and preparations towards our outreach programs resuming for the year 2022 has finally yielded results and that we would be having a free eye screening come this Thursday at the Barekesse Neighborhood for school children and adults.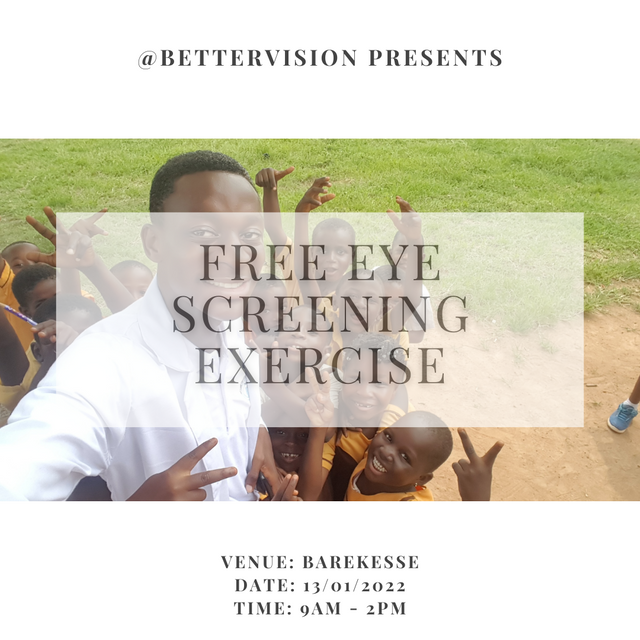 As a secluded area quite far from Kumasi township it would be an opportunity for us to serve in accordance with our aims and objectives to impact and also focus on deprived areas, communities and individuals as a whole. We would thus use this opportunity to invite all and sundry who could make it to passby to have they eyecare done for free.
As always we believe we couldn't have gotten to this point without you our lovely supporters, sponsors and donors and for that we will always be grateful. We would like to express special appreciation to @chriddi, @fundition, @pennsif, @adollaraday, @the-gorilla @the100 @adeljose @sultan-aceh @xpilar. God Bless you all for your time.
Thank you and have a wonderful time

What is @bettervision about?
@bettervision is is a project initiated by @nattybongo and friends to give back to the society the knowledge and skill acquired through the Optometric Studies in Kwame Nkrumah University of Science and Technology, Ghana.It is an outreach system where we visit the less privileged communities to offer free eye screening services and education to the people within the community. We have been running for the past two years and have worked on projects with @adollaraday, @girlsfoundation and @fundition over these. Learn more about us and our works here: https://fundition.io/#!/@bettervision/ybby7ynsy
AIMS AND OBJECTIVES
To reduce or prevent vision loss through diseases such as glaucoma, cataract and refractive errors.
To enlighten the majority of the Ghanaian population about the importance of proper visual care.
To conscientize people on the need for regular eye checks
To get more people to have their wards screened within the Critical periods of a Child's Vision Development; thus from ages 3 to till about 10 years.
To help the blind and people with low vision live a better life within the society through education of the general public to stop stigmatization.
To help in the fight of extreme poverty that puts the health of people at risk