@torontoflia is the one who has asked for support for his wife for the purchase of medicines and treatment for the diagnosis of cervical cancer
It was our friend @dobartim who made us aware that they were seeking help

Here is some of the statement from @torontoflia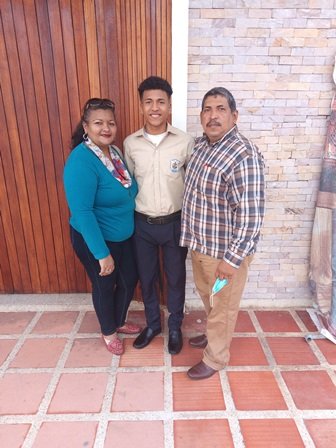 ---
Hello friends of steemit, today I have decided to inform you of something that is happening in my family and I would like it to be a dream but it is a very sad, worrying and unexpected reality that we have been facing since April of this year (2021). When in a routine control examination my wife (@ alma-arar) was found in her cytology that she presented a result that was not normal, the gynecologist recommended that we attend the oncologist to do a more in-depth study to rule out. An effort was made to raise the money ($) necessary to pay the fees of the Dr and the biopsy that had to be performed according to the indications of the gynecologist and the specialist when we learned via whatsapp the reason why we were requesting an appointment. In his study, he determined that an abdominal and pelvic tomography with contrast had to be performed in order to have greater precision of the lesion in the cervix that he visualized in the Ecosonogram and palpated in his gynecological examination, which he did not put on alert due to the explanation. that the specialist gave us at that time.
The procedures were carried out to obtain the contrast and to be able to perform the abdomen and pelvis tag in a medical institution in Ciudad Bolívar, which is where we currently live, whose procedures were positive and we achieved the contrast donation.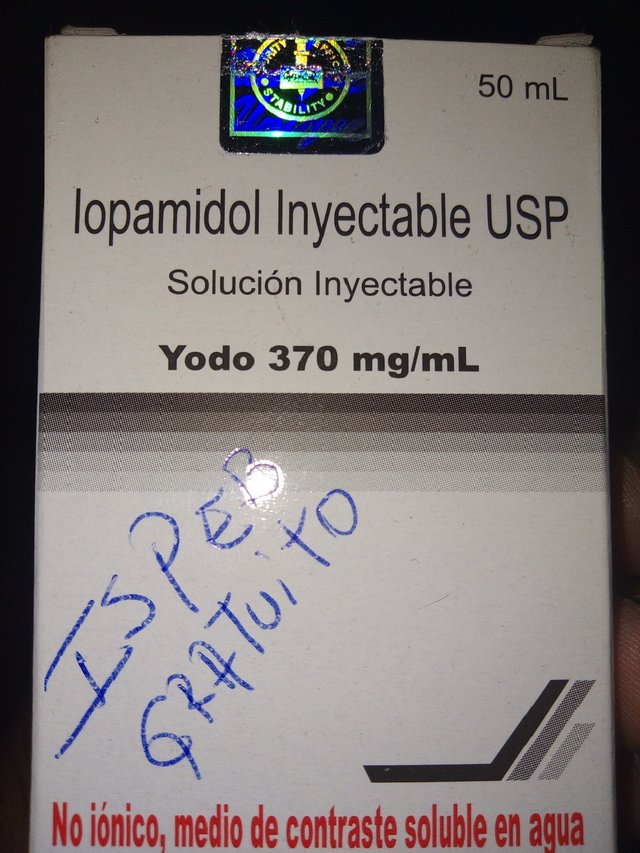 Contrast donated
After obtaining that positive result of the contrast to be used (which decreased the cost of the Tag from 180 to $ 120), we began to carry out self-management to perform the tomography, since as teachers we do not earn the salary to cover those expenses and we do not have a private insurance that covers them, so we carried out some raffles and with the support of some family and friends we were able to carry out this study which determined what type of injury with more specifications.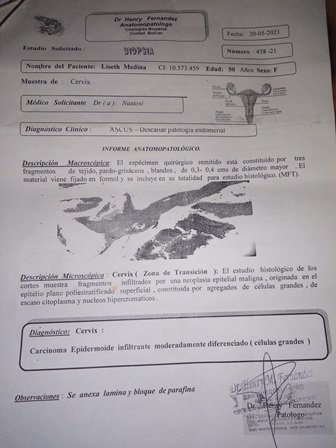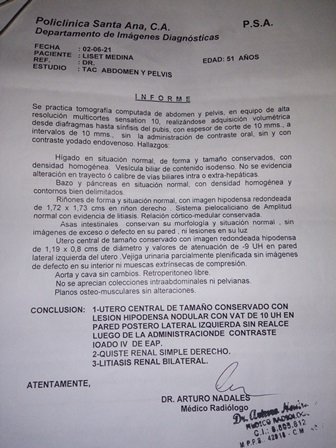 ---
Result of the Tag of abdomen and pelvis of (@ alma-arar)
fter having the tag result and the biopsy result (positive for cervical cancer), the Dr. referred us to the chemotherapy oncologist who should review and evaluate the results to determine what type of treatment the cancer lesion warranted. has my wife on the cervix. We attended the chemotherapy specialist oncologist with all the results of the examinations that had been performed with the previous doctors so that he could perform the analysis of everything that had happened since the moment the cytology result was received, after reviewing and analyze all the documentation that was given to the Oncologist he explained to us the extent of the injury and the treatment that was needed which he explains in his report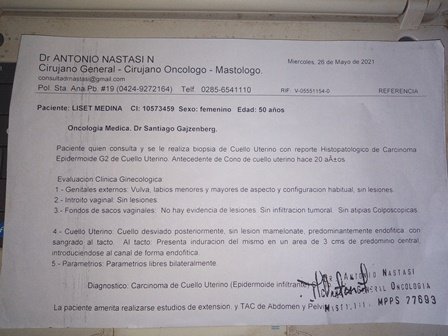 ---
Here we come with great hope, now begins a long way to go in search of the healing of my wife
---

The board of Wox-Helpfund has decided to help @alma-arar, we donate 600 Steem to buy medicines / treatment for diagnosis of cervical cancer
Steem has now been transferred to @torontoflia

We wish @alma-arar a good recovery
Regards the board of @wox-helpfund
@the-gorilla @the100 @adeljose @sultan-aceh @xpilar
Earlier support has been given to Victor Acosta and Judith de Acosta medwith 600 Steem with diagnosen COVID-19
https://steemit.com/hive-185836/@xpilar/wox-helpfund-donerer-600-steem-til-victor-acosta-and-judith-de-acosta-med-diagnosen-covid-19
Earlier support has been given to Carla García with 1000 Steem with the diagnosis-covid-19**
https://steemit.com/hive-185836/@xpilar/wox-helpfund-donates-1000-steem-to-carla-garcia-with-the-diagnosis-covid-19
Thanks to all our Sponsors who give% of their post / rewards to @ wox-helpfund and to you as a delegation to @bidvote. And thanks to all of you who buy an upvote from @bidvote. *** Without you, this would not be possible to make donations to good causes*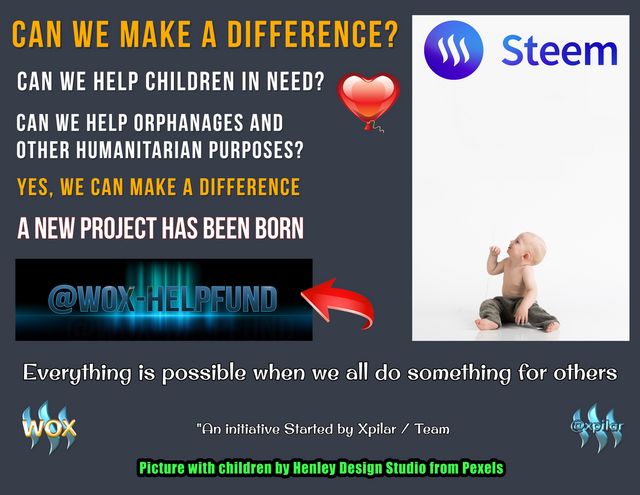 How is it possible, with steem everything is possible with your help
The idea is that with the help of an upvote bot where you can buy votes for your post or other posts that you want to reward with a higher reward.
Now you have an opportunity to buy an upvote from @bidvote to reward others who have good posts and who often disappear in the amount of posts and do not get any upvote for their hard work
@bidvote is programmed with a blacklist and will not accept upvote from spam accounts. Their bid will be returned
Spam accounts who buy votes from all the big upvote bots are a big problem because they do not have a blacklist to stop it.
Back to project @wox-helpfund
We created a new bot "bidvote" for this purpose and it has now been tested and we are now live with the project # @wox-helpfund
How to help #wox-helpfund use @bidvote
Of all the profits that @bidvote contributes to, 30% of the reward will go to the #wox-helpfund. You will help support the #wox-helpfund when you purchase upvote while helping you or others for a higher reward for posts.
You can also delegate SP to @bidvote and earn rewards every day
Currently your earnings on delegated SP "The APR today is increased to 29.2%"
Here you can delegate SP directly to @bidvote
25 SP 50 SP 100 SP 250 SP 500 SP 1000 SP 1500 SP 2500 SP 3000 SP 4000 SP 5000 SP
You can also use https://steemworld.org/@your username
Select delegations in the menu and then select delegate


**Thanks to all our Sponsors (delegates) to @bidvote
---

What is @wox-helpfund, it is meant to be able to help needy people in the world for example orphanages other humanitarian purposes.
You can now become part of this project by delegating or buying votes "@bidvote",
You can also support @wox-helpfund if you set @wox-helpfund as recipient when you post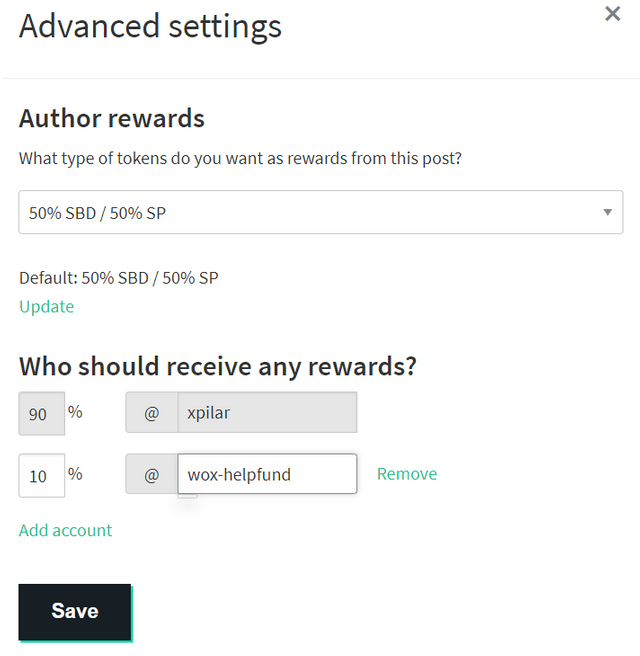 @endingplagiarism supports @wox-helpfund
10% will go to @wox-helpfund to support @xpilar's charity work, read the full post here
How often it can be applied for funds from the fund depends on the size of the fund. All applications must go through an approval first. "@wox-helpfunds" board members.
Board members are @the-gorilla @sultan-aceh @adeljose @the100 @xpilar
You can now become part of this project by delegating or buying votes
Feel free to make suggestions for our innovation in Steem Blockchain
cc: @pennsif
---
---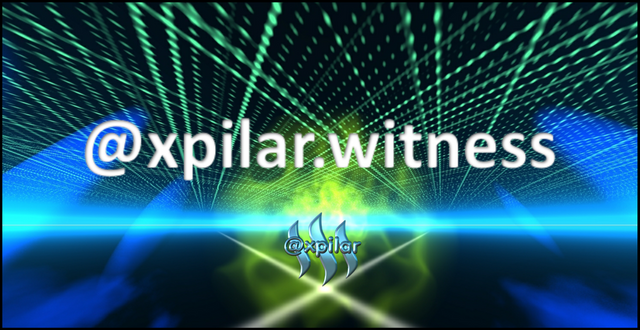 Do you also want to vote for "xpilar.witness"
Voting for me:
https://steemit.com/~witnesses type in xpilar.witness and click VOTE

---